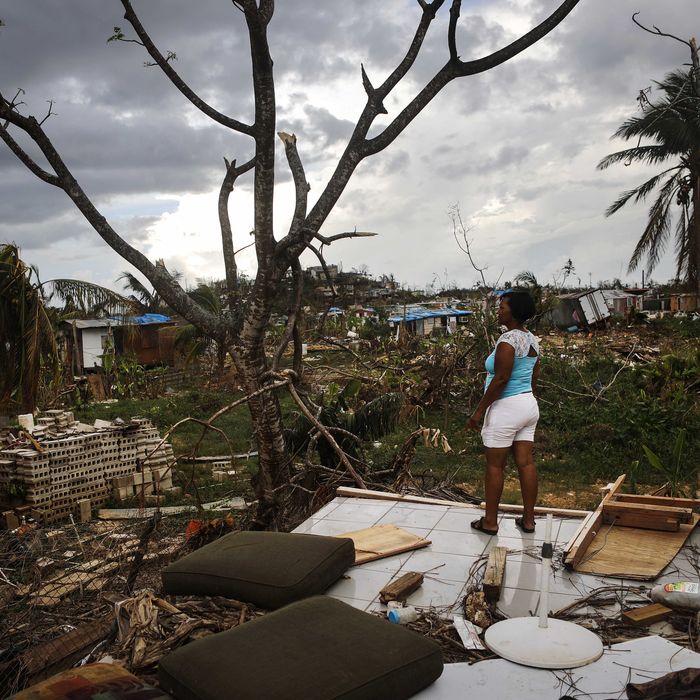 Mirian Medina stands on her property about two weeks after Hurricane Maria swept through the island on October 5, 2017, in San Isidro, Puerto Rico.
Photo: Mario Tama/Getty Images
During his visit to hurricane-ravaged Puerto Rico last week, President Trump said of the island's massive debt, "We're gonna have to wipe that out." The White House later walked that back, as the president does not have the power to magically erase Puerto Rico's financial problems.
But on Tuesday the Trump administration did move to help Puerto Rico deal with some short-term issues raised by its debt crisis. The Office of Management and Budget has revised its recovery package request to the House, adding a $4.9 billion low-interest Treasury loan for Puerto Rico.
Politico noted that the amount requested by the White House is a bit more than the roughly $4.6 billion requested by Puerto Rico governor Ricardo Rosselló last week, though he was asking for loans and grants.
Some on Twitter were appalled that Puerto Ricans are being asked to repay their disaster-relief funding, while the same demand is not being made of hurricane victims in Florida and Texas. But the $4.9 billion is going to address a problem unique to Puerto Rico, and presumably it's far from the only relief money the island will receive. Last week, the White House asked Congress for $29 billion in additional hurricane relief to help the victims of Hurricanes Harvey, Irma, and Maria. It did not specify how much of that funding would go to Puerto Rico, but billions more in aid requests are expected as the areas continue to assess the damage. Moody's estimated that the damage to Puerto Rico may cost as much as $95 billion.
Rosselló sent a letter to Congress over the weekend saying that while "we are grateful for the federal emergency assistance that has been provided so far," Puerto Rico is also "on the brink of a massive liquidity crisis that will intensify in the immediate future."
Since the storm ground Puerto Rico's economy to a standstill, it won't collect enough in taxes to finance its normal operations. Normally, a state would be able to borrow on its own, but it's unlikely anyone would lend to the island, as it's been operating in bankruptcy since May. Last week, Raul Maldonado, the island's Treasury secretary, said there would be a government shutdown at the end of the month if Congress did not provide more assistance.
"If we don't get the help we need, this will be a national disaster," Maldonado said. "We're not looking for a handout; we're just looking for some help to get back on our feet."
A Trump administration official told Reuters that the request includes a $150 million advance to cover the 10 percent match required for FEMA disaster relief. The rest of the money would let Puerto Rico fund essential services like salaries for teachers and first responders, but it could not be put toward repaying its debt. "The $4.9 billion loan would help them with short-term liquidity problems in financing," the official said. "The money cannot be used for debt service."
Rosselló had asked for a mix of loans and grants from various federal agencies:

The full details of the loan have yet to be announced, and it's unclear Rosselló's grant requests have been considered. The White House had asked federal agencies to estimate how much money is needed for long-term rebuilding in Puerto Rico by October 25. The Trump administration is resisting another move that would ease Puerto Rico's financial troubles. Trump's temporary waiver of the Jones Act, the century-old law that inflates the cost of supplies on the island, expired on Sunday, and he's ignored bipartisan calls to extend it.
But for now, Rosselló suggested that he's pleased with the Trump administration's loan request:
The House Appropriations Committee has put together a new $36.5 billion emergency spending bill that merged the loan for Puerto Rico with the previous disaster aid request. It now includes $18.7 billion to replenish FEMA's disaster-relief fund, and $16 billion for the nation's flood-insurance program.
A vote is expected on Thursday, and it's likely the measure will pass. The Senate could vote on the bill next week.
House Speaker Paul Ryan plans to visit Puerto Rico on Friday. He'll be joined by two Republican representatives, Cathy McMorris Rodgers and Rodney Frelinghuysen, Democratic representative Nita Lowey, and Puerto Rico Resident Commissioner Jenniffer González Colón, the island's non-voting representative in the House.
"This will be a long process, and this next round of funds certainly won't be all that is needed," said Frelinghuysen, the chair of the House Appropriations Committee. "We will continue to monitor each disaster closely and will work to ensure that both short-term relief and long-term recovery funds are available and are being put to good use for those in need."