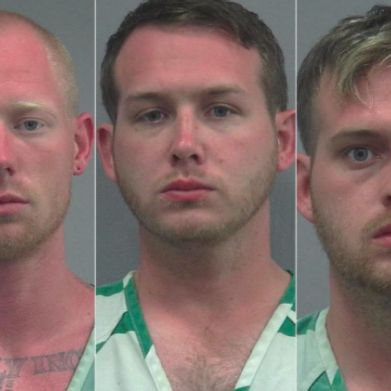 Richard Spencer fans, from left, Tyler Tenbrink, William Fears, and Colton Fears.
Photo: Gainesville Police Department
Three supporters of attention-craving white supremacist Richard Spencer were arrested Thursday in Gainesville, after firing at a group of people who had been protesting Spencer's speech at the University of Florida. Colton Fears, William Fears, and Tyler Tenbrink, all of Texas, face attempted homicide charges.
The shooting took place near a bus stop in Gainesville where police say a silver Jeep stopped and the three men inside started taunting a group of protesters. They were "threatening, offering Nazi salutes and shouting chants about Hitler," the Gainesville Police Department said in a statement.
One of the protesters hit the Jeep with a "baton," according to a police report, and the Jeep pulled away about ten feet. That's when Tenbrink emerged with a handgun. With his friends yelling "kill them" and "shoot them," Tenbrink fired one shot, which missed the protesters and hit the building behind them. The Jeep quickly sped away.
One of the protesters noted the Jeep's license plate number and the men were picked up 20 miles outside of Gainesville late Thursday night.
Despite the shooting, there was much less violence in Gainesville Thursday than Charlottesville in August, the last time Spencer brought his traveling road show of polo-clad half-wits to a college campus. Some credit for that probably belongs to the heavy police presence. University of Florida president W. Kent Fuchs told CNN that there were more police on campus Thursday than there had ever been before.
With so many police, protesters, and media, Spencer's supporters were thoroughly outnumbered. But they weren't shy. In fact, both Tenbrick and William Fears gave interviews to the Gainesville Sun before they fired on the protesters. "We want to show our teeth a little bit because, you know, we're not to be taken lightly. We don't want violence; we don't want harm," Fears said in an interview. "But at the end of the day, we're not opposed to defending ourselves, to standing up for ourselves and declaring what we want to declare."