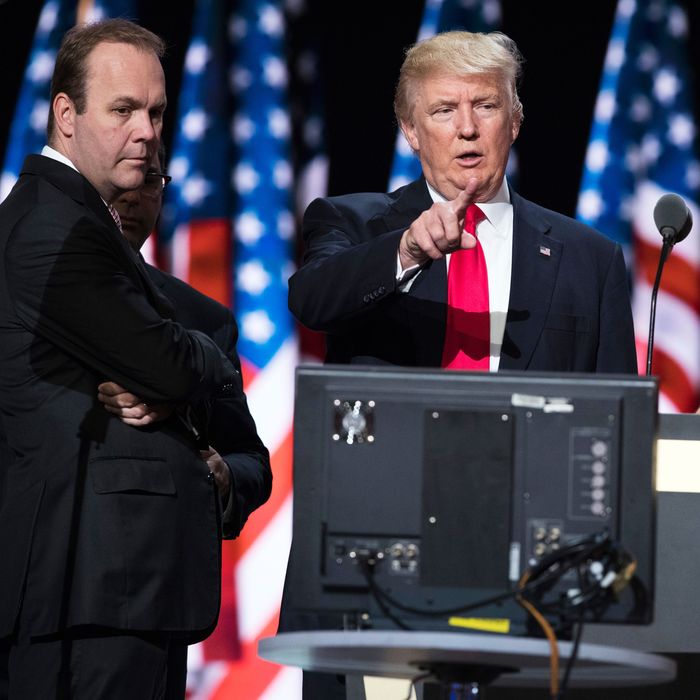 Gates and Trump at the Republican National Convention in 2016.
Photo: Evan Vucci/AP
On Monday morning, Special Counsel Robert Mueller issued the first indictments in his probe exploring Russian interference in the 2016 election, sticking Paul Manafort and Rick Gates with several serious charges, including money laundering and tax fraud.
Manafort was Trump's campaign manager for a good chunk of 2016, and has long been reported to be in Mueller's crosshairs. But who is Rick Gates?
Accounts paint a picture of a political operative who was all but attached at the hip to Manafort, working side by side with him as a consultant on many of the foreign transactions for which Manafort has become notorious. The New York Times reported in June that "as investigators examine Mr. Manafort's financial and political dealings at home and abroad, they are likely to run into Mr. Gates wherever they look."
The 45-year-old, who started out as an intern at Manafort's law firm almost 30 years ago, collaborated closely with Manafort in Ukraine, where the pair worked to polish the image of the pro-Russian president Viktor F. Yanukovych, who was eventually driven from power. Manafort and Gates had deep financial ties with Yanukovych and a series of oligarchs in Russia and Eastern Europe, setting up a number of shell companies in Cyprus that would profit from the fruits of their pro-market political work. Murky financial transactions involving those companies are at the heart of Monday's indictments, which allege that Gates transferred more than $3 million from offshore accounts, among other offenses.
When Manafort was recruited by the Trump campaign in March 2016 to help keep renegade delegates in line, he brought Gates with him. Gates became an important player on the campaign, striking up a friendship with Reince Priebus and managing many of the anodyne responsibilities of a political operation.
Manafort became a liability for the Trump campaign after it was revealed that he had accepted massive payments from Yanukovych, and he resigned as campaign chairman in August 2016. But Gates managed to stick around the president's orbit. He landed a job at the Republican National Committee involving Trump campaign fundraising. After the election, he was recruited by Tom Barrack, a wealthy real-estate investor and confidant of President Trump, to help run the inauguration.
He then joined, and raised prodigious amounts of money for, a pro-Trump group called "America First Policies," but was let go in March amid further reports about Manafort's shady dealings in Ukraine.
And yet, in June, the Daily Beast reported that even as Manafort had been fatally tarnished by the Mueller investigation, Gates had "managed to wedge himself back into Trump-world" — even though the president did not like him personally, considering him a "hanger-on." (Inadvertently underlining that point, Trump for weeks confused him with another "Rick.")
Regardless of whether Trump could tolerate him, Gates found an important ally in Barrack. Post-inauguration, Barrack hired Gates as director of the Washington office of his Colony NorthStar company allowing Gates to continue to wield influence in the capital despite his dubious past.
But on Monday, it appears that his wily political maneuvering may have finally hit a wall.