This piece originally appeared in New York's 50th anniversary issue, My New York – a special edition that attempts to capture the city's voice through first-person stories, spoken and written, about how our disparate lives intertwine. Read them all here.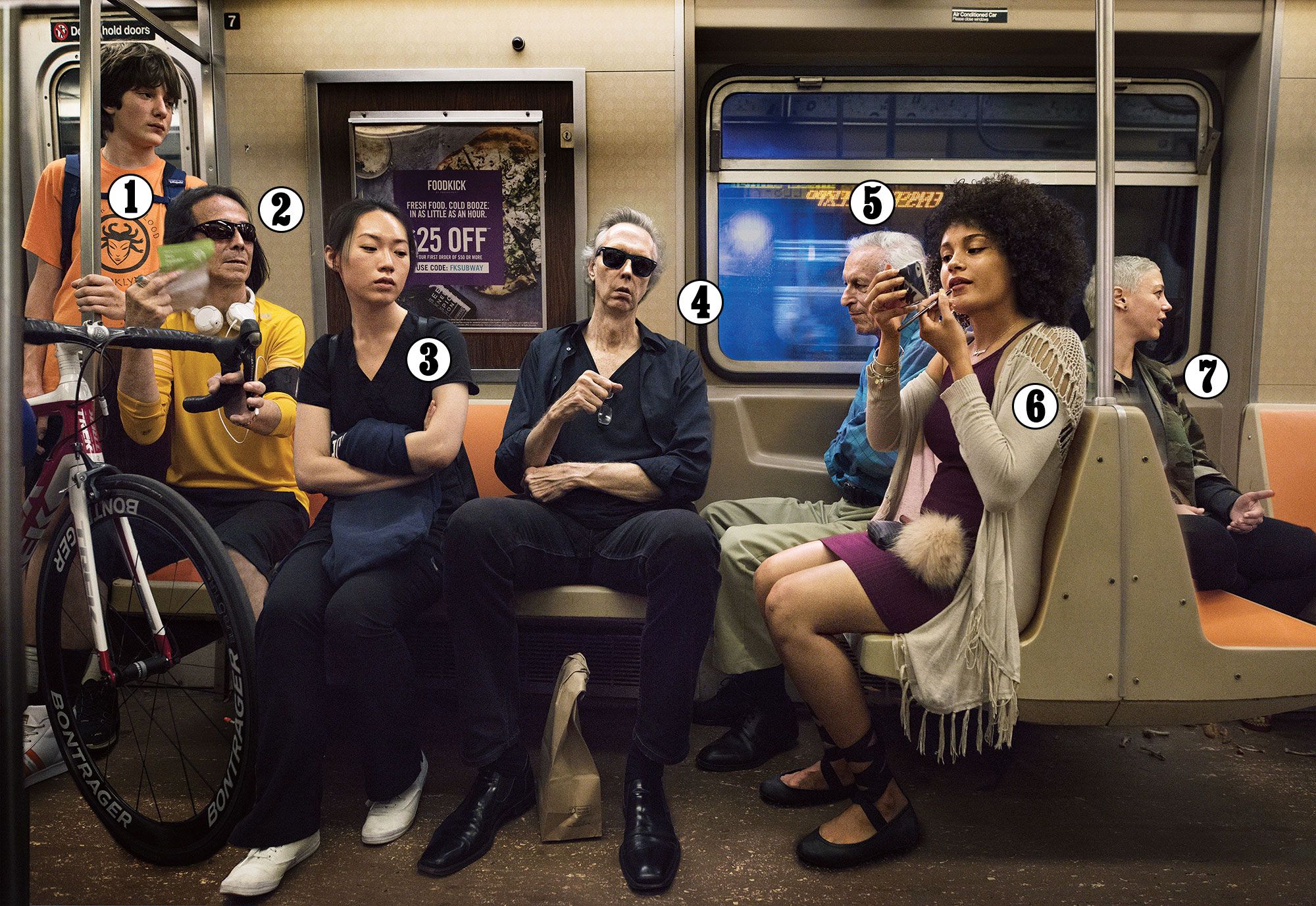 1. Gus Goldfein
14, Boerum Hill, ninth grader
Where are you going?
To the doctor's office.
What's your biggest fear?
I'm afraid I'll die before I can upload my brain to the cloud and live forever in a video game.
2. John Wilson
60, Bay Ridge, drummer
Where are you going?
To Central Park. My mom lives on 50th Street, and my son is there with her.
How old is your son?
Thirteen. I got a picture if you want to see. [Pulls out phone.] So that's Alex. And this is my beautiful wife, but she passed away. She was a model, and used to work for Elite and Ford all that. I got a 27-year-old boy with her. Her sister's married to my brother, believe it or not. Now I'm just with a Russian friend — we had Alex together. And then this other girl was in the Michael Jackson video when she was 17. You know the song "The Way You Make Me Feel"? That's her, Tatiana, she was my girlfriend. Now she's 50-something. My brother tracked her down online.
3. Susanna Wang
23, Hell's Kitchen, NYU dental student
Where are you going?
I'm coming from NYU and going home.
Any recurring dreams?
I used to dream that my teeth would fall out and crumble, and I always thought it was just because I'm interested in dentistry, but then I asked someone about it, and they said that means that you have a lot of anxiety.
4. Martin John Butler
61, Upper West Side, musician
Where are you coming from?
The Reflections Center for Conscious Living — my wife is a yoga teacher there.
What kind of musician are you?
I had a band when I was 16 called Pandora. About 20 years ago, some people found our demo, they didn't know who the band was, but they loved it so much that they put out a record. Rolling Stone actually wrote about it, not knowing who we were, and basically said, "Come out, whoever you are." I only found out about this a few years ago. I wished that I'd been more known as a singer-songwriter, so it's kind of neat.
5. Heinz Becker
83, Astoria, retired exporter of pharmaceutical chemicals
Where are you coming from?
From Germany.
No, I mean, before you got on the train.
Oh, I was at Bowling Green. Eating there. There's a Chinese restaurant, very good. Yip's.
What is the strangest thing you've ever seen in New York City?
It was in 2001, when the planes flew into the towers — I was having breakfast, and I saw it from the window in Astoria. But the problem was my wife and daughter, they worked in tower No. 1. On their way to work, they missed the regular bus, then when they got to Canal Street, the train didn't work. So they walked, but when they arrived at World Trade Center, my daughter said, "Oh, my feet hurt," because she had worn new shoes. So instead of going up, they were sitting downstairs on a bench. And so they escaped. They were maybe 20 minutes too late.
Your biggest regret?
That I didn't buy these small houses in Queens for $25,000, $50,000. And now you see they cost millions of dollars. I always say, "Why was I so stupid?"
6. Tatyana Sealy
18, Bay Ridge, SUNY–Albany college student
Where are you coming from?
Bay Ridge. I live with my mom and my stepdad. I'm going to meet my best friend at my old job — I was the hostess at a restaurant in Tribeca called Sazon.
What were you doing when I stopped you?
Just going through my apps, looking through my social media, you know, boring train ride.
7. Eylem Yildirim
34, Harlem, aerial performer–artist
Where are you going?
I'm coming from an immigration building. I had to get a stamp on my passport showing that I'm still allowed to be working here. I'm from Istanbul.
I'm going to visit a friend in Park Slope. I'm gonna do a voice-over for her, and I'm not really sure what I'm doing. She was just like, "Yeah, can you do voice-over?" I didn't ask too many questions. I'm a yes-person.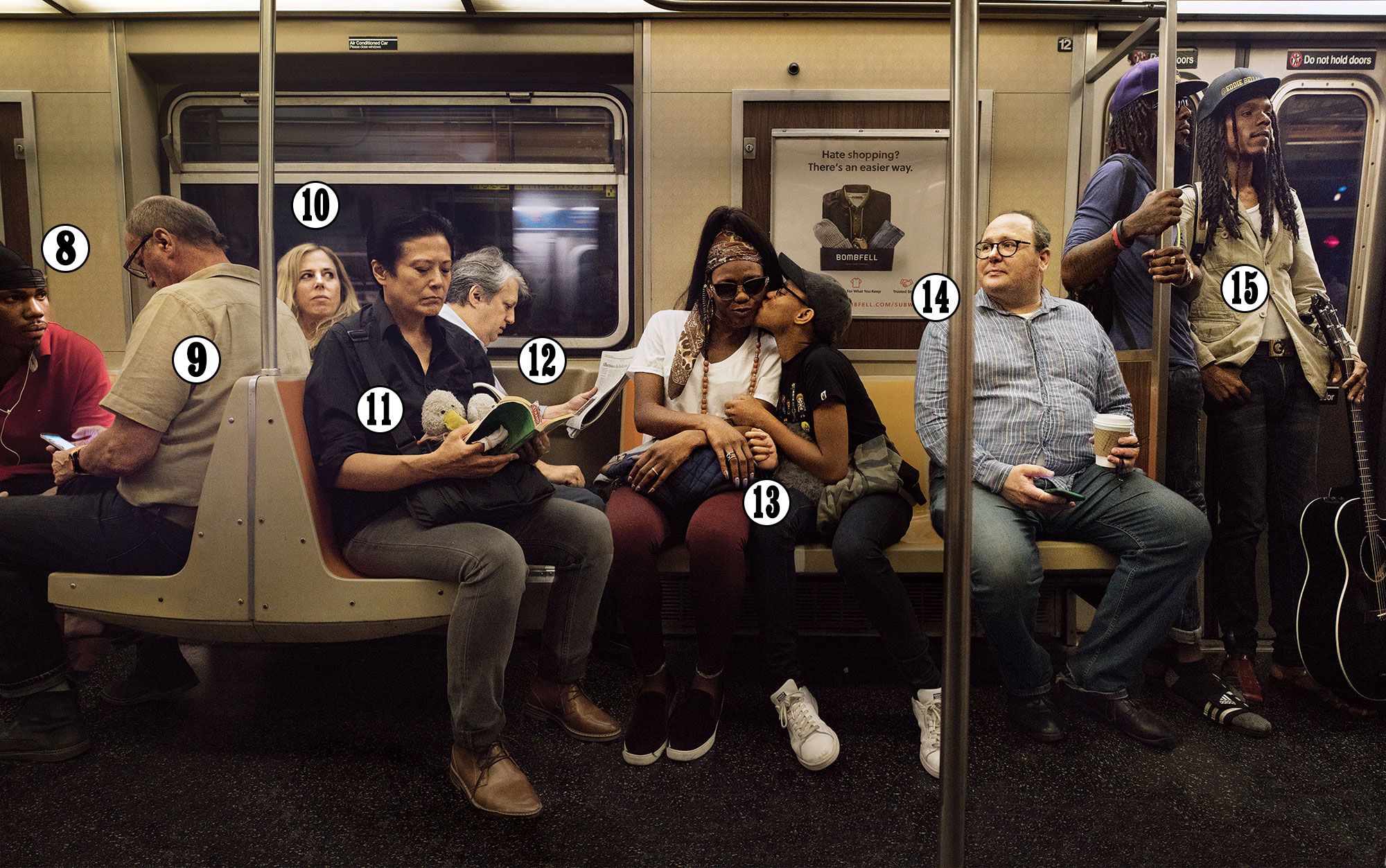 8. Dellon King
28, Jamaica, Queens, construction worker
Where are you coming from?
I had a breakfast meeting at the IHOP on 135th, but the person had to go to work and I was late, so it didn't happen. Now I'm heading back home.
If you could live anywhere in the world, where would it be?
Argentina. I like when I step outside and it's sunny. I like the brightness. I don't like the darkness. New York is starting to get overpowered by darkness.
Too many shadows.
9. Gilles Chalandon
60, Washington Heights, lighting salesman
Where are you going?
To Brighton Beach, to take a walk on the beach in the sun. I might swim also.
We have a group of swimmers. I'm big on open water. Recently, I swam around Manhattan twice. Three women in the group finished; only one man finished — that was me.
10. Deborah Landau
Park Slope–Gowanus, director of NYU's creative-writing department
So where are you coming from today?
Home. I'm heading to NYU to teach a poetry seminar.
What did you do last night?
Oh, you know, read Proust and wrote a dissertation. Just kidding — my husband's out of town, so I watched a movie, Last Night, with Keira Knightley. You know when you need to, like, tranquilize yourself into sleeping when no one's home?
11. Mina Sekine
57, Park Slope, unemployed
Where are you coming from today?
Today? Where? Park Slope. I just woke up, and I took a t'ai chi class. Now I'm going to celebrate my birthday with my best friend, in Queens, at a Colombian restaurant.
Can you tell me about the dolls?
Yes, yes, these are my babies, because I don't have any kids, unfortunately, but also I can't have any pets in my building. But I need something to love.
Bebe, this is the duckling, she's 12 years old. And this is Bebe Chaka, a tiny bear, she's 7. These are my babies.
12. Peter Danias
58, downtown Manhattan, attorney
Where are you coming from today?
Home. Going to work.
What are you reading?
The Wall Street Journal.
What other news do you read?
I look at CNN, Fox News, Breitbart, and I even look at MSNBC.
Did you vote for Trump?
I ended up being a Trump supporter. I was not a Hillary fan at all. And I will openly admit that Trump was not my first choice, but at the end of the day, when we're down to two candidates, I decided that I had to make a decision.
How is the administration doing?
I would give them a B.
Most iconic New Yorker?
Probably Giuliani. I thought during 9/11 he took the bull by the reins.
13. Katrina Bills
30, Park Slope, business owner
Senii Degannes
11, Park Slope, student
Where are you going?
There's no school, so we're gonna go have a spa day. We're gonna go get some hair done, some nails, and everything like that. Unfortunately, we have a funeral to go to tomorrow. My husband passed away. So we're just trying to get ourselves together for that. And we're going to try to, you know, feel a little bit not so down, I guess.
14. Christopher Meeder
46, Greenwood Heights, unemployed
Where are you going?
I'm on my way to a sleep study to see if I have sleep apnea. Last night, I tried really hard to sleep. I had some vodka and I watched YouTube videos until about two in the morning and stared at the ceiling some more, but I just couldn't fall asleep.
15. Eddie Bellas
33, Jamaica, Queens, musician
Jelani Williams
25, Brownsville, musician-artist
Are you guys performing all day?
Bellas: We're riding the rails, yeah. We started off in Queens and we just ride around the city.
How did you meet?
Bellas: One day, I was on the C line, and I was doing my thing, and he started rapping over me.
Williams: He was like, "Yo, who gave you permission?" But he liked what I was doing and we just joined forces.
Bellas: This is a living.
Williams: Live your dreams, yo.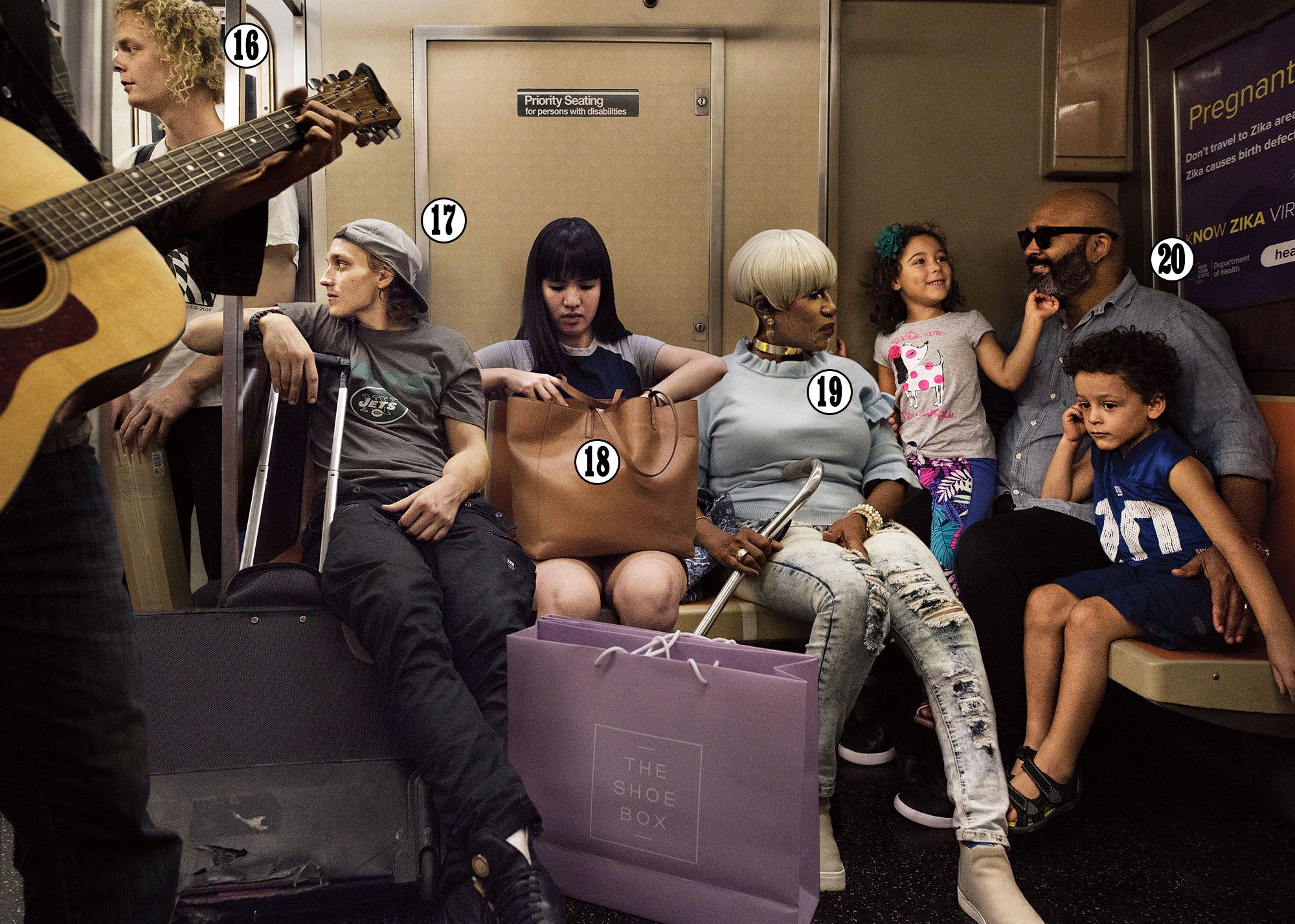 16. Zachary Hodges
23, Harlem, Hester Street Fair employee
Where are you coming from?
Grand Street. I was buying some art supplies. These are stretcher bars, to stretch a canvas.
What is your biggest fear?
I'm afraid of getting shot — like hit by a stray bullet at some point.
17. Ricky Wortman
26, homeless, unemployed
Where are you going?
Well, I just came from the methadone clinic in Soho, and I'm going out to Flushing to meet my friend.
What were you thinking about when I stopped you?
I was spaced out. I get, like, panic attacks, on the train especially. That's why I get into the benzos. That's the things I like.
Where are you from?
I was born in the South Bronx, which was rough in the '90s. I saw a person get shot, execution style, right at the corner store, I think I was 6 years old. I seen somebody come up with a Champion hoodie, tied, and he came up with a revolver and he blew his brains right out, right in front of me. At 8, I saw my mother try to kill herself. I'm getting graphic, cause a lot of people like that stuff, you know what I mean? 'Cause I want to write a book, too, that's one of my goals.
18. Nicole Zhu
24, Sunset Park, student
Where are you coming from?
I'm taking a TOEFL class at 34th Street, and I'm going to the World Trade Center to shop.
How do you like living in New York?
I feel like my life is going according to plan. Everything is in my control, so I think that is a good feeling. The best thing is even though I see some bad news online about the train or about a shooting, I feel safe. Because I think New York is very safe, not like what the people say.
19. Samantha Bowe
46, Morris Park, retired teacher
Where are you going?
To the doctor's office.
Do you have any recurring dreams?
I used to. I was flying.
Biggest regret?
That I didn't become an actor.
20. Philippe André
47, North Caldwell, New Jersey, brand manager
Isabelle & Vincent André
5, twins
Where are you going?
Philippe: To Union Square. I'm going to take the kids to the park.
Are you religious?
I was born and raised Catholic. So was my wife. I'm currently going through a very difficult time with my father, who's dying. And I think we tend to kind of look for that higher power in moments of need. But we're not really that religious, and we haven't really been practicing, but we're having a conversation of, "Okay, we need to get on the ball and start taking our kids to church."
Interviews by Hannah Goldfield
Portfolio by Peter Funch