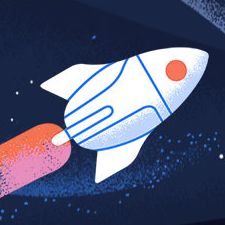 Over the weekend, Filip Struhárik, a journalist at the Slovak news publisher Denník N, revealed that Facebook is experimenting with a new format and product that's not yet visible to a wider international audience. The new design segments Facebook's main interface and primary tool of information conveyance — the infamous, algorithmically sorted News Feed you see when you log in to the site — into two different feeds. The News Feed, under this experiment, consists solely of posts from your Facebook friends. Alongside it, Facebook is testing a new feed it calls Explore.
The primary purpose of Explore — which, to be clear, is not yet a widely promoted Facebook product, just a test the company is undertaking — is in the name: It shows popular posts that the system thinks you might like, from pages and publishers that you don't follow directly. It widens your view of the entire network just a little bit. But there's a catch, as Struhárik pointed out:
In Slovakia, Sri Lanka, Serbia, Bolivia, Guatemala and Cambodia it works differently: all posts by pages are moved from newsfeed to Explore Feed. In main newsfeed are now just friend and sponsored posts.




Yes, you log into Facebook and you can see only posts from your friends and ads. You have to click on Explore Feed to see posts from pages you follow.
If you're a publisher who's built up a large audience based on your Facebook page, this means trouble — you're no longer assured a place in the main News Feed, which is by far the social network's most prominent real estate. According to Struhárik, several metrics used to measure a page's effectiveness have fallen by substantial margins. The "[s]ixty biggest Slovak media pages have 4 times fewer interactions (likes, comments, shares) since the test." Reach across several pages also dropped by two-thirds.
Of course, there is a way to get your page's posts back into the News Feed: Pay to make them "sponsored" posts — in other words, ads.
Addressing Struhárik's blog post indirectly, News Feed chief Adam Mosseri wrote, "People tell us they want an easier way to see posts from friends and family … The goal of this test is to understand if people prefer to have separate places for personal and public content."
The test has sent publishers into a frenzy, for good reason: For most digital outlets, traffic from Facebook represents anywhere from a quarter to a half of their total. A major drop in interactions and reach would have wide-ranging consequences for an industry that already operates on very thin margins.
But it also reveals the existential crisis at the heart of Facebook itself. The first big problem that Facebook is trying to solve is the reality that eager businesses and brands — including everything from the terrified publishers to clothing retailers to fast-casual restaurants to politicians — have made the News Feed an often-awful place to visit. If you want to visit Facebook to keep up with the people you know, it's easy to get discouraged by a bevy of posts from the airlines and shoe stores you might have errantly "liked." While those pages can foment engagement in the short term very well — it's literally their job — in aggregate, it makes Facebook a much-less pleasant site.
This mix of posts from corporate pages and photographs and updates from friends has exacerbated one of Facebook's other existential anxieties: "context collapse." For a few years now, Facebook has been struggling to figure out what to do about the mental load of managing multiple types of relationships (friendly, collegial, familial) under a single online identity. A feed that includes your boss, and your mom, and your old roommate, and your spouse — and the New York Times and Chester Cheetah — is difficult to manage. Rather than futz with Facebook's convoluted privacy permissions to make sure their boss couldn't see their tagged photos, but that college buds could, people just stopped posting, which is a serious concern for a service that relies on a constant and continuous flood of new content.
To fix this, Facebook has done a few things. It's emphasized ephemerality by cloning Snapchat's 24-hour "stories" format into its own services (WhatsApp and Instagram included), started pushing live video in the hopes that people will be more spontaneous, and is now heavily promoting its Groups product, hoping that small, intentional online communities — rather than posts to the vast sea of "Facebook friends" — will motivate people to share more.
None of these have been allover solutions to Facebook's problem. It's hard not to see the bifurcation of the News Feed as the next step: Maybe a feed of, well, just your friends would encourage people to post more — less of the hostile alien world of Brand Facebook, and its associated comments and likes from strangers, and more of the friendly-ish world of people you (mostly) know.
There are other potential longer-term benefits to this approach as well. It's possible that separate areas for posts from individual users and posts from brands will cut down on Facebook's role in the spread of misinformation, hoaxes, and fake news. For better and worse, making the News Feed only accessible to the pages willing to pay for placement eliminates the dubious sites that have managed until now to coast for free off of the site's network effects. The catch is that links are still allowed on the friends-only News Feed, and people are dumb and might just post whatever they want to believe anyway — in the form of an image macro. Who knows? (Only Facebook, and it will never tell you.)
Maybe Facebook will just abandon the Explore Feed, and never introduce it anywhere else. This, more than anything, is what should scare us about the test: As Nicholas Dawes of Human Rights Watch pointed out, "Facebook takes [a] casual buzzsaw to publishers in a few countries that sound small and far away" — Sri Lanka, Bolivia, Slovakia, Serbia, Guatemala, and Cambodia. Publishers in these countries are now seeing their entire businesses clobbered for an indefinite amount of time by a few hundred engineers at Facebook for the sake of a worldwide test. Facebook is so big that even a small trial in a handful of countries is influential enough to screw things up for millions of people.
Facebook says it has no plans to roll out the overhauled feed system globally. But plans change all the time.