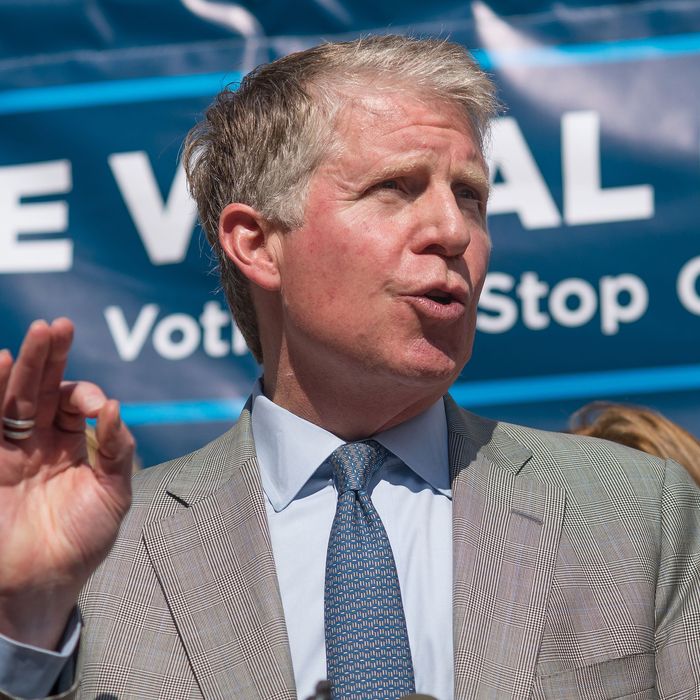 Manhattan District Attorney Cy Vance.
Photo: Albin Lohr-Jones/Pacific Press/LightRocket via Getty Images
Cy Vance seems to extend grace to high-profile would-be defendants without fear or favor toward either political party. For the reasonable man and woman on the street, that's the takeaway from back-to-back bombshells implicating the Manhattan district attorney, who determined, following two separate investigations, that no prosecutions should be brought against Harvey Weinstein for sexual assault or Ivanka Trump and Donald Trump Jr. for fraud. In both cases, there were suspicious political contributions to Vance.
A prosecutor's exercise of discretion in all criminal cases is generally un-reviewable — agree or disagree, there's nothing much we can do about it. There are myriad reasons a district attorney may point to when declining to prosecute in these situations: limited resources, prioritization of certain cases over others, proof problems.
In the cases of both the Trump children and Weinstein, Vance seems to have settled on the third of those rationales. In defending his move to not prosecute Weinstein, Vance pontificated about the law of sexual abuse rather than address the public's outrage, even as he sounded as troubled as anyone else by the horrific sound recording, obtained by The New Yorker, that may have supported criminal charges against the film impresario. "Our best lawyers looked at the matter," he told reporters last week about a recording where Weinstein is caught all but admitting to groping a woman. "I, like they, was very disturbed at the contents of the tape. It's obviously sickening, but at the end of the day we operate in the court of law, not in the court of public opinion."
But suggesting that the insuperable hurdle was the law in this context is misleading. It may be true that New York law requires Vance's team of prosecutors to prove that Weinstein touched Ambra Battilana Gutierrez, the model who made the incriminating tape in 2015, "for the purpose of gratifying sexual desire," and that Vance may have felt that that element of the crime wasn't there. But if Law & Order: SVU and the workings of overzealous district attorneys have taught us anything, it's that these public servants don't just build a case out of one piece of proof. The tape was damning enough, but there's also Battilana Gutierrez's testimony, and other prosecutorial tactics might have uncovered other evidence, either direct or circumstantial, to build a solid case against Weinstein. For any prosecutor, where there's a will there's a way.
So for the DA's office to claim, as it has, that this is all the NYPD's fault for running a sting "without our knowledge or input," as Vance's sex crimes chief put it to the Washington Post, sounds like spin of the highest order. God only knows how many less-powerful Harvey Weinsteins Vance has put away in cases where there wasn't even a tape.
Then there's the little detail of the campaign donations Vance received from members of Weinstein's legal team — including a former law partner of Vance's — both before and after the dropped Weinstein case. "No contribution in my seven years as district attorney has ever had any impact on my decision-making," Vance insisted last week. "Contributions are unfortunately a part of running for office." They're also, fortunately, fair game for the public to scrutinize, especially when the sitting district attorney, who is up for reelection, is running unopposed. (Or, almost unopposed.) If no adversary can hold your feet to the fire, then who will? "There is a different track of justice for the wealthy and well-connected in Manhattan," New York assemblyman Dan Quart, who has asked Eric Schneiderman to look into Vance's charging decisions, told the New York Law Journal.
Because the optics of the Weinstein and Trump non-prosecutions aren't positive for Vance, there seems to be a campaign afoot, largely by lawyers who have worked with him, to defend him as a "very ethical man." And in a sign that he's contrite about the perception that he's letting the powerful off the hook, Vance may "rethink" the practice of receiving campaign donations from criminal defense lawyers — a course of action that Preet Bharara, who has never been elected to anything, seems to endorse. (Maybe the best option would be to eliminate the practice of electing prosecutors altogether — as with judicial elections, the United States remains woefully exceptional in retaining it.) While forswearing such donations would the responsible thing to do, it's unlikely that they were the deciding factor in Weinstein's case.
In the end, Vance's choice to go easy on Weinstein may have been less about favoring him, and more about fearing going up a against a deep-pocketed defendant in what could have been the biggest sex-crime prosecution of his career. Harvard law professor Jeannie Suk Gersen astutely pointed out that, early in his tenure as Manhattan's district attorney, Vance badly botched the case against Frenchman Dominique Strauss-Kahn, the International Monetary Fund leader who stood accused of sexually assaulting a hotel maid. There, as in the Weinstein case, a conviction may have turned on the credibility of the victim — which may explain why Vance arguably erred on the side of self-preservation and avoiding embarrassment than seeking justice.
Even with a smoking-gun tape staring him in the face, the prospect of yet another botched case in the headlines may have been simply too daunting for Vance.