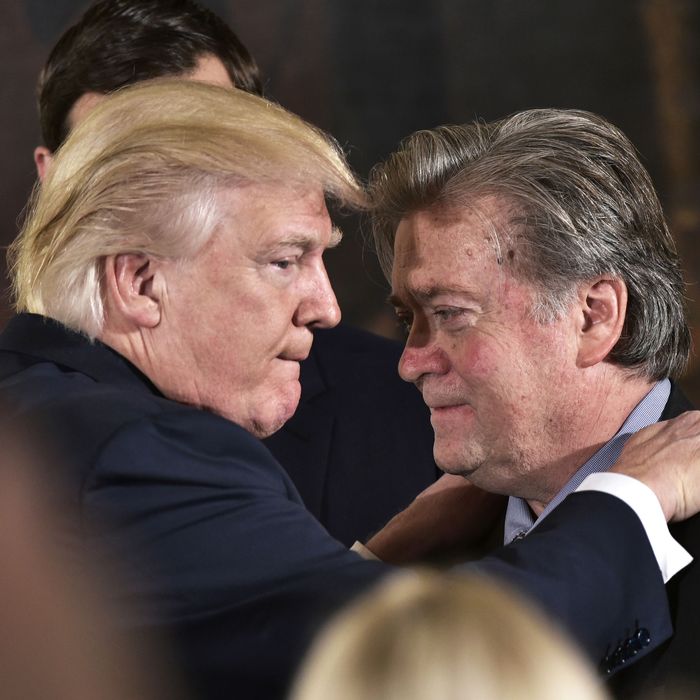 The twin symbols of Trumpian nationalist populism, or whatever it is, may be on opposite sides of several Senate barricades.
Photo: Mandel Ngan/AFP/Getty Images
While it hasn't been formally confirmed by the White House just yet, Politico is reporting that President Trump called up three Republican senators who are up for reelection and promised to help them fend off any primary challengers that might emerge. It's probably not a coincidence that all three — John Barrasso of Wyoming, Deb Fischer of Nebraska, and Roger Wicker of Mississippi — have been the subject of dark imprecations and thinly veiled threats from former White House chief strategist Steve Bannon, that great defender of Trumpism even if that involves opposing Trump.
The three senators receiving an offer of help from Trump are a goodly portion of the incumbents under fire from Bannon. There are only eight GOP senators up next year. Bannon isn't messing with Ted Cruz. Bob Corker is retiring. Another, Orrin Hatch may retire, too; he hasn't announced his intentions. There are two senators that Bannon and like-minded "populists" might target but that Trump probably won't back no matter what Mitch McConnell does: sworn presidential enemy Jeff Flake of Arizona and the less-abrasive but still unreliable Dean Heller of Nevada. That leaves the very three Trump apparently called this week.
Two potential right-wing challengers are looking at Barrasso with bad intent: gazillionaire Foster Friess, the man who bankrolled Rick Santorum's 2012 presidential campaign, and Blackwater founder (and brother of Education Secretary Betsy DeVos) Erik Prince. Bannon has talked to former Nebraska state treasurer Shane Osborn, who lost badly to Ben Sasse in a 2014 Senate primary, about taking on Fischer. And Chris McDaniel, who blew a primary runoff against Thad Cochran in 2014, is eager to run against Wicker, who had the temerity to suggest that Mississippi might want to consider ending its ancient and evil love affair with the Confederacy.
The big question is exactly what either Trump or Bannon will add to any of these three races. Trump obviously has clout and ultimate visibility as the president of the United States, and for all the #NeverTrump movement conservatives (Flake and Sasse now being their increasingly isolated representatives) who initially withheld affection for their party's ravisher, he's now loved by the right-wing rank-and-file as though he were the reincarnation of Barry Goldwater.
But Trump's clumsy and narcissistic embrace of Luther Strange in Alabama should give pause to any future endorsee. A postelection study showed Trump did little or nothing to boost his candidate's standing, even in a state where Republicans adore him. It's possible his appeal, such as it is, simply isn't transferrable, and it's also possible his fans believe in doing what Trump does rather than doing what Trump says. Candidates adept at bone-charring rhetoric and provocation of the hated liberals may be irresistible to Trump's base, no matter whom he backs.
On the other hand, Bannon's insurgent wizardry is a bit suspect as well. The idea that he deserves much credit for Roy Moore's primary win in Alabama is laughable: Moore was a massive celebrity in his home state (and among Christian-right folk nationally) back when Bannon's main theater of operations was in sinful Hollywood. And Luther Strange, bless his little heart, was a great big hot-air balloon losing altitude from practically the moment he accepted appointment to the Senate from a disgraced governor he had been protecting from impeachment. It is at this point not at all certain he can go rolling into a state like Wyoming with Mercer money and screaming Breitbart headlines and take down an incumbent senator, particularly if his candidate is a sketchy character like Prince, who probably knows more about sandy plains of Iraq than about the windy plateaus of the Equality State.
So it could well turn out that neither Trump nor his former sidekick and ideological shaman is going to have that dramatic an effect on GOP Senate primaries in 2018. Republican voters may have to make those choices on their own.