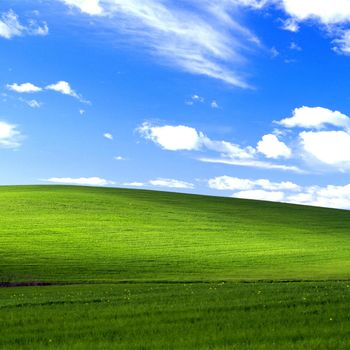 Don't let the tweets fool you, Bliss Hill is just fine.
Photo: Windows
It's true that deadly wildfires have swept through large sections of California in recent weeks. It's, however, not true that Bliss Hill — the lush, green hill best known as Windows XP's default wallpaper — was among the areas affected. (Bliss Hill isn't technically the hill's real name. Bliss is the name of the wallpaper itself, but has become also the hill's moniker this side of Windows XP's ubiquity.)
While many other hills and vineyards nearby in Sonoma County were impacted, the Windows XP hill is fine. Here's a look at California's fire map, via Google. A public-information officer working on fires in the area told Gizmodo that there are currently no active fires in the area.
Instead, the fiery photo that people on Twitter, Imgur, and Reddit were quick to share as Bliss Hill actually appears to have been taken at the Gundlach Bundschu winery, which is close to Bliss Hill, but, again, is not it. (The winery sustained some damage — including the loss of a family home — but its main structures are still intact.)