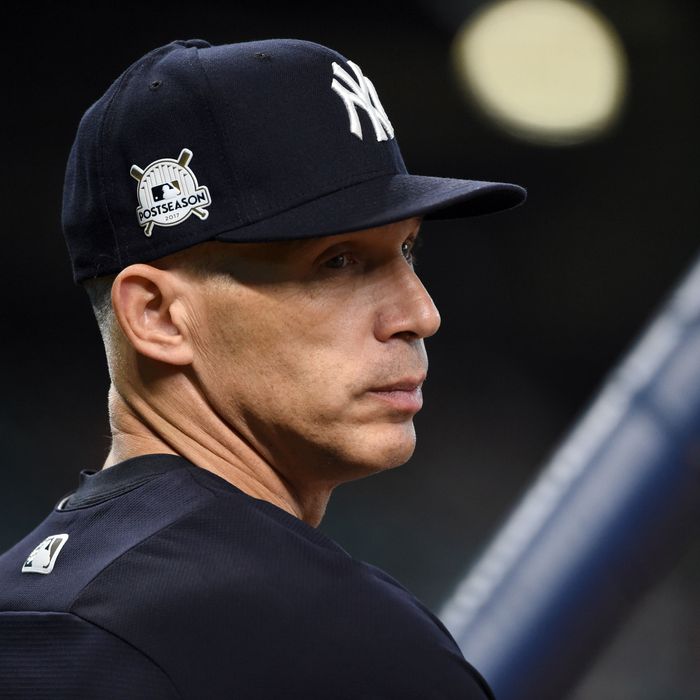 He's out.
Photo: Cooper Neill/MLB Photos via Getty Images
Just five days after the Yankees came within one game of an unlikely World Series berth, manager Joe Girardi is out of a job. The third-longest tenured manager in baseball confirmed reports of his departure in a statement Thursday morning.
"With a heavy heart, I come to you because the Yankees have decided not to bring me back," he said. Yankees general manager Brian Cashman followed with his own statement confirming that it was the team's decision to "pursue alternatives for the managerial position."
Girardi's tenure with the Yankees ends after ten season, which saw him compile a 910-710 record. In his second season with the club, Girardi managed the Yankees to the franchise's 27th World Series title on the backs of a fearsome lineup featuring Mark Teixeira, Alex Rodriguez, and Derek Jeter, among others. As those stars faded, the Yankees entered a rebuilding period. But even then, Girardi never presided over a losing season, thanks in part to the Yankees wealth, which allowed the team to continue spending on free agents as the front office stockpiled prospects.
This season, with a young core that most thought was a year away from playoff contention, the Yankees overachieved and reached the American League Division Series for the first time since 2012. But even that wasn't enough to save Girardi's job, whose personal relationship with Cashman had reportedly become strained. ESPN baseball writer Buster Olney compared the split to a divorce.
Cashman will now be tasked with hiring a manager to lead the Yankees into a new era dominated by a slew of young talent. Jon Heyman of Fanrag Sports says the GM will be looking for a more "analytics-driven manager," or someone who bases decisions more on evidence and less on his gut. Meanwhile, Joel Sherman says Cashman prefers someone with whom he already has a relationship.
You know who checks all of those boxes and just so happens to be headed for free agency in 2018? Alex Rodriguez.