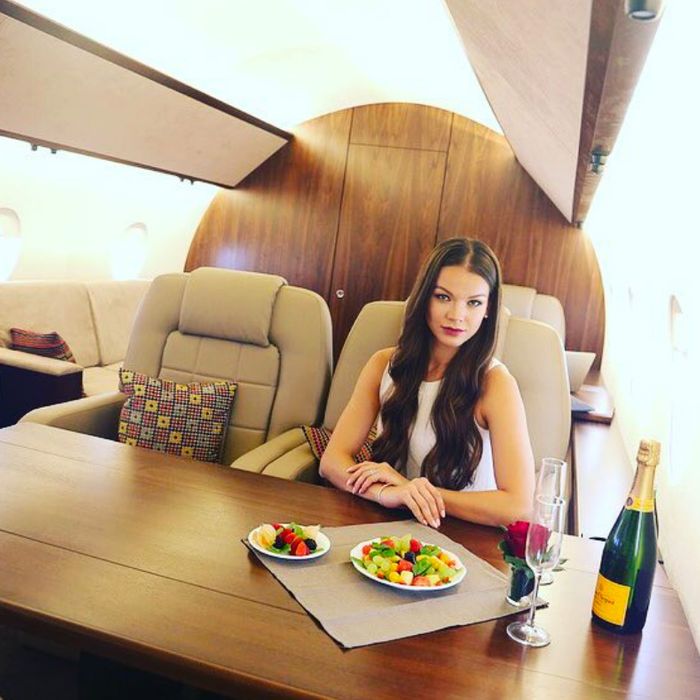 This could be you!
Photo: privatejetstudio/Instagram
It's hard out there for an aspiring Rich Kid of Instagram. Those comically large bottles of Champagne, sparkling new cars, and conspicuously logo'ed brand-name bags add up. So, what's a wannabe influencer to do?
Hire a bargain Russian private-jet company to help you fake it (till you make it, of course), apparently.
According to the Independent, a Moscow-based photography studio is now renting out grounded private jets to aspiring Instagram stars who just can't quite come up with the funds to charter a flying one.
A two-hour photo shoot will cost you about 11,000 rubles — approximately $191 in freedom dollars — which is nothing in comparison to the hourly charter rates for a jet that will actually, you know, take you somewhere. For an added cost, they'll even cover the jet's table in booze or other "luxury products."
The studio behind all of this — creatively named "Private Jet Studio" — will also provide you with a makeup artist, so you can get that casual I-Just-Rolled-Out-of-Bed-and-Into-This-Expensive-Jet-How-Quaint look.
Just make sure not to pull a Lil' Bow Wow and accidentally get caught flying commercial moments after. Post wisely, my friends.