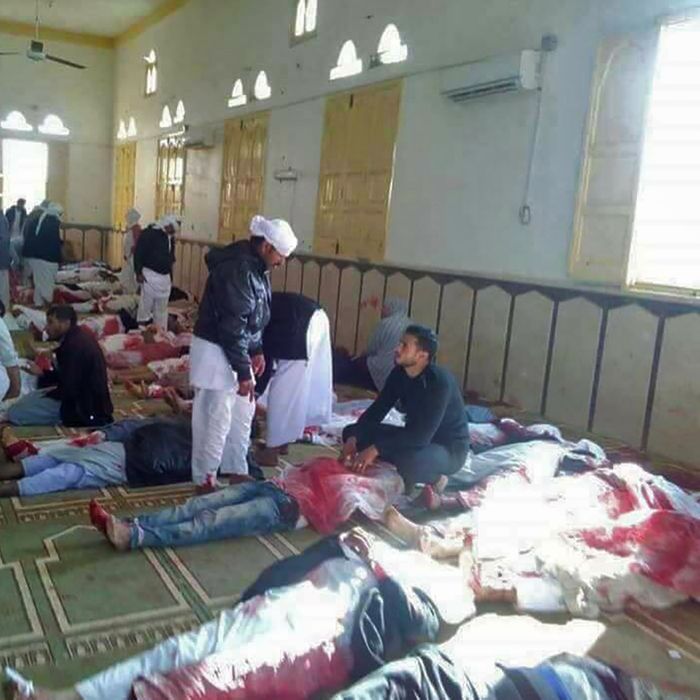 Photo: STRINGER/AFP/Getty Images
On Friday, a large crowd of Sufi Muslims was praying at a mosque in Bir al-Abed, Egypt, when a bomb ripped through their house of worship. As the panicked survivors fled the building, an estimated 25-30 attackers rained bullets down on them; when emergency workers arrived to treat the wounded, the militants reportedly opened fire on the ambulances.
It was the deadliest terrorist attack in Egypt's modern history. At least 305 people were killed in the 20-minute assault, including 27 children, Egyptian authorities reported on Saturday. One-hundred-and-twenty-eight people were wounded.
Terrorism has been prevalent in Egypt in recent years, but the most vicious attacks have been directed at the nation's Christian minority, and violence at mosques has been rare. Friday's attack was the first time militants in the country have ever targeted a Muslim congregation with a major assault.
As of this writing, no group has claimed responsibility for the attack, but an ISIS affiliate on the Sinai Peninsula, Ansar Beit al-Maqdis, has killed Sufis in the region in recent months. Like many other Sunni extremist groups, Ansar Beit al-Maqdis regards the Sufis' mystical interpretation of Islam as heretical. According to the New York Times, the group had previously "singled out the district where the attack took place as a potential target." The assailants reportedly shouted "Allahu Akbar" during the assault on Friday.
The mass-casualty attack undermines the authority of Egyptian president Abdel Fattah el-Sisi, who has justified his regime's ruthless suppression of political dissent on the grounds of national security. Following Friday's attack, the Egyptian military claims it launched several air strikes against militants fleeing in four-wheel-drive vehicles.
Hours later, Donald Trump argued that the attack on a Sufi mosque in Egypt proved that the United States urgently needs to build a wall on its border with Mexico. The president further suggested that, in light of this attack on a religious minority group, his administration would take further steps to restrict anyone from the Middle East from seeking refuge in the United States.