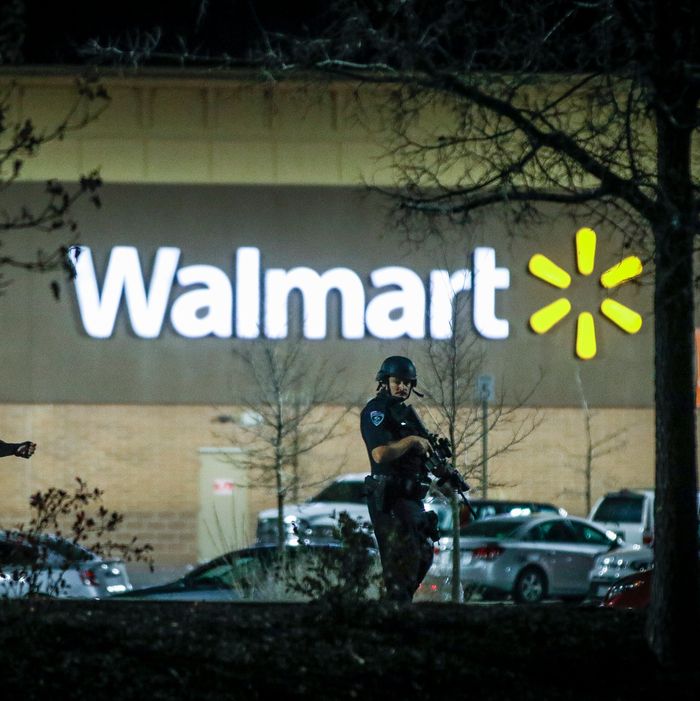 Police investigate the scene of a shooting at a Colorado Walmart on November 1, 2017.
Photo: Marc Piscotty/Getty Images
At least three people were killed on Wednesday night when a man casually walked into a Walmart in Thornton, Colorado, opened fire with a handgun, then sped off in a car. The suspect is still at large.
Police were called to the store in the Denver suburb at 6:30 p.m. MT, and by that time, the shooter was already gone. Thornton police spokesperson Victor Avila said the gunman walked into the store and began randomly shooting people near the registers. He said nothing during the shooting. Two men died at the scene, and one woman died later at the hospital.
The gunman was described as a white male wearing a black jacket, blue jeans, and a maroon shirt. He fled the scene in a red Mitsubishi Mirage. Avila said they have no leads on his identity.
"I immediately froze because I didn't know what to think or what was going on. Then I heard two more shots and I hit the ground," witness Aaron Stephens told CBS Denver.
This post will be updated as more information becomes available.