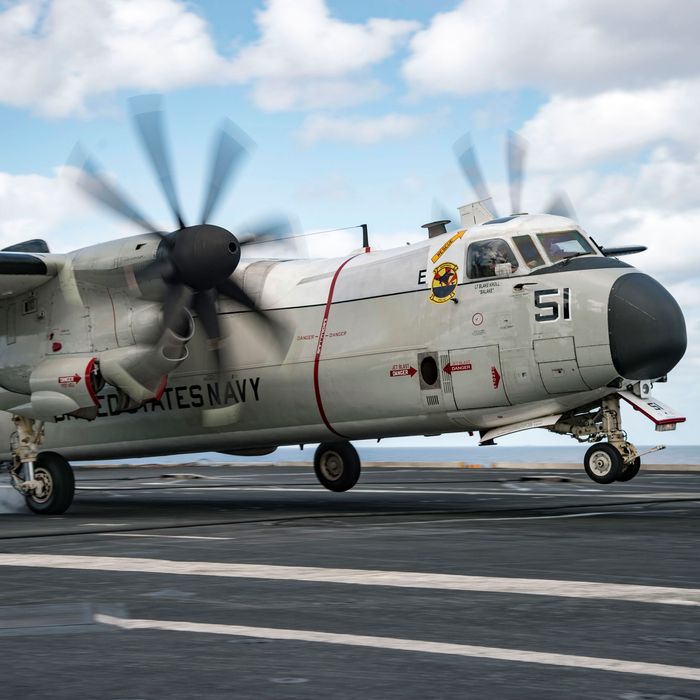 A C2-A Greyhound aircraft.
Photo: Mass Communication Specialist Seaman Zach Sleeper/U.S. Navy
A U.S. Navy plane carrying 11 people crashed in the waters off of Okinawa Wednesday, the Navy said in a statement. Eight of the passengers were quickly recovered and in "good condition," but the remaining three are still missing.
"Our entire focus is on finding all of our sailors," Navy Rear Admiral Marc H. Dalton said in a statement. "U.S. and Japanese ships and aircraft are searching the area of the crash, and we will be relentless in our efforts."
The C2-A Greyhound transport plane was flying a routine mission, carrying crew and cargo from a base in Japan to the U.S.S. Ronald Reagan. The aircraft carrier is in the Philippine Sea and participating in U.S.–Japan naval exercises.
President Trump tweeted "prayers for all involved" Wednesday as rescue teams from both the U.S. and Japan searched for the missing passengers.
The cause of the crash isn't yet known, though Japan's defense minister told reporters that "engine troubles" may have been the culprit.
This crash is at least the fifth accident involving the Seventh Fleet, which lost 17 sailors in 2017. The most deadly incident occurred in August when the U.S.S. John McCain collided with an oil tanker, killing ten. The commanded of the Seventh Fleet, Vice Admiral Joseph Aucoin, was relieved of his duties following the accident, which the Navy has said was "avoidable."