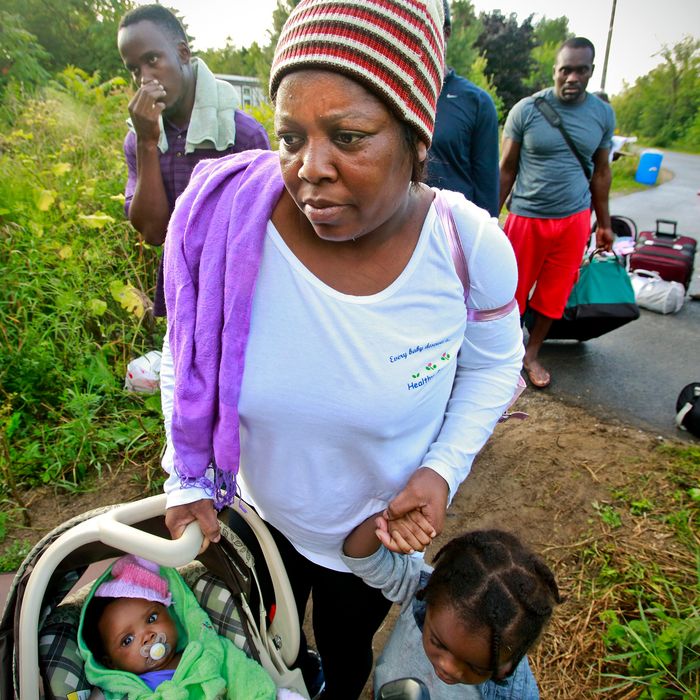 Migrants preparing to cross from the U.S. to Canada at the border last August. Thousands of people have crossed over into Canada in hopes of finding residency there, including Haitians who worry that their Temporary Protected Status could soon end under the Trump administration.
Photo: Al Diaz/Miami Herald/TNS via Getty Images
The State Department has told Homeland Security officials that more than 300,000 Central American and Haitian immigrants should no longer be protected from deportation, according to the Washington Post. The immigrants, most of whom entered the country illegally, are currently shielded under the Temporary Protected Status program, which gives them temporary permission to live and work in the U.S. instead of being returned to countries that are deemed unsafe after facing natural disaster, armed conflict, or other emergency situations.
Per a letter from Secretary of State Rex Tillerson to DHS secretary Elaine Duke this week, the State Department believes that conditions in Central America and Haiti have now improved to the point that TPS designation is no longer necessary. The legally required assessment came as the DHS prepares to announce by Monday whether it will renew TPS protection for more than 60,000 Honduran and Nicaraguan immigrants in early January. Tillerson's letter doesn't bode well for them or for two other large groups of American residents: nearly 60,000 Haitian immigrants with TPS whose protection expires in late January, and almost 200,000 Salvadorans whose protection expires next March.
Some of these immigrants have been in the U.S. for as long as two decades, and many own homes and businesses. One study has estimated that TPS holders have almost 275,000 U.S.-born children in their families. Should the designations not be renewed, these immigrants would have at least six months to get their affairs in order and leave the country. If they chose to stay, they could face arrest and deportation.
The DHS insisted on Friday that no decision had yet been made regarding the renewals, but Trump administration officials have repeatedly emphasized that the program was only meant to be temporary, not a justification for long-term residency. Though the Trump administration's strict anti-immigration stance is well-established at this point, immigrant advocates are still holding out hope that Homeland Security officials will extend the TPS designations, as previous administrations have repeatedly done.
"With this particular law, it is very clear to this administration what needs to be done," a Trump administration official told the Post, though they added that they understand how ending the designations would present "a very difficult decision" for TPS recipients.
Hondurans and Nicaraguans were given the opportunity to obtain TPS in 1998 following the devastation in Central America caused by Hurricane Mitch. Haitians were allowed TPS following the 2010 earthquake, which killed 200,000 people in the Caribbean country. Not all TPS designations have lasted so long, however. The Obama administration added Guinea, Liberia, and Sierra Leone to the TPS list following the deadly Ebola outbreak in those nations in 2014, but decided to let it expire this past May since the Ebola crisis had been resolved.
Pew points out that more than 320,000 immigrants currently have permission to live and work in the U.S. under the TPS program, hailing from ten countries, though the majority (just over 300,000) are from El Salvador, Honduras, Haiti, and Nicaragua. The remaining 20,000 immigrants protected by the program are from Nepal, Syria, Yemen, Sudan, and Somalia. All told, immigrants with TPS make up roughly 3 percent of the estimated 11 million undocumented immigrants living in the U.S.
Some of the requirements for recipients of TPS are similar to those for participants in the popular Obama-era DACA program, which offered immigrants who came to the U.S. before the age of 16 the opportunity to live and work or study in the U.S. without fear of deportation. As with DACA, TPS holders are not entitled to permanent residence or citizenship, and those looking to gain or maintain TPS must meet filing deadlines, pay fees, and prove that they do not have criminal records. Because of these paper trails, it would probably not be difficult for the U.S. to target any of these immigrants who refuse to leave the country as ordered.
The Trump administration has already vowed to phase out the DACA program starting next spring unless Congress comes up with a way to replace it. If DACA and TPS protections are allowed to expire, roughly 1.2 million undocumented immigrants will start facing the possibility of targeted deportation next year.