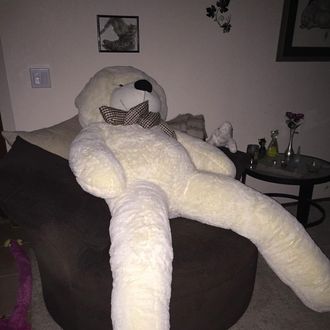 Photo: Amazon user Savannah
Probably one of the last unmitigated joys of the internet is finding weird products to buy online, usually on endless cyber-warehouses like Amazon. There's the 55-gallon barrel of lube, or the bizarre vehicle known as the Badonkadonk, or more recently, a stuffed bear with crazy-long legs.
A tweet from user @cooltonedcutie highlights the bear-seller's numerous victims, lured in by a promo photo that doesn't show the enormous legs, only its large but proportional torso.
"Hideous! The legs are like 4 feet long making the bear look like a creepy gumby thing," user Savannah wrote, alongside a photo that's been getting passed around social media. "I got this for Valentine's Day and would have rather had a cheaper more proportional bear … I mean this isn't even cute."
Another user wrote, "I was expecting the bear to be huge because it's 6.5 ft right? No, all of its height is from its legs and the legs are longer than its upper body." (Fact-check: Another Amazon user says that the legs occupy only 36 of the 78 inches that make up the full bear.)
They both gave the bear a one-star review, but yet another buyer was unfazed by the gigantic gams: "It is just as cute as in the picture except the legs are kind of long compared to the proportions of your average sized teddy bear." Four stars.
Other bear owners and bear admirers have come out of the woodwork to express their appreciation for the stuffed bear with a weird body.
Long Leg Bear, thank you for honoring us with your presence. May your long legs stretch wherever they please.