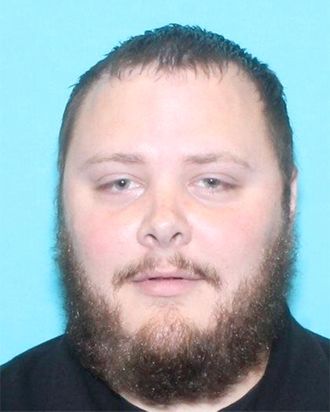 Devin Kelley.
Photo: Texas Department of Public Safety
The Air Force admitted on Monday that Devin Kelley — the gunman who massacred 26 people in a Sutherland Springs, Texas, church on Sunday — was able to buy firearms because it failed to report his domestic-violence court-martial into a federal database.
While serving in the Air Force, Kelley was convicted by a general court-martial on two charges of domestic assault for assaulting his then-wife and striking his infant stepson hard enough to fracture his skull. He served a year in a Navy brig in California in 2014, and then received a bad-conduct discharge from the military. That should have barred him from purchasing firearms and body armor.
"Initial information indicates that Kelley's domestic violence offense was not entered into the National Criminal Information Center database," said Air Force spokesperson Ann Stefanek. In a statement, the Air Force said it has launched a review of Kelley's case and "relevant policies and procedures." The service said it is also looking into whether other convictions were not properly reported.
Firearms retailer Academy Sports confirmed that Kelley purchased two guns from its stores in San Antonio in the last two years, and "both sales were approved by the National Instant Criminal Background Check System." Since his court-marital, Kelley had bought two other firearms in Colorado. It's unclear if these weapons were used in the attack.
Geoffrey Corn, a former Army lawyer and professor at the South Texas College of Law in Houston, told the Washington Post that it appears there is confusion within the military about reporting violent crimes that result in bad-conduct discharges, which are less severe than dishonorable discharges.
Lawmakers called on Defense Secretary Jim Mattis to review whether other military branches have failed to report other former service members to the FBI.
Texas officials said the shooting was related to an ongoing "domestic situation." Kelley had sent threatening texts to the mother of his estranged wife, who was a member of First Baptist Church.
Fourteen children and a pregnant woman were killed in the massacre. The victims' ages ranged from 18 months to 77 years old.