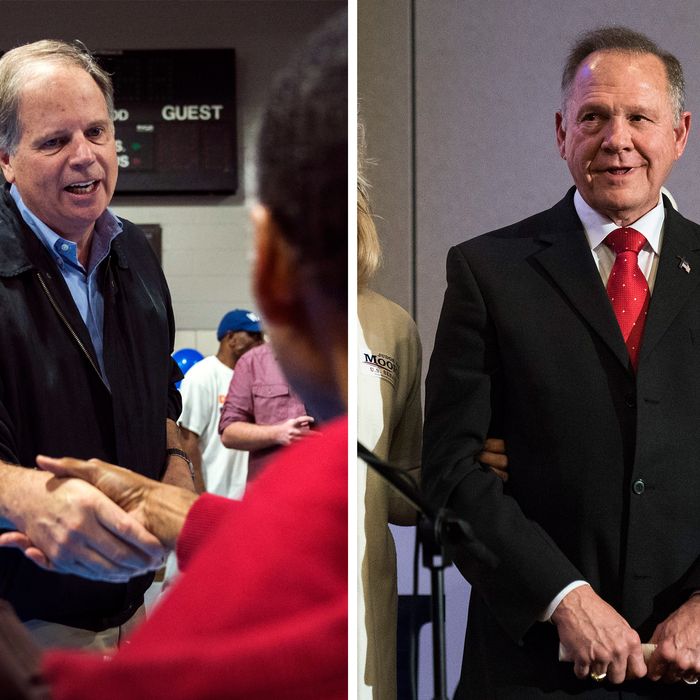 Whether the winner is Democrat Doug Jones or embattled Republican Roy Moore, the election of Alabama's next senator could upset all sorts of calculations in Washington.
Photo: Drew Angerer/Getty Images
The voters of Alabama may be preparing a really nasty Christmas present for the United States Senate and its Republican overseers.
The special election to choose someone to finish Jeff Sessions's term is on December 12. Alabama counties have until December 22 to certify their results. An Alabama election official told Reuters last week that one or more counties might miss that deadline, preventing the state from certifying the election until December 26. And here's where Reuters came up with the calculation that has fed the widespread assumption that Mitch McConnell can count on keeping the very pliant temporary senator Luther Strange in place until some point in January:
Once certified election results are available, a new senator would be sworn in during an open session of the Senate, according to Senate officials. With the Senate scheduled to be out the last week of December, the next open session would not be until early January.
With both the tax bill and a gigantic year-end spending bill hanging fire, the odds of the Senate being able to take a luxurious post-Christmas recess are very low. And if they are in session, they will more than likely have to swear in Doug Jones or Roy Moore as new senators.
Jones has already given indications that he would join virtually every other Senate Democrat in opposing the GOP tax bill. Moore is much more likely to support this legislation, though he has his own wacky tax ideas, and has every reason to cause trouble for Mitch McConnell and other GOP Establishment types. A big fat omnibus spending bill is another matter: Roy Moore is precisely the kind of Republican who would love to shut down the federal government over this or that symbolic grievance.
It's possible frantic phone calls from Washington could convince Alabama's Republican election officials to slow-walk the certification of a new senator until all the must-pass legislation is out of the way. But Alabama Democrats (or in the case of a Moore victory, his passionate supporters) would hasten themselves to the nearest courthouse in an effort to force them to do their jobs.
The other possibility is that the impending arrival of a potentially hostile new senator is dangerous enough for the passage of tax and spending legislation to affect Congress's own timetable. The tax-cut train is already barreling down the track at maximum speed. But don't be too surprised if the GOP managers of Congress contrive to punt what is now a year-end spending bill well into 2018.