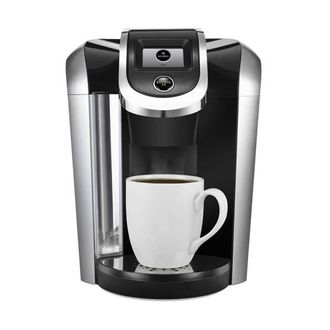 This is no laughing matter.
Fox News' Sean Hannity recently found himself in some hot water after appearing to defend the actions of Republican Alabama Senate candidate Roy Moore, who has been accused of initiating sexual encounters with multiple teenage girls while he was in his 30s. Since his comments, a number of advertisers on Hannity's show on Fox News have pulled out, including realtor.com, 23andme, and ELOQUII. The most high-profile loss by far was the coffee machine (and pod) company Keurig, which decided to withdraw its advertising from the show after being alerted of the issue on Twitter.
This simple tweet launched Hannity fans into a frenzy this weekend, inspiring a totally rational, not-at-all-insane, fan-base-wide decision to #BoycottKeurig. Unlike your run-of-the-mill Twitter protest — which would usually stay almost entirely online — this one was much more serious. The Hannity fans of Twitter meant business. In the vein of the Boston Tea Partiers of lore and legend, there was only one obvious next step for these modern-day patriots: They had to smash their Keurig machines. (And upload a video of it to the internet to upset the liberals, of course.)
I'm hearing a lot of you saying "Wait, didn't they have to buy the Keurig to destroy it? Doesn't that cancel out the whole purpose of the protest?" and let me be the first to tell you, you couldn't be more wrong: As civil-rights activists have long held, the point of protest is not to financially harm the companies you're protesting and pressure them into adopting your position, but to trigger libs online.