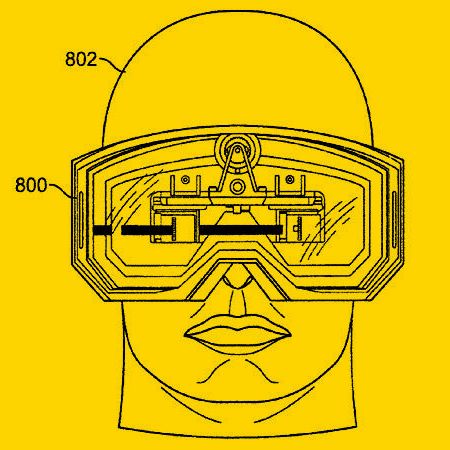 From a patent filed by Apple in 2008.
Photo: Apple, Zeiss
Bloomberg's Apple scoop generator Mark Gurman reports that Apple is moving fast on augmented reality. Gurman says the company is seeking to have an augmented-reality headset ready by 2019, with a product available for sale by 2020. (A quick refresher: Augmented reality is putting a digital overlay on top of the real world, ideally an overlay that can understand and interact with the 3-D, IRL space you're in; virtual reality is putting on a headset that reproduces an entirely digital world.)
There had been a lot of speculation about Apple's plans in augmented reality, with the company slowly hiring hundreds of people involved in the field. Some of that hiring was explained when it unveiled its vision of AR at its Worldwide Developers Conference in June of 2017, along with ARKit, a robust tool kit for making AR apps, and rolled it out for consumer phones with iOS 11. So far, the AR apps for iPhone mainly fall into two camps: home-decorating apps like Ikea Place and games like Zombie Gunship AR. There's potential here, but no apps have currently broken through the noise.
AR as it exists on the iPhone currently is somewhat limited. It can't "occlude" objects in front of you — if you use the Ikea AR app to try to digitally decorate your space, and your actual coffee table is in the picture, your real coffee table will always clip through anything you place in your room, even if it's a TV cabinet against a far wall. It can only scan for horizontal surface, not vertical ones, meaning it doesn't really understand where walls are. It also, in my limited testing, has issues with being used anywhere that isn't brightly lit.
Still, an AR headset — especially one on such a fast timetable — is somewhat of a head-scratcher. Apple's Tim Cook is very bullish on AR, but said earlier this year that the technology for AR headsets isn't ready for prime time. In an interview with The Independent in October, Cook said: "[T]he technology itself doesn't exist to do that in a quality way. The display technology required, as well as putting enough stuff around your face — there's huge challenges with that. The field of view, the quality of the display itself, it's not there yet." And Apple has no plans to move forward unless it can do so "in a quality way."
Microsoft's HoloLens, the only AR headset out there currently, costs $3,000 and is mainly being used in industrial or enterprise solutions — think engineers wearing a headset to visualize airflow over the hood of a truck, or a university using a few headsets to teach the finer parts of human anatomy to medical students. It also suffers from having a narrow band of vision — you really only get a holographic overlay in a somewhat narrow band across your field of vision. The only other major AR company out there, Magic Leap, has the real potential to turn out to be vaporware or never make it to market. Facebook declared at its F8 conference that it wants to be the open platform for AR development, but so far that has meant some interesting demos and not much else. It's a wide-open space — which almost argues against Apple entering it. Cupertino usually prefers to let others try to experiment in the market before moving in with its own more polished version of a product (e.g., the iPod was not the first MP3 player; the iPhone was not the first touchscreen phone; and the iPad was not the first tablet computer).
Apple has plenty of advantages when it comes to the AR market, including its own blazing-fast A-series chips made in-house, the work and research its doing in AR, and having every iPhone from the 6s onward support AR out of the box. And it does hold some (very old) patents relating to an AR headset. But while 2020 may seem distant now, it's a relatively short amount of time when it comes to developing an entirely new piece of hardware. If you're already planning your 2020 holiday shopping, I'd leave an Apple AR headset off the list.