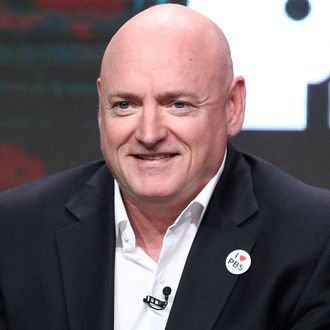 Kelly.
Photo: Frederick M. Brown/Getty Images
Scott Kelly holds the world record for the highest total number of accumulated days spent in space. He's back on Earth now, though, and somebody in the Houston area might want to pop on over and teach him how Twitter works. Earlier on Wednesday, Kelly tweeted a string of terms including "Cardi b" and "foxnews.com." Which would seem to indicate that Kelly got a little lost on his way to the search bar and probably didn't mean to tweet. Later, he tweeted at Cardi B, requesting that she DM him to discuss his "collaborative ideas." (Some on Twitter have floated the idea that Kelly's Twitter was hacked and it wasn't actually him posting.)
Kelly's tweets have since been deleted. Seems safe to assume we'll not be seeing a Cardi B x Kelly collaboration anytime soon.