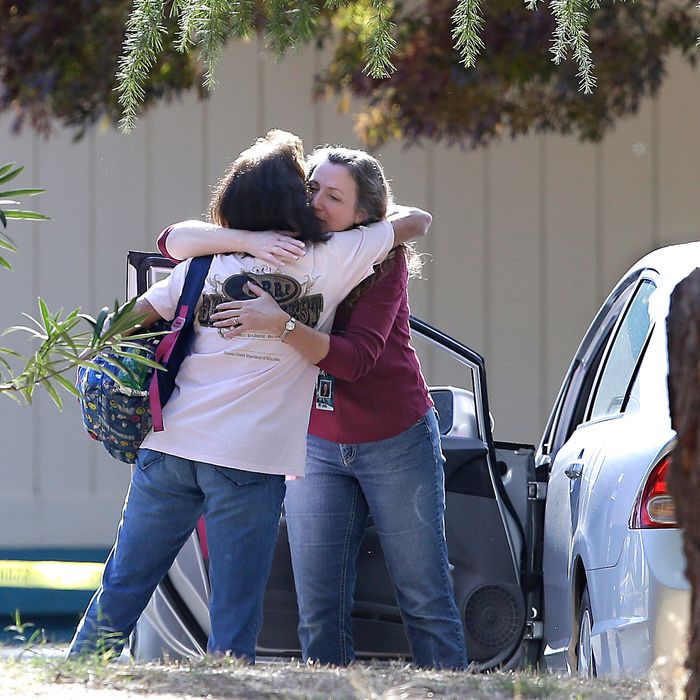 From the scene of the shooting.
Photo: Rich Pedroncelli/AP
On Monday, a man in Tehama County, California, was involved in a "domestic violence incident." Less than 24 hours later, the man grabbed a semiautomatic rifle and two handguns, got into his car, and drove around his rural subdivision, shooting people at random.
Police say Kevin Janson Neal, 44, fired in at least seven separate locations. Along the way, he stole a white Ford F-150 pickup truck and then a car.
The first victim was a woman with whom Neal had an ongoing dispute. Neal had stabbed her earlier in the year according to Brian Flint, who said a man staying at his house was also killed. Police said a judge had issued a restraining order after the stabbing, but it didn't prohibit Neal from possessing firearms.
After shooting at neighbors, Neal began targeting random people. He came upon a mother driving her children to school and fired several shots into her truck, wounding one child and leaving the woman with "very life-threatening wounds."
Then he fired into an elementary school, leaving two children injured. He was at the school for about 25 minutes, but was unable to enter the classrooms because school officials heard gunshots outside and put the school on lockdown.
Coy Ferreira, 32, whose daughter is a kindergartener at the school, said the children were outside before school started when a school official ordered everyone inside. Per the Washington Post:
Still wearing their backpacks, children in one classroom hid under their desks and then were told to huddle in a teacher's office, Ferreira said. Three students appeared too frightened to run back, Ferreira said.




Neal — visible out the window, wearing green camouflage, Ferreira said — fired a volley of bullets at the classroom's windows. When the shooter moved on to the next room, students who had remained under their desks were told to run back to the office with others, but one child wasn't moving, Ferreira said. He had been shot in the chest and leg.




The other teachers came out to try to stop the bleeding, and the boy was eventually taken to the hospital, Ferreira said.




"That's when he started crying that he wanted to go home and be with his mommy," he said. "He didn't want to go to the doctor … this 5-year-old shot twice."
Officials credited the quick-thinking school officials with saving the children's lives.
"This incident, as tragic and as bad as it is, could have been so much worse if it wasn't for the quick thinking and staff at our elementary school," said Phil Johnston, assistant sheriff of Tehama County.
By the time law enforcement shot the man dead, he had sown terror through a "very widespread" area of the Rancho Tehama Reserve subdivision — and left at least four adults dead and ten others injured, including children.
Neal's mother told the Associated Press that she posted his $160,000 bail and spent $10,000 on a lawyer after he was accused of stabbing his neighbor. She said she spoke to him by phone on Monday and he apologized, she thought for the money she had spent.
"Mom it's all over now," she said he told her. "I have done everything I could do and I am fighting against everyone who lives in this area."
Neal's sister, Sheridan Orr, said he had struggled with mental illness throughout his life and had a violent temper.
"We're stunned and we're appalled that this is a person who has no business with firearms whatsoever," Orr said. "Our deep, deep sympathy for the victims and it sounds trite but our hearts are breaking for them."
The story of Tuesday's rampage will haunt the Northern California community for a generation. But it will surely disappear from national attention by day's end to make room for a new story much like it, and then another, and then another.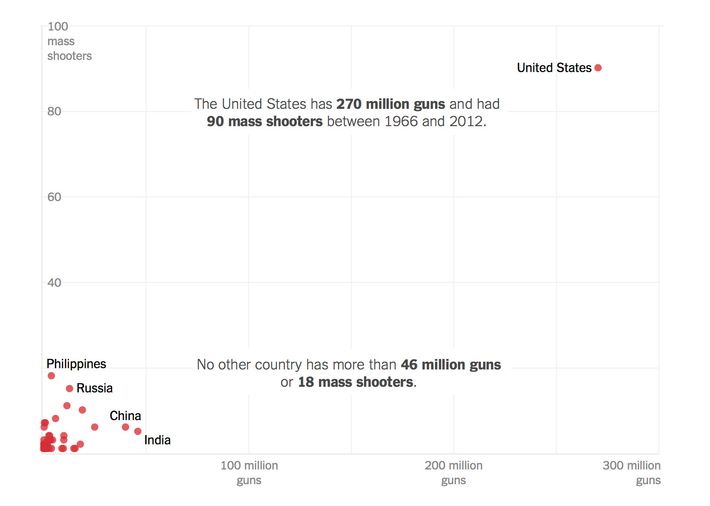 This post has been updated throughout.