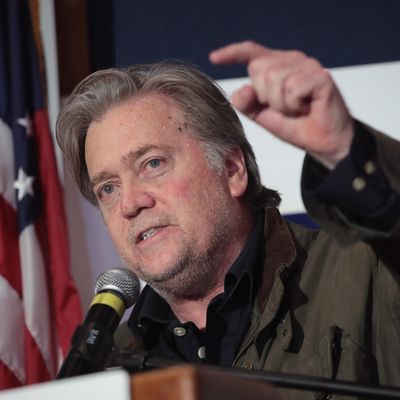 Steve Bannon is standing by his candidate.
Photo: Scott Olson/Getty Images
In August, Steve Bannon left (or was pushed out of) his role as White House strategist without crossing off many of the items on his famous whiteboard. But Bannon is still spoken of as a political genius because he believed America would elect a man who appeared to admit to serial sexual assault on tape, and found a way to make it happen.
Now Bannon is hoping to stun the Establishment once again by simply repeating his old trick.
"I look forward to standing with Judge Moore and all of the Alabama deplorables in the fight to elect him to the United States Senate," Bannon told CNN on Tuesday, "and send shockwaves to the political and media elites."
Bannon will campaign with Moore at a rally in Fairhope, Alabama, on December 5, one week before he faces off with Democrat Doug Jones in the special election to fill Attorney General Jeff Sessions's old Senate seat.
While President Trump has offered a number of public statements backing Moore, it was reported earlier this week that he will not hit the campaign trail for the candidate.
Despite reports that Bannon was privately considering distancing himself from Moore, he and Breitbart News have only become more committed to their candidate. Moore has shaped his defense around Breitbart's worldview, suggesting that the claims he molested and sexually harassed underage girls are a fabrication concocted by the mainstream media and embraced by GOP Establishment figures, most notably Senate majority leader Mitch McConnell. (In reality, no Republican senators are publicly defending Moore, and right-wing activists have been caught impersonating a journalist and lying about misconduct claims in an attempt to discredit the Washington Post.)
Just this week, Breitbart posted a clip alerting readers that one of Moore's accusers won't give up her yearbook for third-party analysis of his alleged handwriting (a close read reveals she will turn it over — if he agrees to testify under oath). A post by Breitbart's Joel Pollak declares "there's not much left of the Roy Moore accusations." The piece notes it's been weeks since any new women have accused Moore of sexually assaulting them as teens, and suggests the media is smearing Moore for merely romancing young but legal women, even though it's accepted "particularly in very religious communities."
However, Leigh Corfman, who said Moore molested her when she was 14 and he was 32, reiterated on Tuesday that she is not being paid by the media and called on him to end his "smears and false denials." In an open letter given to AL.com, Corfman said she was moved to speak out again when Moore insisted once again at a rally on Monday that he doesn't even know any of the women accusing him of sexual misconduct. She wrote, in part:
I explained my motivation on the Today show. I said that this is not political for me, this is personal. As a 14-year old, I did not deserve to have you, a 32-year old, prey on me. I sat quietly for too long, out of concern for my family. No more.




I am not getting paid for speaking up. I am not getting rewarded from your political opponents. What I am getting is stronger by refusing to blame myself and speaking the truth out loud.




… [W] hen you personally denounced me last night and called me slanderous names, I decided that I am done being silent. What you did to me when I was 14-years old should be revolting to every person of good morals. But now you are attacking my honesty and integrity. Where does your immorality end?
While it has been 11 days (not weeks) since Moore's ninth accuser came forward, the campaign has still managed to generate new controversies. On Tuesday, Fox News in Alabama said Moore staffers manhandled two photojournalists at the previous night's rally. Later in the day, NBC News reported that the campaign has been touting its endorsement from the IndianaFirst super-pac, though the organization was founded weeks ago by a 24-year-old aspiring political operative who said he's trying to disassociate himself from the white-nationalist organizations he was previously affiliated with.
NBC News suggests that the Moore campaign might have distanced itself from the group if it wasn't in shambles:
The situation speaks to the degree to which Moore's campaign is understaffed and underfunded, seemingly unable to perform a basic check of a previously unknown political entity, IndianaFirst, or its leader, Caleb Shumaker, who has had ties to a fringe party considered a hate group by leading civil rights organizations.
However, nothing about Moore's operation suggests they're concerned about receiving support from figures considered disreputable by mainstream politicians and journalists. (In fact, back in the '90s Moore addressed a white-supremacist group himself.)
Bannon appears to be misreading the situation as well. "Political and media elites" may be disgusted to see Alabama voters elect someone accused of preying on children, but it won't be a surprise, particularly with a number of recent polls putting Moore ahead. Bannon helped create a world where that kind of thing doesn't send "shockwaves" anymore.