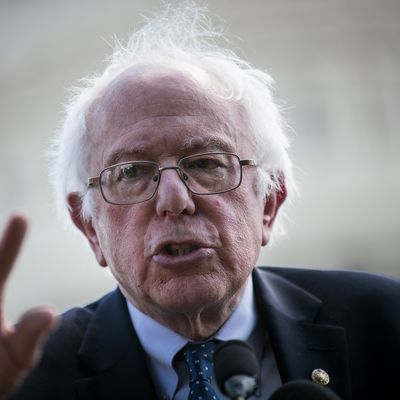 DACA or bust.
Photo: Drew Angerer/Getty Images
On Friday night, Senator Bernie Sanders said he would not vote for a year-end budget deal unless it offers a legislative fix to the Deferred Action for Childhood Arrivals program, which President Trump has announced he is rolling back.
Sanders became the fourth Democratic senator to take that position, joining fellow progressives Kamala Harris, Cory Booker, and Elizabeth Warren. All four are seen as potential presidental candidates in 2020.
When he made his decision to terminate DACA, Trump gave Congress six months to come up with a law that would spare current recipients of the program from possible deportation. (He also said he'd "revisit" the issue even if Congress didn't solve the problem.) Since then, the president has been all over the place regarding what sort of legislative fix he'd support. He appeared to make a deal on the program with Democratic leaders Nancy Pelosi and Chuck Schumer, but then denied committing to it. More recently, he agreed this week with some GOP senators who do not want to include DACA in a spending bill.
"There was also a consensus that anyone on the other side of the aisle who thinks that they're just going to codify DACA in the year-end appropriations bill, it may not be very well received," Republican senator Thom Tillis told reporters.
But Democratic senators have significant leverage on the issue, since their votes will almost certainly be needed to avoid a government shutdown, which would take place if the two parties don't hammer out a spending deal by December 8. DACA is high on the Democratic demands wish list, though senators may also insist that cut-off Obamacare subsidies and lapsed funding for Children's Health Insurance Program also be included in any final bill. If Republicans agreed to include DACA, they would ask for concessions in return, which would likely include increased border security.
Theoretically, Congress could pass a new law separate from the budget, but it has shown little movement in that direction, and House Speaker Paul Ryan recently told his caucus that DACA would be part of a year-end deal instead.