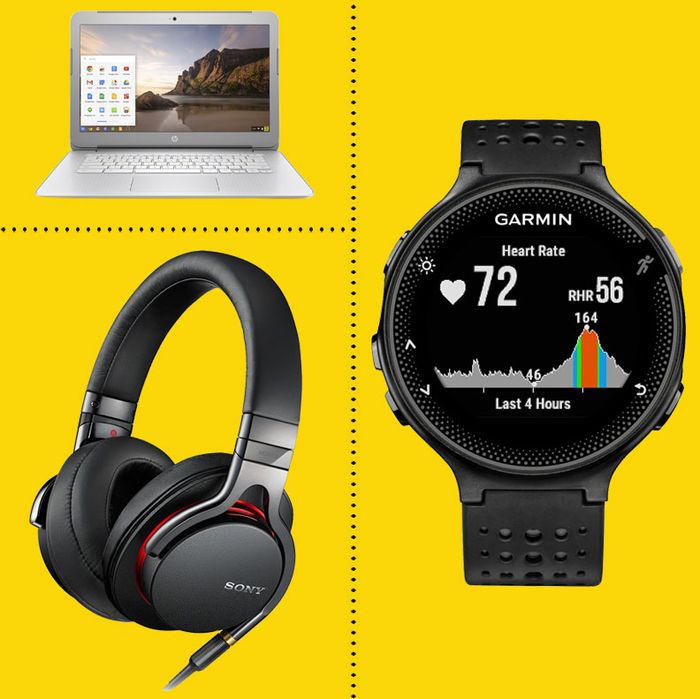 Black Friday deals are here for Amazon, and whether you're shopping for gifts or for yourself (no shame in that game), we've rounded up the best gadget deals we could find. Grab 'em now — good Black Friday deals on Amazon have a tendency to sell out fast.
Hungry for more Black Friday tech deals? Check out our roundup of the best buys from around the web here.
Nintendo Switch Starter Kit
We've been transporting our Nintendo Switch around in a wool sock to protect the screen. That's no way to live. This starter kit gives a lucky Switch owner everything, including a carrying case, a microfiber cloth to wipe down the screen, and a set of earbuds in case you forget your favorite pair of wired headphones. Normally $30, this is now down to $16.
RAVPower 16750mAh 4.5A Dual USB Output Power Bank
If you're one of those people whose phone is always on 5 percent battery, this power bank is for you. The RAVPower 16750mAh will keep your phone (or tablet) charged without tethering you to a wall outlet.
Fire TV Stick With Alexa Voice Remote
This streaming media player by Amazon is great for cord-cutters and anyone who wants to bring their TV into the 21st century. With the Fire TV Stick you can watch thousands of channels, and stream shows from Netflix, Hulu, Amazon Video, and more with ease. The remote also works with Alexa — Amazon's smart assistant found in their Echo line of products — meaning you can finally control the TV with just your voice.
Persona 5
A turn-based JRPG that oozes style at every corner, Persona 5 is about a group of teenagers who are also mystical thieves — but also have to deal with making sure they keep their grades up. Weird and funny, and half off during Black Friday — perfect for anyone with some free time coming over the winter holidays.
Echo Dot
Been on the fence about getting a smart speaker? Now's the time. Amazon's Alexa-powered Echo Dot can be used as an alarm clock, personal weatherman, recipe book, and much more. Normally $50, today the Dot is down to just $30.
Urbanears Plattan ADV Wireless Headphones
Most over-the-ear headphones will make you look like a dork. This is a fact. Urbanears' Plattan ADVs won't. They're sleek, with a low profile and invisible touch controls and wireless — and they sound absolutely fantastic. Oh, and they're 50 percent off, so get 'em while you can.
Kodak Mini Portable Instant Photo Printer
If you like taking photos on your phone, yet yearn for the nostalgia of a printed pic, this one's for you. Kodak's photo printer is perfectly portable and lets you print photos (over Wi-Fi!) in an instant.
Puro Sound Labs Kids Wireless Headphones
Chances are if you have a credit card and are considering buying children's headphones, you've already wrecked your hearing. Don't let the cycle continue — Puro's headphones have a volume-limiting feature to protect growing ears. (Plus, they sound great, even to adult ears.) Normally $100, they're $80 during the Black Friday weekend.
Libratone Q Adapt Lightning In-Ear Noise-Canceling Headphones
If you're an iPhone user who wants noise-canceling earbuds without the hassle of wireless pairing, check out the Libratone Q Adapts. If you're on the iPhone 7 or later, there's no more worry about dongles — they have a Lightning cable. And the Libratone app allows you to select how much noise cancellation you want, from fully blocking out the sounds of the city to letting some of the din in. Normally $120, they're just $100 for Black Friday.
Sonos One
Sonos One has the best sound of any smart speaker we've tested in this price range — and it's an even better deal with $25 off its normal price of $200.
HP 14-Inch Chromebook
There are plenty of cheap Chromebooks on the market, but not many that sport a 14-inch screen that also displays in 1080p. This HP 14-inch Chromebook, down from $280 to $240, is a bargain for anyone looking for a larger screen for bopping around the internet.
Sony MDR1A Premium Hi-Res Stereo Headphones
If you do a lot of your listening at your desktop, the Sony MDR1A headphones sport great bass response and great ear pads for long listening sessions. Normally $300, you can get them on a deep discount for $200 over the Black Friday weekend.
Garmin Forerunner 235
One of the more subtle running watches out there (get it in black and you can almost wear it to the office), the Garmin Forerunner 235 has been the mid-budget pick for anyone who wants to keep track of their runs. A good deal at $300, but a great deal at $250.
Sony Noise-Canceling Wireless Behind-Neck Earbuds
Earbuds already do a good job with noise isolation, but these noise-canceling buds from Sony are shockingly good at isolating you from outside sound, whether that's on a plane ride or on the subway with a crying baby. Normally $300, they're now just $250.
Eero Home Wi-Fi System
Eero is providing the sleekest mesh networking solution out there for dealing with Wi-Fi dead zones, but normally we'd recommend you go with Google Wi-Fi. But with the price of an Eero base unit plus two beacons (which plug into the wall for out-of-sight ease) down almost $100 to $306, Eero is suddenly price competitive. Snap 'em up.
Oculus Rift + Touch Virtual Reality System
There are few things out there that'll make you feel more futuristic than a virtual-reality headset, and the Oculus Rift is one of the best around. The Oculus provides a fully immersive VR experience, which is augmented by the Touch controllers to envelope you in an wholly interactive world. Normally $400, the whole shebang is now just $350.
Sony KD60X690E 4K TV
If you're looking for a new centerpiece TV, this Black Friday deal is for you. The Sony KD60X690E 60-Inch 4K TV is a lot of panel that normally goes for $800, but is only $700 over the Black Friday weekend. The 70-inch panel is normally $1,300, and gets a price cut to $1,200. Get to watching.
LG C7 OLED 55-inch TV
When it comes to pure visual fidelity, nothing else on the market matches LG's OLED screens. The problem has always been that they're incredibly pricey. This Black Friday deal sees the price on LGs drop down to $1,700, from $2,200. It's still pricey, even with that discount, but it's also the cheapest we've seen an OLED set.
Heads-up: If you buy stuff through our links, New York may earn a commission. That said, we don't recommend anything we wouldn't buy for ourselves.