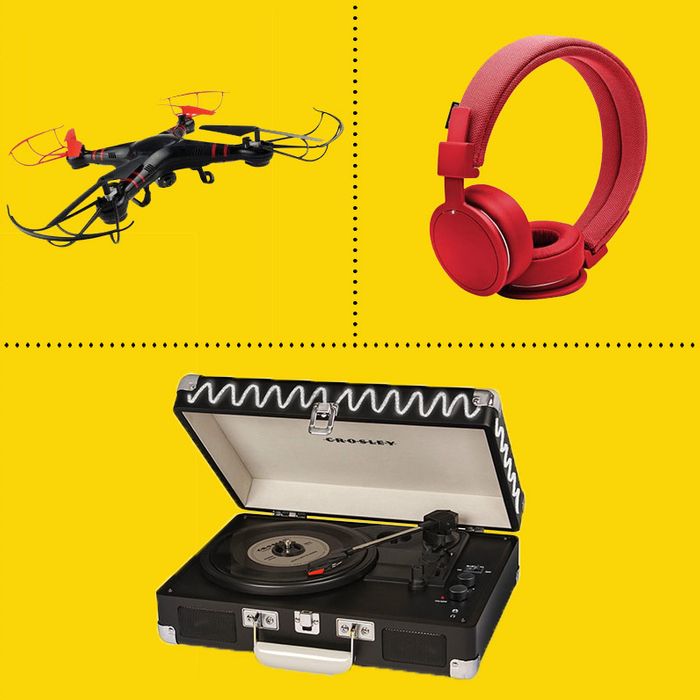 Looking for a great gadget gift that won't break the bank? We've got you covered. From drones to personal assistants, here's everything techy that's worth your while (and under $100):
Looking for a difference price range? We've also got gifts for under $25, $50, $250, and more.
Xtreme XFlyer 6 Axis Quadcopter Drone
Get an eye in the sky with this value-priced drone that still flies steady (though you'll want to keep it grounded on windy days). This one has an HD camera and the ability to livestream your adventures back to the losers on the ground below.
Pelican Marine Waterproof iPhone Case
You never know how badly you need a waterproof iPhone case until you hear that splash. But if you had this case you could relax instead of reaching for a bag of rice.
Related
The Best iPhone Cases
Tile Sport/Style
The gift to give to anyone who's lost his or her keys four times in the last two weeks. They'll thank you when they're running late and no longer need to pull up every couch cushion in a frantic rush.
Crosley Cruiser Deluxe Suitcase Turntable
This Bluetooth-enabled turntable will get both hipsters and technophiles alike grooving. Great gift for first apartments (or anyone you suspect might enjoy combing through stacks of vinyl).
Fitbit Flex
For your health-conscious friend who just isn't ready for an Apple Watch yet (or doesn't want to charge up their watch every night).
Amazon Fire TV
No cable? No problem. If you have an Amazon Prime subscription, you can watch thousands of movies and TV episodes (in 4K!) with this little doodad. (Bonus: It even works with Alexa, so you can finally control your TV with just the sound of your voice.)
Fujifilm Instax Mini 9
Like vinyl, polaroids are oh-so hip right now with the kids. Perfect for an Instagram-loving teen.
SNES Classic
Plattan ADV Wireless Headphones
For the style conscious, these Plattans are slim, sleek, and easy to use — and one of the few pairs of over-the-ear headphones out there that won't make you look like a total dork.
Amazon Echo
The second generation of the Echo now comes in a range of fabrics, has a smaller size, and better sound. It feels more like an oversized coffee mug that nestles easily on your kitchen countertop, and less like a vape machine from Tron. Good for anyone who wants to let Alexa into their life.
BeatsX Wireless In-Ear Headphones
With stellar sound and eight-plus hours of battery life, BeatsX wireless headphones are pretty hard to beat. Perfect for workouts and anyone who wants to live life untethered.
Heads up: If you click links and buy things, New York may make a little money off the purchase. That said, we don't recommend stuff we wouldn't buy (or haven't bought) for ourselves.