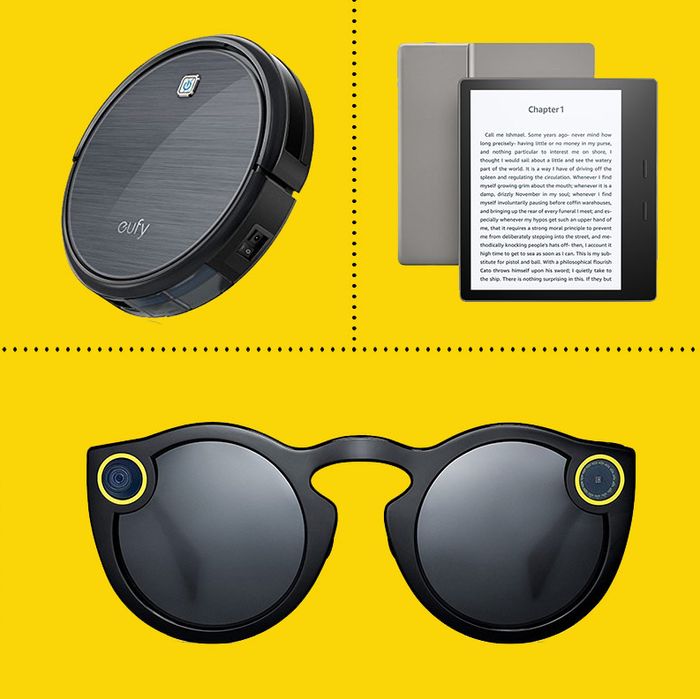 Looking for a high-quality tech gift for someone special in your life? We're here to help. From iPhones to cameras, here's our curated list of the best gadgets and gizmos you can get for under $250:
Looking for a difference price range? We've got gifts for under $25, $50, $100, and more.
Samsung Gear VR With Controller
An easy entryway into VR, this headset and controller will transport your giftee to new worlds. Simple to set up and compatible with any recent Samsung phone.
Google Wi-Fi
Perfect for anyone struggling with Wi-Fi deadzones, or just trying to make sure every bit of their house gets good, fast internet service, Google Wi-Fi is still best combination of performance and price on the market. A single station works well for a smaller apartment, and two should cover up to 3,000 square feet.
Related
Google Wi-Fi Is Now the Best Way to Blanket Your Home in Wi-Fi
Skullcandy Hesh 3 Wireless Headphones
With a whopping 22 hours of battery life and a super portable design, these sleek headphones are the perfect gift for that friend who's always listening to something.
Snapchat Spectacles
A great gift for Snapchat addicts, these sunglasses capture snaps from a first-person perspective.
Powerbeats3 Wireless Earphones
They're wireless, super sweat resistant, and last for 12 hours on only one charge. Great for a tech-y friend who's always in the gym.
Sennheiser HD 4.50 Wireless Noise-Cancelling Headphones
For anyone who spends a lot of time on planes or the subway, these Sennheiser wireless headphones offer good-to-great sound and fantastic noise cancellation, combined with fit and finish details that keep them comfortable for long listening sessions.
Prynt Pocket Instant Photo Printer for iPhone
This add-on will turn their iPhone into an instant-print camera. Perfect for anyone who loves photography or making memories.
New Nintendo 2DS XL
Take Nintendo's mobile 3DS and lose the headache-inducing 3D mode, and you get Nintendo 2D XL. It may not be the Switch, but it's easy to find and has a huge library of great games (and can still fit in your back pocket).
Apple AirPods
They're like regular bluetooth headphones, only way better. Pairing is as easy as simply putting them in your ears, no button-mashing or frustration required. A must-have for any Apple user.
Polaroid Snap Touch Instant-Print Digital Camera
This modern-day polaroid camera may be digital, but the photos it prints (which don't require ink or shaking) still have that great nostalgic feel.
C by GE Sol:
Basically a ring of light with Alexa inside it, the Sol makes for a wacky and surprisingly fun lamp, and has some neat-o features like a visual timer indicator or switching up the color temperature of the lamp by time of day.
Sonos One Smart Speaker
iPhone 6
While you may not be able to unlock it with your face, the iPhone 6 is still a fantastic smartphone. It's fast, relatively new, and — best of all — only 200 bucks.
Eufy Robovac 11
The Eufy Robovac is basically a Roomba without a lot of the bells and whistles, but still does what you want a robot vacuum to do: roam around your place, sucking up stuff. Perfect for anyone with pets.
Away Carry-on
With a built-in battery and USB ports you can charge your devices from, this smart carry-on bag is a sleek and smart gift the frequent flyer.
Eero Home Wi-Fi System
Another mesh-network option, this has a slightly more upscale look than Google Wi-FI and its extenders plug right into the power sockets in the walls. A bonus for parents: the ability to filter content and turn off internet access to certain devices at certain times.
Related
Today's the Day to Upgrade Your Home Wi-Fi to a Mesh Network
RIF6 Cube Pico Video Projector
This pocket-sized projector will put your phone screen on the big screen. Perfect for outdoor movies or events.
With countless fitness benefits, Handoff abilities, and remote-control uses, the Apple Watch is the world's best fitness tracker that also happens to let you check your email.
Kindle Oasis
For the bookworm in your life, the Kindle Oasis has a screen so sharp it's indistinguishable from the printed page. But the best part is it's now waterproof. Perfect for the pool, beach, or bath.
Heads-up: If you buy stuff through our links, New York may earn a commission. That said, we don't recommend anything we wouldn't buy for ourselves.