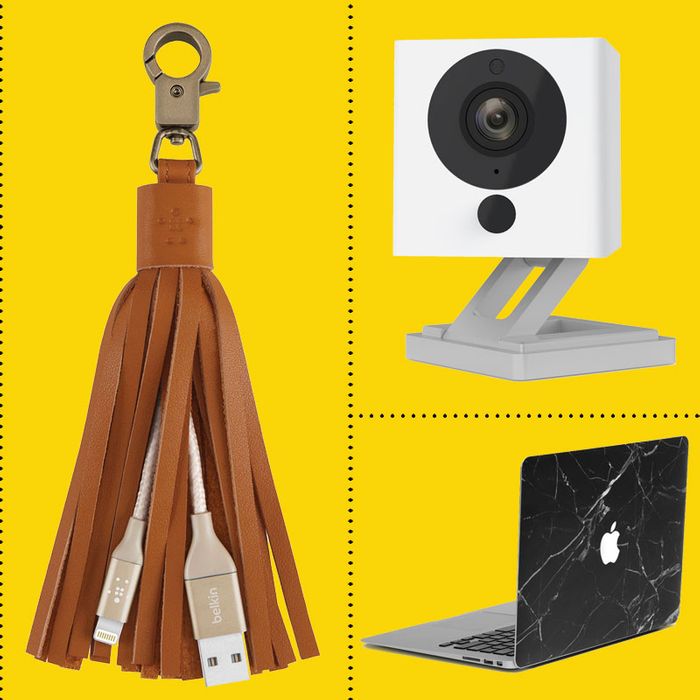 Give the gift of gadgetry.
Looking for a gift for the gadget-minded this holiday season (or maybe just something decent to throw into the Secret Santa pile)? Look no further. Here's a good selection of the best gadgets gifts you can give this year, all for under $25:
Looking for a difference price range? We've also got gifts for under $50, $100, $250, and more.
Leather Cord-Organizer
Great stocking stuffers, these things will keep headphones, chargers, and any other cord from getting tangled. Avoid creating a electronic Rat King in your purse or bag.
Agloves Sport Touchscreen Gloves
They're soft, warm, and work surprisingly well for being only nine bucks. Perfect for that friend who can't keep their hands off their phone, even in the middle of a polar vortex.
Related
The Best Touchscreen Gloves
Instagram Photo-Book Series by Chatbooks
Chatbooks will turn your friend's perfectly curated Instagram feed into a real honest-to-god book. Great for anyone who's obsessed with their grid.
Selfie LED Camera Light
Know someone who's selfie-obsessed? This LED attachment will make sure all of their Snapchats stay well lit.
Spigen Thin-Fit iPhone Case
It's clear, thin, and protective. Perfect for that butterfingers friend of yours who swears they totally don't need a case. Everyone needs an iPhone case. Everyone.
Rayway LED Music Bulb
Not only can you change the color of this light bulb with just the push of a button, but it also plays music.
RuggedLife Water-Resistant Bluetooth Speaker
It's loud, it's wireless, you can keep it by the pool or beach, and it's only 15 bucks — what more could you ask for?
Anker PowerLine+ Lightning Cable (10ft)
Leather-Tassel Keychain iPhone Charger
It's a phone charging cable and a super-stylish keychain. Who says you can't have it all?
Gogyre 21200mAh Portable Charger
Dofly Universal Professional HD Camera Lens Kit
Know an aspiring photographer? This lens kit by Dofly will transform their boring ol' iPhone camera into a photo-taking machine worthy of a professional.
Fairy Star Twinkle Lights
These (very Instagrammable) twinkle lights can be turned on or off with just a push of a button. Perfect for anyone who lives for the aesthetic.
WyzeCam
Know someone who'd like keep an eye on the house (or their pets) while they're away? The WyzeCam is a Wi-Fi-enabled 1080p security camera that comes with 14 days' worth of free cloud storage. And it costs about a tenth as much as some competitors.
Black Hyper Marble MacBook Skin + Case
Uniqfind's MacBook skins are so undeniably Instagrammable they'll be getting likes for days. They even have a line of matching phone skins too!
Photo: Amazon
They're like normal touchscreen gloves, only made of leather! (They also have a lovely cashmere lining.)
Enevu Multicolor Dimmable Mobile Light
With multiple color and strength options, this ultramodern cube of light makes a great addition to anyone's home.
Quirky PowerCurl 60w Clip-on Cord Wrap
This nifty little addition will keep MacBook cords both protected and easily accessible. Great for someone who spends a lot of time lugging their laptop to different coffee shops.
Twitter Tats
Know a friend with great (and by "great" I mean awful) tweets? This website will turn them into tattoos.
This ultraminimalist iPhone skin is the perfect gift for the design-obsessed. Plus, nobody makes more Instagrammable cases than Uniqfind, so if you get this for them it'll definitely be shown off.
Related
The Best iPhone Cases
Tile Mate
Know someone constantly losing their keys? Stick this on their keychain and that'll soon be a thing of the past.
Heads-up: If you buy stuff through our links, New York may earn a commission. That said, we don't recommend anything we wouldn't buy for ourselves.