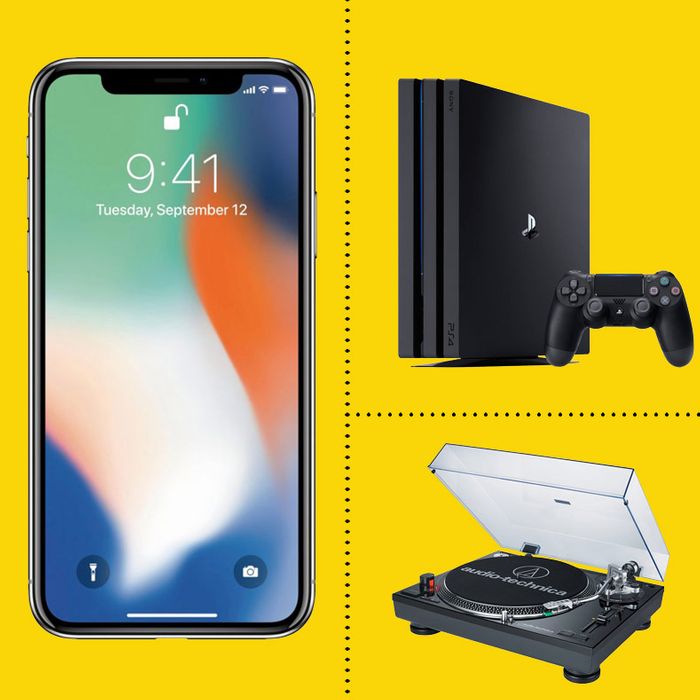 Looking for something really special for the tech-head in your life? Lucky enough to not need to worry too much about sticking to a budget? We've rounded up the best gifts, from video-game consoles to headphones to a TV that'll turn any room into a mini-IMAX theater.
Looking for a difference price range? We've got gifts for under $25, $50, $100, and $250, too.
Nintendo Switch
The video game console to get or give this year, the Switch is the perfect commute companion, and then slots in for big-screen playback at home. And the library of of games already includes two insta-classics, if you're feeling particularly generous and wanna toss them in: The Legend of Zelda: Breath of the Wild and Super Mario Odyssey.
Audio Technica AT-LP120-USB
If you know someone limping along with a thrift-store record player — or just someone who might be into haunting stacks of vinyl — this is the turntable to get. (Bonus: USB compatibility means if you find that ultrarare 7-inch among the stacks, you can convert it to an audio file.)
Apple Watch Series 3
The latest Apple Watch is by far one of the best wearables on the market right now. It's waterproof, can work without a phone, and — if you're an Apple user — will make you feel like you're living in the future.
PS4 Pro
Sony's powerhouse console continues to impress, and next year's lineup of exclusives looks extremely enticing. With the PlayStation currently outselling the Xbox, also means more players to get wrecked by in online gaming.
Sennheiser HD 1 Wireless
Last year, we picked the Sennheiser Momentum 2.0 Wireless headphones as the best wireless headphones you can get, and the market agreed — they were popular enough that Sennheiser reissued the Momentums as the HD 1s. Same great sound, same noise cancellation that makes the roar of the subway disappear, and the same beautiful retro styling. For the audiophile in your life.
Xbox One X
Pixel 2
For the nonstop smartphone shutterbug, the Pixel 2 has the best smartphone camera we've used, and a beautifully stripped-down Android OS that's (nearly) as slick as iOS. One caveat: Make sure to get the smaller, 5-inch Pixel 2 — the Pixel 2 XL has had some issues with its OLED screens.
Related
Pixel 2 Review: The Best Smartphone Camera Got Even Better
TCL P-Series 55-inch 4K HDR TV
Chinese panel manufacturer TCL's biggest play for North American marketshare is your gain, as you get a beautiful 4K picture with Dolby HDR that'll make any Netflix binge look fantastic (and Roku comes built right into the set for easy streaming). This TV looks just as good as others we've looked at that cost twice as much.
iPhone 8 Plus
One of the best cameras Apple has ever put out combined with the most powerful processor on the smartphone market. The final and greatest version of the classic iPhone form, it also has the added benefit of being easily available.
Related
How to Look As Hot As Possible Using the New iPhone Camera
The best smartphone released this year. Jaw-dropping screen, powerful camera, and small enough to remind you of the days when a phone could fit in a pocket without a couple extra shoves. If you want make this a holiday present, order now — delivery times are still about three to four weeks out.
LG C7 OLED 55-inch TV
The problem with watching an OLED TV is every other TV is gonna start looking crappy in comparison. While some competitors have come close, LG's OLED screens are still the reigning champs — deep, inky blacks, eye-popping brights, and nothing onscreen either blown out or too murky to make out. For the pure videophile in your life.
Hisense 100-Inch 4K HDR Laser TV
Yes, this TV costs as much as used Honda Civic, but man: what a TV. Place this system (about the size of a carry-on suitcase) near a wall and hang up a screen, and its short-throw projector will display 100-inches of 4K HDR gorgeousness. Combine that with a built-in, booming Harman Kardon sound system, and you've got the ability to recreate a movie theater in nearly any room.
Heads-up: If you buy stuff through our links, New York may earn a commission. That said, we don't recommend anything we wouldn't buy for ourselves.