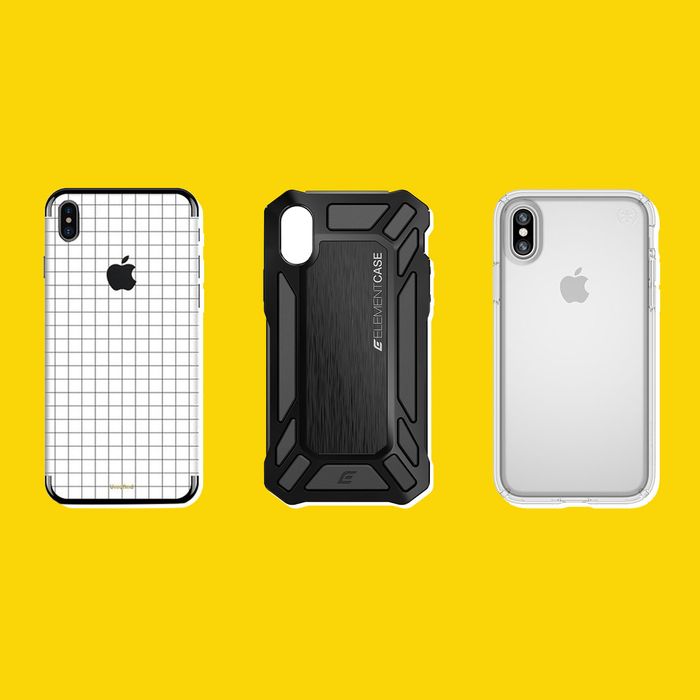 Behold the glory of the X.
If you laid out $1,000 (or more) on the new iPhone X, you'll want to protect it the best ways you can. First off, lay out for AppleCare+, because repairs on the thing are going to be pricey. More important: Get a case. Yes, they ruin the sleek lines the Apple team worked so hard to perfect — but those sleek lines are kinda worthless if you've cracked the hell out of your screen. Below, some of our favorite cases, based on past experience with these brands and some testing we did earlier this year.
The Best-Looking Cases
The power of minimalism: clean lines, no bright colors messing up the place — it's like math, but you can put it on your phone! Keep your phone looking just as snappy as it would naked. (Plus: Nobody makes more Instagrammable cases than Uniqfind, so now you have another reason to show off the X.)
Are you the type of tech doofus who stayed up until 3 a.m. to preorder the new iPhone X? If so, this case might be for you. Incipio's Esquire Series has that cool, yet ever-so-slightly-conservative fabric-y vibe that says: Hey world, proper phone protection can be sexy! Basically the Warby Parker of phone cases.
The Best Cases to Save You From Yourself
Just seeing this Exosquad-looking thing could make Jony Ive break out in hives, but Element Case's "roll cage" design does one better than the semi-standard MIL-STD-810G drop protection you see on a lot of tough cases with what it calls the "10/65" test — it drop tests all its phones from ten feet and from a car going 65 miles an hour. It ain't gonna look pretty, but it will make your phone a lot less likely to break.
It's clear and and yet still manages to not look great — but you will be able to admire the iPhone X inside. Polycarbonate plastic is lot tougher than it looks, and Speck has a good reputation for good, sturdy cases. Whether it's facing a direct drop, or you're chucking it at a wall, your $1,000 iPhone X is a lot more likely to stay intact with this guy wrapped around it.
The Best Low-key Cases
If you're looking for a low-key phone case that won't hide the glory of your shiny new iPhone X from the world, Peel is for you. Peel cases are crazy thin — like, you-will-forget-you-have-a-case-on thin — and come in a variety of colors that will match your X perfectly. But it'll still offer some protection if you fumble your phone onto the sidewalk.
One of the big appeals of the iPhone X is getting the great photography available on the Plus-size iPhones without worrying about jamming it in your pocket. A huge case can ruin that, which is why trustworthy brand Spigen's thin-fit case may be perfect for making sure you don't bulk up that X too much.
Heads up: If you click links and buy things, New York may make a little money off the purchase. That said, we don't recommend stuff we wouldn't buy (or haven't bought) for ourselves.