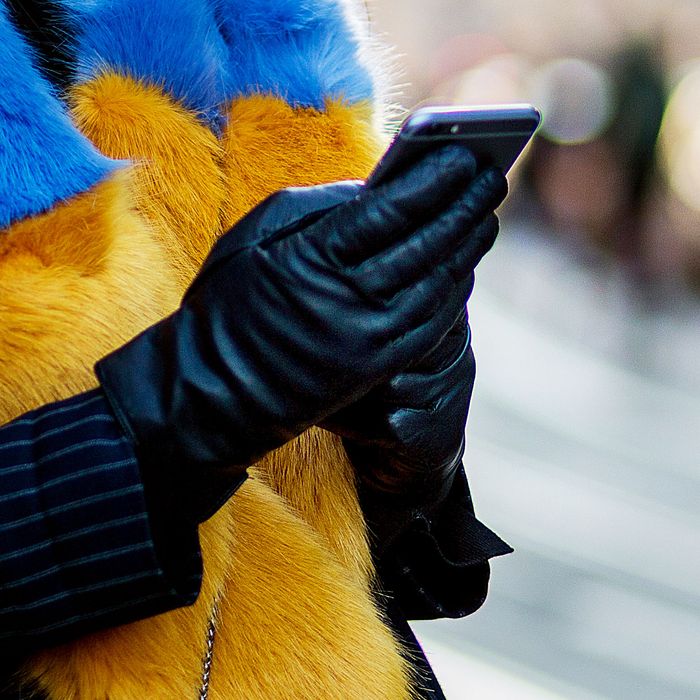 Photo: Christian Vierig/Getty Images
While great at keeping your hands toasty, regular gloves are a major pain when it comes to doing practically anything else. They're bulky, often poorly made, and usually have to come off whenever you want to actually use your phone. Touchscreen gloves are infinitely superior, but somehow still play second fiddle to their generic counterparts in most glove roundups. So, in the interest of helping you stay both connected and warm, we've compiled a list of all the best touchscreen gloves you should totally get your hands on (and in) this winter.
The Best Touchscreen Gloves
Photo: Amazon
Over the past week, I've tried out a lot of smart gloves, and Mujjo's Single Layered Touchscreen Gloves were my favorite hands down. With these gloves on, I was able to write emails, scroll through Instagram, and even draw a semi-detailed picture on Snapchat with no problem. Oh, and they're pretty darn stylish, too.
The Best Cheap Touchscreen Gloves
Photo: Amazon
If you need a pair of touchscreen gloves, but don't want to break the bank, the Agloves Sport are for you. Soft, warm, and surprisingly accurate, the Agloves Sport are the sort of gloves that'll make you think someone over at Amazon has made a serious pricing error. Grab a pair (or five) for nine bucks before they come to their senses.
The Best Leather Touchscreen Gloves
Photo: Amazon
While they're more expensive than the Agloves Sport, these leather touchscreen gloves from Warmen are crazy-nice for such a low cost. They're fashionable, super accurate, and they'll keep your hands mighty toasty. You can choose from either a fleece or cashmere lining (I went with cashmere, and it was absolutely lovely), and a variety of colors for the leather.
The Best Touchscreen Gloves That Aren't Actually Touchscreen Gloves
Photo: Nanotips
Have an old pair of dumb gloves that you yearn to use with your phone? No problem. Just slather some of this (basically) invisible gel over the fingertips of your favorite pair, wait a bit for it to dry, and you're good to go. Nanotips even offers this thing called the Taps Sticker that will mimic a fingerprint, so you can use Touch ID without exposing your thumb to the cold. The future is now.
Heads up: If you click links and buy things, New York may make a little money off the purchase. That said, we don't recommend stuff we wouldn't buy (or haven't bought) for ourselves.