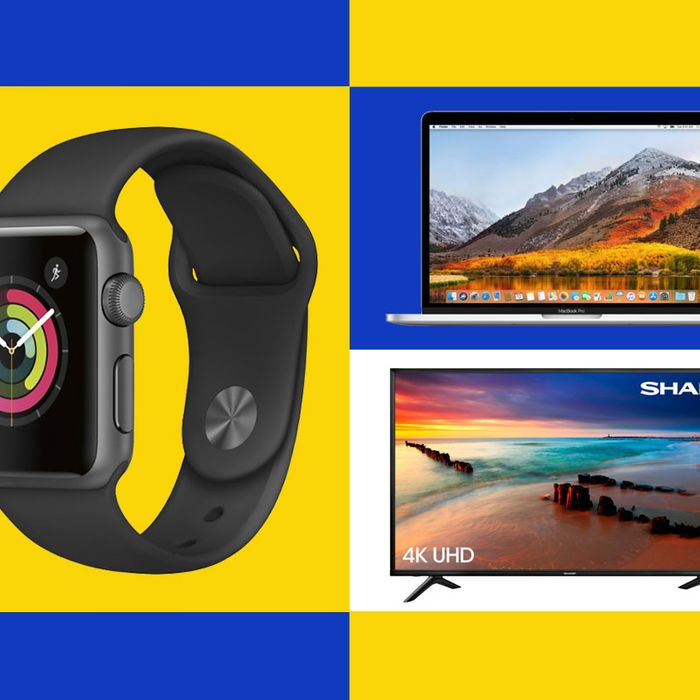 Wake up and smell the deals.
Photo: f
Retailers are eager to snag holiday shoppers, which means that Black Friday and Cyber Monday deals are already starting to kick in, even for online shopping. Here are some of the best deals we've found so far on gadgets, TVs, gizmos, and everything in between — and if we're linking to it, it's on sale now.
Cheaper Grabs
Anker PowerLine Lightning Cable (Ten Feet)
This thing is comically long and virtually indestructible. At only $10, it makes the perfect stocking stuffer.
UrPower Hi-Fi Portable Wireless Stereo Speaker
This Bluetooth-enabled speaker is loud, ultracompact, and nearly $40 off. What more could you ask for?
Cable TV is awful (and expensive), and it still requires you to add on some bits and bobs to be able to access your ex-girlfriend's friend's uncle's Netflix account. The Roku Express+ HD streaming stick fixes that by putting all of your streaming services in one convenient location. (Bonus: If you have a fancy TV, it can handle 4K resolution.) And at almost half off, it's practically a steal.
Logitech Multimedia Speaker System
If you want to feel bass in your bones — or just fill a room with some funky jams — these are the speakers for you. They come with a 3.5-mm audio-output port (a.k.a. a headphone jack), so you can easily plug them into your phone or computer, but with the sale slashing $20 off the original price, I'd suggest reinvesting some of that money in a cheap Bluetooth aux adapter to really complete the experience.
Roku Premiere+
It's like the Express+ HD, only better. In addition to wrangling all of your streaming services together in one convenient location, the Roku Premiere+ streaming stick also gives you access to over 4,500 channels. (It can handle 4K resolution, too.) Normally it's $100, but with this deal it's half off. Score.
Xtreme XFlyer 6 Axis Quadcopter Drone
Get an eye in the sky with this value-priced drone that still flies steady (though you'll want to keep it grounded on windy days). This one has an HD camera and the ability to livestream your adventures to the losers on the ground below.
Fujifilm Instax Mini 26 + Rainbow Film Bundle
With a built-in selfie mirror and multiple shooting options, Fujifilm's Instax Mini is sure to make your life a hell of a lot more Instagrammable. This Amazon bundle also comes with ten sheets of Rainbow Film and is 20 percent off.
Midrange Buys
LG SH3K 2.1 Channel Sound Bar
Sad but true: Most TV speakers suck, no matter how good the rest of the TV is. The LG SH3K has a couple of nice features (its subwoofer connects wirelessly) and is more than half off, down from $280 to $120.
Apple Watch Series 1
The Apple Watch is absolutely wonderful. Seriously. It'll make you feel like you're living in the future while simultaneously helping you disconnect. It's honestly so good that sometimes you'll forget where your iPhone even is. (But don't worry, if that happens, you can ping your phone with a quick tap on your wrist.) And at $70 off, the Series 1 — the classic, most cost-effective model — is practically a steal.
iPhone 6
While you may not be able to unlock this one with your face, the iPhone 6 is a great smartphone, and that 50 percent off discount makes it only more irresistible.
PlayStation 4 Slim
The PlayStation 4 debuted in late 2013, and in the four years since, it has thoroughly quashed all debate about whether it or Microsoft's XBox One was the superior console. It has a better all-around performing system, a large online player community, and a tremendous backlog of great games to play through. If you're in the market for a console and uninterested in what Nintendo is doing with its Switch, the PS4 is an easy choice, especially at $100 off.
Sennheiser HD1 Headphones
Last year, we picked the Sennheiser Momentum 2.0 Wireless headphones as the best wireless headphones, and the market agreed — they were popular enough that Sennheiser reissued the Momentums as the HD 1s. They've got the same great sound and the same beautiful retro styling. The one difference? This pair is $100 off.
Apple iPad Mini 4
It's like a normal iPad, only thinner. (And $125 off!) How fun.
High-End Bargains
Samsung 58-Inch Class 4K (2160P) Smart LED TV
Prices continue to plummet on 4K panels, thanks to fierce competition from manufacturers like Samsung. This 58-inch screen from Samsung isn't top-of-the-line, but it's 4K and supports HDR 10 — and with $200 off the list price, it rings up to a cool $598. Seeing this much TV for this little money just didn't happen a year ago.
Samsung 4K Ultra HD TVs
Samsung's 4K Ultra HD TVs are seeing deep price cuts across all sizes, with more than 50 percent off everything from 49-inch up to 75-inch sets. All come with HDR, and Samsung is the name to beat when it comes to high-quality large-panel LEDs. If you're looking to upgrade your main set, this is a nice price to do it at.
MacBook Pro 13-Inch
If you're looking to buy a new MacBook, the 13-inch MacBook Pro without Touch Bar is the model to get. It's got the slim form factor that makes it thinner and lighter than the final generation of MacBook Airs, but is cheaper than the Touch Bar models (and, frankly, the Touch Bar doesn't add much utility). Slashing $150 off the 128 GB model and $300 (!) off the 256 GB model makes it an even easier decision. Good for anyone, and great for a college a student.
We'll be updating this post as new deals come in.
Heads-up: If you buy stuff through our links, New York may earn a commission. That said, we don't recommend anything we wouldn't buy for ourselves.