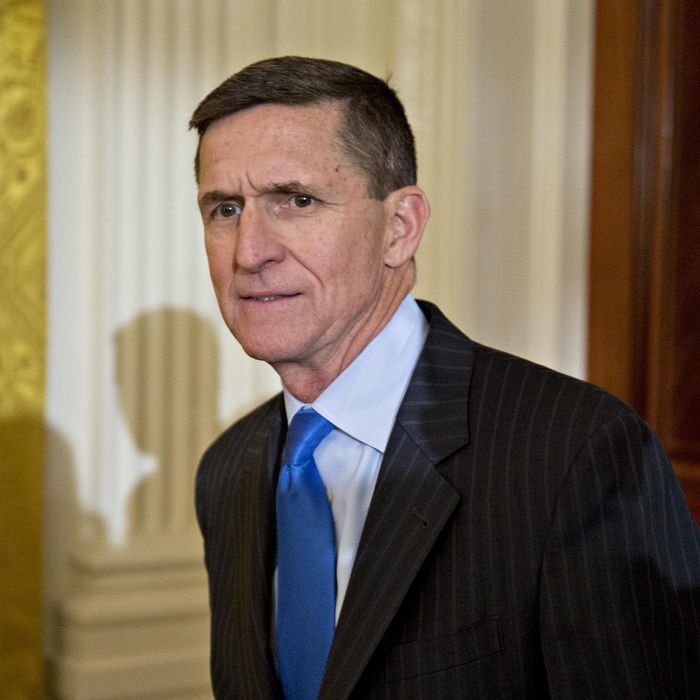 For hire.
Photo: Andrew Harrer/Bloomberg via Getty Images
The White House was reportedly relieved when Robert Mueller, the special counsel probing Russian interference in last year's presidential election, didn't announce federal charges against Michael Flynn, Donald Trump's former national-security adviser and the shortest-lived holder of that office. Instead, Mueller made his first public splash by indicting Paul Manafort and his aide Rick Gates and cutting a plea deal with foreign-policy adviser George Papadopoulos — all for conduct during or predating the campaign.
But a new report in today's Wall Street Journal should rock the Trump administration, if not the president himself, because it deals with postelection conduct that may have continued even after the inauguration. Mueller is said to be investigating whether Flynn and his son were scheming with the government of Turkey to essentially kidnap Fethullah Gulen, a cleric living in Pennsylvania who has long been a thorn in the side of President Recep Tayyip Erdogan. The purported plot, if carried out, would've netted the Flynns up to $15 million.
Flynn has long been known to do the Turks' bidding on this front. The very day Trump was elected, the retired lieutenant general published an op-ed in The Hill calling for the U.S. to not give "safe haven" to Gulen, whom he branded a "radical Islamist" — all without disclosing that he was being paid handsomely for this lobbying. And as early as September of last year, he had discussions with Turkish officials to find ways to deliver on the Gulen plan, according to James Woolsey, the former CIA director.
The fact that Flynn never registered as a foreign agent of Turkey — much like Manafort didn't register for doing work for Ukraine before he worked for Trump — gives fuel to a federal grand jury to indict him for that very omission.
But even that would be the least of Flynn's worries. Manafort's lawyers may have a point in complaining, as they have, that the Foreign Agents Registration Act is rarely criminalized and that Mueller shouldn't weaponize it. But what if Flynn's machinations to whisk away Gulen continued even after he took the oath of office as Trump's national security adviser? And if he did do that, did other administration officials know? As University of Texas law professor Steve Vladeck points out, carrying a foreign country's water in one's capacity as a public official is, no questions asked, a serious federal felony — still quite a few steps removed from treason, but grave enough to cast judgment on Trump and anyone else tasked with vetting Flynn.
None of this takes into account Flynn's other sin, and the reason he was ultimately ousted: His lies about meetings and discussions with the Russian ambassador, both before and after the election — contacts that may have included talk of everything from how to undermine a Clinton presidency to lifting sanctions against Russia. You may recall that it was these discussions, which the FBI knew about and questioned Flynn on, that led Acting Attorney General Sally Yates to sound the alarm early on with the administration. "To state the obvious, you don't want your national-security adviser compromised by the Russians," she told a Senate panel in May.
All of this intrigue about what the White House did or didn't know about Flynn is precisely why Mueller may be keenly interested in this part of the Trump-Russia imbroglio. For one, every official his team of prosecutors interviews about the matter has an interest in being truthful, or else faces the prospect of prison time for lying to investigators. Loyalty to Trump won't help them much there.
But the stakes for Trump are even higher. As much as the president likes to claim that the special counsel's work is a ruse and that he's not personally implicated in the fact-finding mission, it was this prong of the probe — not Manafort's, not his son's meeting in Trump Tower with a Kremlin-connected lawyer — that so worried him so as to instruct James Comey to drop it. "I hope you can see your way clear to letting this go, to letting Flynn go. He is a good guy. I hope you can let this go," the fired FBI director recalled Trump saying during his explosive Senate testimony. When Comey didn't do as told, Trump fired him.
Whether this amounted to Trump running interference with an ongoing investigation into Russian interference is only for Mueller to answer. But if and when the special counsel goes there, or at least brings Flynn into the picture, Trump will be more likely this time to heed his lawyers' advice and not put roadblocks in Mueller's path.