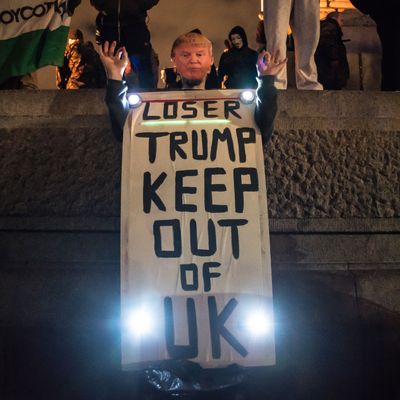 Trump will see a lot of signs like this if he goes to London.
Photo: Alberto Pezzali/NurPhoto via Getty Images
President Trump is an "evil racist" who is "spreading extremism" and should be arrested if he ever sets foot in London, according to a handful of British members of Parliament, who are furious over Trump's retweeting of the far-right anti-Muslim group Britain First.
The three retweets, sent Wednesday morning, were of videos purporting to show Muslims committing acts of violence, though their veracity has come into question. True or not, the videos appeared on Trump's timeline for obvious reasons. As Labour MP Stephen Doughty said Thursday, Trump is trying to "sow hatred and division." He added: "By sharing it, he is either a racist, incompetent, or unthinking — or all three."
Doughty also condemned Jayda Fransen, the deputy leader of Britain First and the person Trump retweeted. She is, he said, "a convicted criminal who is facing further charges, who represents a vile fascist organization seeking to spread hatred and violence in person and online." In November of last year, Fransen was convicted of religious harassment for lobbing insults at a Muslim woman in a hijab.
Conservative MP Peter Bone asked Prime Minister Theresa May to get Trump to leave Twitter. "Wouldn't the world be a better place if the prime minister could persuade the president of the United States to delete his Twitter account?" he said. Tim Loughton, another conservative MP, said Twitter should act and delete Trump's account for him, as it would "any other citizen of the world who peddles such hate crime."
Others called for the cancellation of Trump's planned, but not scheduled, state visit. Labour MP Chris Bryant said, "You cannot stand up to horrible racism or pretend to do so and invite the man in through the front door." If Trump does come to London, Bryant said, he should be arrested. Fellow Labour MP Naz Shah proposed a simpler solution. The "commander-in-tweet" should be banned from the country for promoting "the hate-filled ideology of fascism," she said.
May was less strident in her condemnation of Trump, though she did say he was "wrong" to amplify the message of Britain First. Trump did not agree, tweeting late Wednesday that May shouldn't be worried about him.
That tweet set off a whole new round of criticism of Trump, who is an "evil racist" according to Liberal Democrat leader Vince Cable. It also got a response from London Mayor Sadiq Khan, who tweeted that Trump is "not welcome" in Britain. Don't be surprised if Trump responds in kind to Khan. There's something about that guy that the president doesn't like.