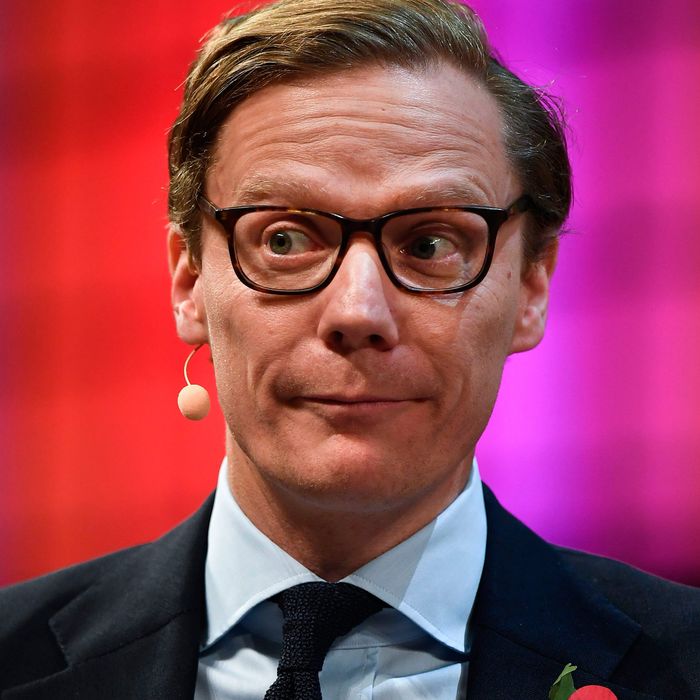 Alexander Nix, CEO of Cambridge Analytica.
Photo: Patricia de Melo Moreira/AFP/Getty Images
There are several channels through which Donald Trump's campaign apparently cooperated with Russian efforts to help him win the presidency. The first, and best known, is a Trump Tower meeting in June 2016 to pursue Russian promises of providing dirt on Hillary Clinton. A second is Roger Stone, a frequent Trump adviser who had clear advance notice of the publication of stolen emails. A third is Trump himself openly asking Russia to obtain Clinton's State Department emails. The final channel is the efforts by Cambridge Analytica, the campaign's data firm. This channel is less well known to the public, in part because reporting about it has been dominated by The Wall Street Journal, and its stories hidden behind a paywall. But Cambridge Analytica's role has come into much clearer focus.
Two weeks ago, the Journal reported that Alexander Nix, the CEO of Cambridge Analytica, reached out to WikiLeaks founder Julian Assange to help him better organize the stolen Democratic emails his site was publishing. On Friday, the Journal found that this contact came as Cambridge Analytica was joining the Trump campaign.
Nix denies the allegation: "We did not work with Russia in this election, and moreover we would never work with a third-party state actor in another country's campaign." But Nix also denies Russia had anything to do with the campaign at all. ("On Thursday, Mr. Nix called the notion that Russians "significantly interfered" in the U.S. election "frankly absurd," the Journal notes.) That second denial, which is silly, saps the other denials of some of their credibility.
Perhaps Cambridge Analytica would defend itself on the grounds that it didn't know, in June of 2016, that the WikiLeaks emails had been stolen by Russia. But other reporting suggests the firm knew this very well.
During that same time period, Republican operative Peter W. Smith tried to obtain the Clinton State Department emails. In his search for the emails, he said he was working on behalf of Michael Flynn, a Trump campaign adviser. One of the cyberexperts Smith met, a man named Matt Tait, told Smith that his mission would entail trafficking in stolen emails obtained by Russia. Smith made clear this didn't bother him. "Smith and I talked several times about the DNC hack, and I expressed my view that the hack had likely been orchestrated by Russia and that the Kremlin was using the stolen documents as part of an influence campaign against the United States," recounted Tait. Despite impressing upon them the ethical and legal dangers of cooperating with a probable Russian intelligence plot, "Smith, however, didn't seem to care."
The Journal also reported last summer that American investigators "have examined reports from intelligence agencies that describe Russian hackers discussing how to obtain emails from Mrs. Clinton's server and then transmit them to Mr. Flynn via an intermediary."
Flynn also worked as a consultant to Cambridge Analytica — a fact he failed to disclose until this last August. We don't have proof that all these figures were acting together. But it certainly appears that Cambridge Analytica was heavily involved with trying to get Clinton's stolen emails, and was aware that Russia had engineered their theft, and played an important role facilitating cooperation between Russia and the Trump campaign.