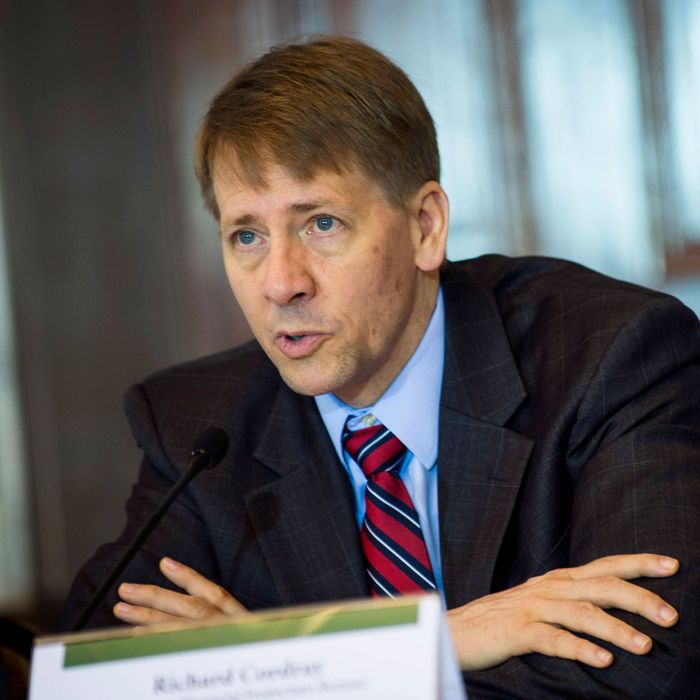 Richard Cordray.
Photo: Pete Marovich/Getty Images
When Richard Cordray announced his resignation as director of the Consumer Financial Protection Bureau on November 15, it seemed like the (at least temporary) death knell for the agency, which has long been a bête noire for congressional Republicans. The speculation was that President Trump would name pro-market zealot Mick Mulvaney, who once called the agency a "sick, sad joke," to replace Cordray in the time-honored tradition of appointing ideologues to run organizations they despise.
But Cordray, who has his eyes on the Ohio governorship, was not going to let that happen without a fight. On his way out, he appointed his chief of staff, Leandra English, to take over the CFPB, citing the Dodd-Frank Act, which states that the agency's deputy director will take over the agency if the director leaves. Trump responded by naming Mulvaney as expected, pointing to the Federal Vacancies Reform Act as justification for his move.
Now, it's not clear who will be in charge on Monday morning. The eventual director must be confirmed by the Senate; Trump's pick is expected within weeks.
The CFPB, which was Elizabeth Warren's pre-senatorial brainchild, is designed to advocate for consumers against rapacious banks and other financial institutions, cracking down on debt collectors, curbing payday-lender abuse, and more. While Trump administration policy has been relentlessly pro–big business, from its rollback of a law that allowed consumers to sue banks to the massive corporate tax cuts wending their way through Congress, the CFPB has survived, and even thrived, in recent months. Under Dodd-Frank, the agency's director can only be fired for cause, and its funding comes from the Federal Reserve, not Congress, lending it some insulation from the whims of the president. Over the summer, the administration calculated that the bureau's work was too popular to disrupt until Cordray stepped down.
Now that day has come, and the Trump administration has made it clear that it will risk a popular backlash to ensure that the banks and other financial institutions that Americans love so much will be subject to as little oversight as possible.