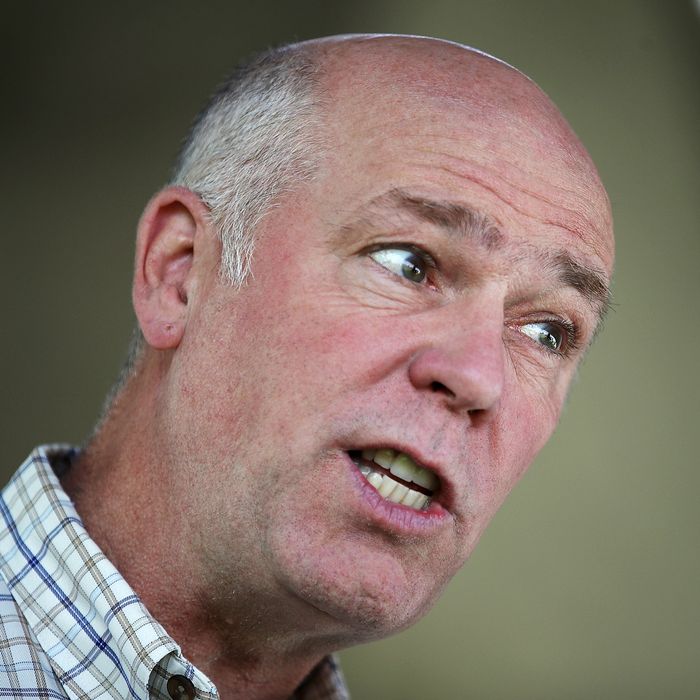 Who you gonna trust, me or your lying ears?
Photo: Justin Sullivan/Getty Images
It can be difficult to recall all the individual low points we've experienced so far in 2017. Like, remember when an about-to-be-congressman physically assaulted a reporter for having the temerity to ask him a question about health-care policy?
That lawmaker was Montana's Greg Gianforte, and records made public on Friday show that shortly after body-slamming The Guardian's Ben Jacobs in May, he falsely told police that Jacobs had been the belligerent one.
Sergeant Scott Secor of the Gallatin County sheriff's office wrote that when he interviewed Gianforte in a parking lot in the aftermath of the assault, Gianforte said that Jacobs had "stuck a microphone in my face" and had been "interrogating in a very intensive way." Gianforte told Secor, "I probably shouldn't do it but I reached out for his phone … he grabbed my wrist, he spun, and we ended up on the floor … so he pulled me down on top of him."
Gianforte described his ongoing problems with some of The Guardian's standard journalistic tactics, then resorted to that hoary chestnut, telling Secor that the "liberal media … is trying to make a story."
This victim-blaming was in line with the campaign's initial version of the story. Gianforte's spokesman, Shane Scanlon, said hours after the assault, "It's unfortunate that this aggressive behavior from a liberal journalist created this scene at our campaign volunteer BBQ."
That account, which had seemed absurd on its face, was disputed by eyewitnesses and definitely debunked when Jacobs released audio of the altercation.
Despite his violent behavior, Gianforte was elected to Congress the next day, prevailing over Democrat Rob Quist by about six points in the special election to fill the seat left vacant by the appointment of Interior Secretary Ryan Zinke.
Gianforte pleaded guilty to a misdemeanor assault charge and offered what seemed like a heartfelt apology to Jacobs, as well as a donation to the Committee to Protect Journalists
But later, to add insult to literal injury, he refused the one-on-one interview he had promised Jacobs.
What a guy.