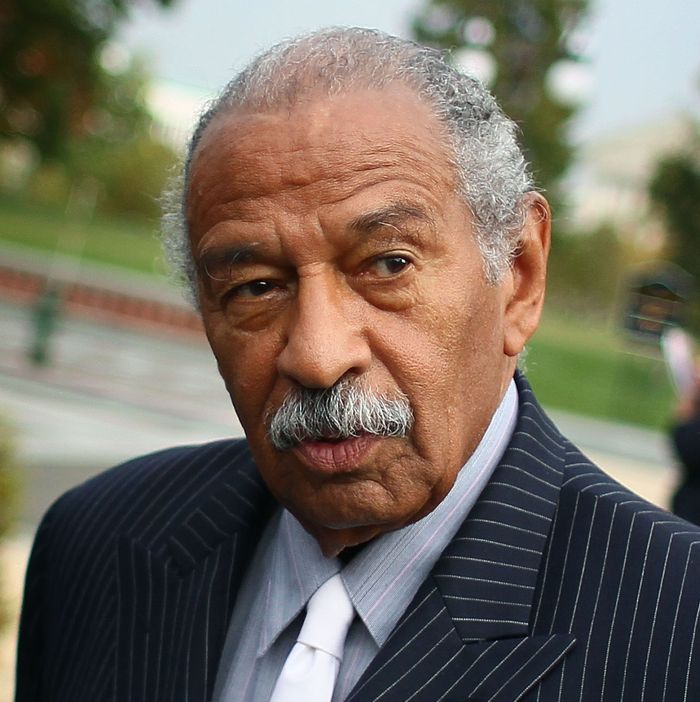 John Conyers, dean of the U.S. House of Representatives.
Photo: Mark Wilson/Getty Images
Many people have been speaking out about sexual harassment in D.C. politics in the wake of the Harvey Weinstein scandal. The Senate is contending with misconduct allegations against Al Franken, and there are reports that Senate candidate from Alabama Roy Moore assaulted girls as young as 14. In recent weeks, eight women have accused former president George H.W. Bush of groping them, and many are reconsidering the sexual-misconduct allegations against President Donald Trump and former president Bill Clinton.
While we've heard new tales of rampant sexual misconduct in the House, most of those claims were anonymous, and it seemed the lower chamber might be spared from a high-profile harassment scandal. That changed on Monday night, when BuzzFeed reported that Democratic representative John Conyers, the longest-serving member of Congress, settled a 2015 complaint from a former staffer who said she was fired after refusing his sexual advances. To make matters worse, the payout was the result of a secretive bureaucratic process Congress uses to handle harassment claims, and the money came out of Conyers's taxpayer-funded office budget.
In 2014, the woman filed a complaint with Congress's Office of Compliance. The legislature does not have a human-resources department, and instead the Office of Compliance uses a lengthy procedure to address alleged violations of various employment rules. The Washington Post reports that the office has paid more than $17 million for 264 settlements and awards to federal employees since 1997.
In her complaint, the former Conyers staffer accused him of repeatedly asking her for sexual favors, and ultimately firing her because she would not "succumb to [his] sexual advances." Per BuzzFeed:
On one occasion, she alleges that Conyers asked her to work out of his room for the evening, but when she arrived the congressman started talking about his sexual desires. She alleged he then told her she needed to "touch it," in reference to his penis, or find him a woman who would meet his sexual demands.




She alleged Conyers made her work nights, evenings, and holidays to keep him company.




In another incident, the former employee alleged the congressman insisted she stay in his room while they traveled together for a fundraising event. When she told him that she would not stay with him, she alleged he told her to "just cuddle up with me and caress me before you go."




"Rep. Conyers strongly postulated that the performing of personal service or favors would be looked upon favorably and lead to salary increases or promotions," the former employee said in the documents.
The complaint includes four signed affidavits from other former Conyers staff members who said this was no isolated incident. One former staffer reported witnessing a "variety of inappropriate sexual advances" from Conyers, directed toward herself and other female staff members. Another former staffer said, "I was asked on multiple occasions to pick up women and bring them to Mr. Conyers apartments, hotel rooms, etc."
A male employee said he saw Conyers rubbing the complainant's legs and other body parts "in what appeared to be a sexual manner," and saw him doing the same with other women. The employee said he warned Conyers to be "more careful" and Conyers said he would "work on" his behavior. Then the employee set up a December 2011 meeting to discuss "mistreatment of staff and his misuse of federal resources." The affidavit says Conyers agreed to make improvements, "as long as I worked directly with him and stopped writing memos and emails about concerns."
The documents were given to BuzzFeed by the alt-right's Mike Cernovich, who's known to peddle conspiracy theories like Pizzagate. He said if he did the reporting himself, Democrats and congressional leaders would "try to discredit the story by attacking the messenger." While this raises questions about why someone opted to leak the documents to Cernovich, BuzzFeed said it confirmed the authenticity of the documents with four people involved in the case, including the woman who filed the complaint.
The accuser, who wants to remain anonymous because she fears retribution, told BuzzFeed that the Office of Compliance's process left her feeling like she had no option but to take the settlement and remain silent. "I was basically blackballed. There was nowhere I could go," she said.
The office gives employees 180 days to report sexual harassment. Early on in the process — which involves mandatory mediation and the option to take the claim to federal district court — those involved are forced to sign a confidentiality agreement.
In this case, the complainant was offered a $27,111.75 settlement — in which Conyers did not admit guilt — in exchange for remaining silent. While such payments usually come out of a special U.S. Treasury fund, this settlement involved Conyers's office rehiring the woman as a "temporary employee," though she would not come into the office or do any work. After three months, once the woman had received $27,111.15 in payments from the congressman's office budget, she was removed from the payroll.
Representative Jackie Speier, a California Democrat, has been pushing to reform the process for reporting sexual harassment in Congress for years. She and Democratic senator Kirsten Gillibrand recently introduced bipartisan legislation that would add more transparency and resources for victims. It would require the naming of lawmakers who enter into a settlement, and set up a victims counsel to guide accusers through the process (currently, the office of the accused can use the House's counsel for free, but accusers have to pay for their own legal representation).
Conyers's office has yet to respond to requests for comment, and no other lawmakers have weighed in on the report, which broke late on Monday night. The one exception was House Democratic leader Nancy Pelosi, who told BuzzFeed she wasn't aware of the settlement.
"The current process includes the signing of non-disclosure agreements by the parties involved. Congresswoman Jackie Speier has introduced legislation that will provide much-needed transparency on these agreements and make other critical reforms," Pelosi said. "I strongly support her efforts."
News of the Conyers settlement raises more uncomfortable questions for Democrats. Franken's political future seemed even more in doubt on Monday after a second woman accused him of groping her. Conyers has been the top Democrat on the Judiciary Committee for a decade, he's one of the founding members of the Congressional Black Caucus, and he introduced the bill to create a federal holiday for Martin Luther King Jr. One former Conyers staffer told BuzzFeed that people were afraid to speak up due to his reputation in Congress. "Your story won't do shit to him," they said. "He's untouchable."
In this #MeToo moment, with alleged abusers from various professions facing investigations and losing positions of power, it feels like things might be different. But whether the politicians recently accused of sexual misconduct — from Trump to Moore to Franken — actually face serious consequences remains to be seen. As FiveThirtyEight's Nate Silver notes, "Politics is a male-dominated institution, and a conservative institution, and conservative, male-dominated institutions have pretty much no interest in flipping over the sexual harassment rock and seeing what comes crawling out from underneath it."
The claims against Conyers may be appalling to outsiders, but it appears he followed the procedures Congress established for addressing such matters. Why would fellow lawmakers call him out, particularly when many of them benefitted from the same process?