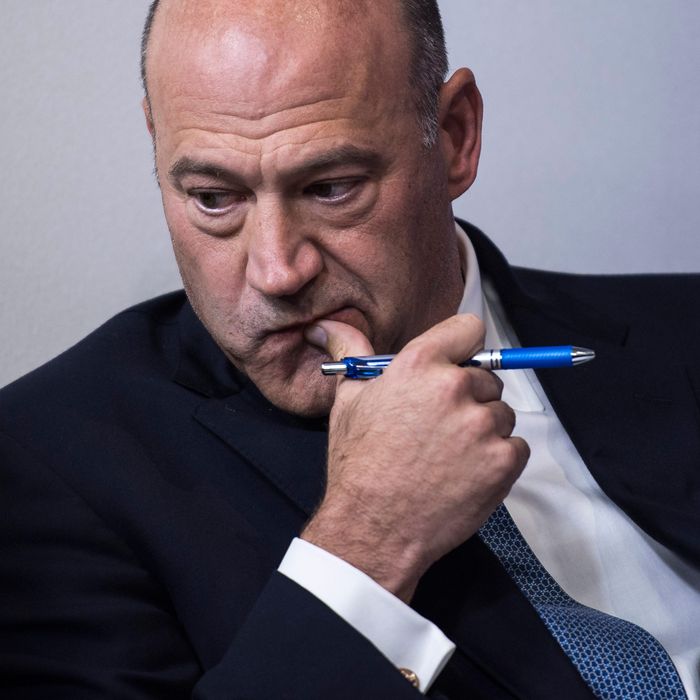 Gary Cohn had to be displeased by the tepid reaction of CEOs to the prospect of corporate tax cuts.
Photo: Jabin Botsford/The Washington Post via Getty Images
As you may have heard, the GOP is selling the big corporate tax cut that is the centerpiece of its tax bill as a job-producing, wage-boosting dynamo. The main piece of evidence for this dubious proposition is a recent report from the White House Council of Economic Advisers claiming that cutting corporate taxes will enormously increase capital investment, which in turn will improve GDP and eventually incomes for working people.
Since Gary Cohn is the president's chief economic advisor, he was probably expecting validation of this point of view while attending a Wall Street Journal event for CEOs today. But he got an unpleasant surprise, as the Hill reports:
[A]n editor at The Wall Street Journal asked the room: "If the tax reform bill goes through, do you plan to increase investment — your company's investment, capital investment?"




People were asked to raise their hand.




When few hands were raised, Cohn, the White House Economic Council director, asked: "Why aren't the other hands up?"
If this audience isn't convinced corporate tax cuts will do economic wonders, why would anyone expect a skeptical public — which in poll after poll opposes slashing rates for big corporations — to think otherwise?
But alas, Cohn and his boss are 100 percent more likely to demand a different group of CEOs as a focus group than to accept changes in this central feature of its tax plan.