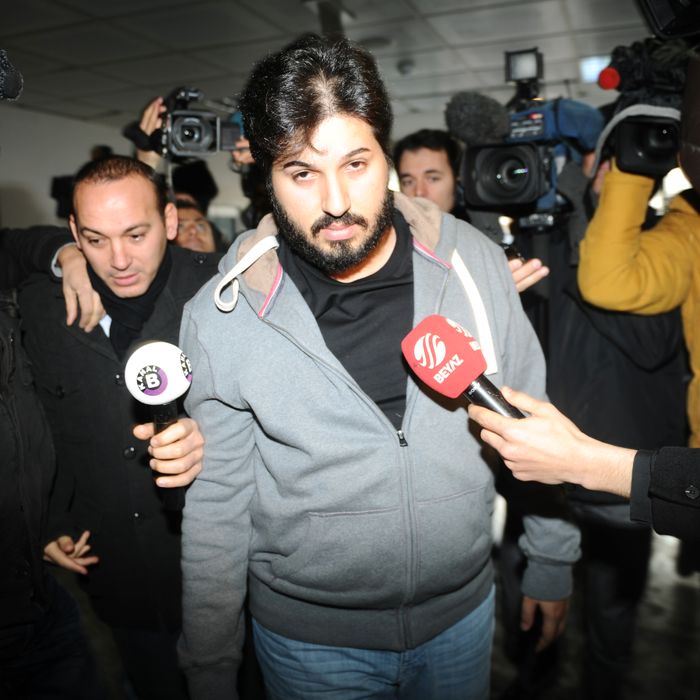 Reza Zarrab is surrounded by journalists as he arrives at a police station in Istanbul on December 17, 2013.
Photo: OZAN KOSE/AFP/Getty Images
On the same day Donald Trump gave himself a thumbs-up for winning the presidency, a Turkish-Iranian gold trader accused of helping Iran evade U.S. sanctions — to the tune of hundreds of millions of dollars — disappeared from federal custody. Or at least from the Bureau of Prisons registry that's supposed to keep track of inmates awaiting trial. As of November 8, no one really knew where Reza Zarrab was.
And yet Zarrab remained the lead defendant in a high-profile criminal case that went to trial this week in Manhattan federal court, and that has gripped Turkey and its leadership. On Tuesday, U.S. district judge Richard Berman more or less gave away the game: Zarrab is the star "mystery witness" in the government's case against his co-defendant and alleged co-conspirator, Turkish banker Mehmet Atilla.
"The Government should now make its case so the public will know what it is all about," Berman wrote in his three-page order, which also read as an indictment of sorts against all the lawyers in the case, who have been seeking delays and dragging their feet for months. "Let's not waste more time — let's get to the heart of the matter," the judge added.
Just as Berman was getting ready to start the trial, a federal prosecutor revealed that Zarrab secretly pleaded guilty to all the charges against him and is now cooperating with the government. In testimony that is sure to roil Turkey, Zarrab kicked off his testimony Wednesday by detailing the astronomical bribes he was willing to pay a Turkish economy minister to enlist him in the anti-sanctions plan.
The crux of United States v. Zarrab, as the case was formerly known, is ultimately about U.S. sanctions, and how a group of high-ranking and well-connected Turkish actors, including Zarrab, may have conspired to assist Iran in skirting them through fraud and elaborate money-laundering schemes. In Berman's words, these are "serious charges." But the fact that federal prosecutors have flipped Zarrab and offered him a deal could also hold the key to another case that has long kept Trump awake at night: the federal investigation of Michael Flynn, his former national-security adviser and now a target of Robert Mueller, the Department of Justice's special counsel probing Russia's disruption of last year's presidential election.
Until Mueller goes public with charges against Flynn — who may have flipped himself, and could be nearing a deal of his own with the special counsel — there's no indication of how Zarrab may have sung and implicated the disgraced lieutenant general. But consider the public record: It's no secret that Flynn had extensive ties to the Turkish government, even after Trump selected him to serve as his incoming national-security adviser. Of these liaisons, the most fantastical one on Mueller's radar is a shady plot by Flynn to return to Turkey an archnemesis of President Recep Tayyip Erdogan, Fethullah Gulen, who for years has been living peacefully in Pennsylvania and yet, in the Turkish imagination, is said to have orchestrated a failed coup against the Erdogan regime. But there's more: NBC News reported earlier this month that at the same December meeting where the Gulen plot was discussed, Flynn and his Turkish associates may have broached how to ensure Zarrab's freedom and thus bring some peace of mind to Erdogan, who has lashed out publicly against the case and even the judge handling it. As reported, the whole deal could've earned Flynn and his son about $15 million.
What does Zarrab know about Flynn, if anything? Since his arrest during a family trip to Disney World in March 2016, Zarrab has remained behind bars in New York and disconnected from much of the outside world. Under those conditions, how might he have gotten dirt on Flynn that could be useful to Mueller? The answer to that may lie in the hands of two attorneys in Trump's orbit who are also part of Zarrab's dream team of lawyers: Rudy Giuliani and Michael Mukasey. After Flynn left the White House, the pair flew to Turkey to meet with Erdogan to try to reach a diplomatic resolution to the Zarrab case. For all that's publicly known, Giuliani, Mukasey, or anyone in Zarrab's legal team may be privy to the true extent of Flynn's dealings with a country for which he is a registered foreign agent.
For his part, Preet Bharara, the fired-by-Trump U.S. attorney who was overseeing the Zarrab prosecution at the time of his arrest, has pondered out loud how the Flynn-Erdogan connection may factor into the larger Russia investigation:
As was the case with George Papadopoulos — the former foreign-policy adviser to the Trump campaign who switched teams and is now on Mueller's side — Zarrab's decision to work with prosecutors adds a new layer of intrigue to a probe that will surely find the Trump administration watching closely how the trial plays out in Manhattan. Erdogan has a habit of vilifying or even quashing judicial proceedings he doesn't like; with enough obstruction problems of his own here in the U.S., especially with respect to Flynn, Trump will simply have to wait and see what the justice system, and Mueller, have in store.