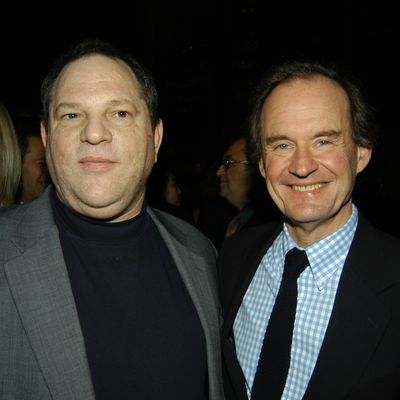 Harvey Weinstein and David Boies attend the launch party for Rudy Giuliani's book
Leadership
on December 18, 2002, in New York City.
Photo: Patrick McMullan/Getty Images
He is, and probably by a lot, the most famous practicing lawyer in America. David Boies graced the cover of The New York Times Magazine when he was just 45 ("The Litigator," read the headline. "David Boies, the Wall Street Lawyer Everyone Wants.") He was a runner-up Time "Person of the Year," profiled in this magazine, Forbes, Newsweek, Vanity Fair, and Esquire, played by Ed Begley onscreen and Morgan Freeman and George Clooney onstage. He helped us get gay marriage, busted the Microsoft monopoly, and made a valiant effort to save the nation from the perils of a George Bush presidency.
But Boies's image as a latter-day Clarence Darrow has taken a hit in recent weeks. First came the news that he represented Harvey Weinstein during negotiations with the Weinstein Company — which Boies's law firm, Boies Schiller Flexner, has represented in various legal matters over the years — writing a contract that, in the words of TMZ, "allowed for sexual harassment" with an escalating series of fines for each infraction. Then came a New Yorker story by Ronan Farrow that detailed how Boies employed two private-investigative firms that attempted to uncover damaging information about Weinstein's accusers and the journalists who were helping to bring those accusations to light. When the story hit, the New York Times, which both published the first story on Weinstein's sexual-assault history and employed Boies Schiller, promptly fired the law firm.
Their own lawyer hiring a private-investigative operation to scuttle their reporting was, the paper said in a statement, "reprehensible."
"Whatever legalistic arguments and justifications can be made, we should have been treated better by a firm that we trusted."
It has been a staggering set of stories for someone who, at 76, is on the likely last act of a celebrated career. Boies first rose to fame when he walked away from a partnership at a white-shoe law firm to start his own shop. Boies Schiller Flexner grew to become a powerhouse in litigation. But what effect the recent run of bad press will have, either on Boies or on the firm he founded, is unclear. Many in the legal community are watching for signs that Boies or the firm has been negatively affected. "What we have been reading is so far outside of what is acceptable," said one longtime friend. "It is not something you see reputable lawyers do. David has been gradually stepping away from the firm, and I think it is going to be a lot harder for them to recruit big-time talent."
In the public's mind, Boies is the ninja master of the legal profession, someone from the flatlands of the Midwest who suffered severe dyslexia yet still graduated magna cum laude from Yale Law. "A kind of legal Buddha, except that he is thinner and dresses better," Garry Shandling, a Boies client, has described him. He is renowned for his eccentricity, for being able to deliver a courtroom argument without looking at his notes, and for a certain aw-shucks, suits-off-the-rack sensibility that belies his fame and wealth (Boies owns multiple houses, an oceangoing yacht, and a 1,300-acre Northern California vineyard).
"He always cultivated this image as the lone ranger among the stuffed shirts," said Vivia Chen, a columnist for The American Lawyer who has covered Boies extensively. "The cryptic thing about him is that on the one hand he is this hero, and on the other he is accessible and charming and comes off as so humble."
And it is an image that is cultivated. In 1987, The American Lawyer gave him its "Bruce Springsteen Media Darling Award," wondering if his "deification may have gotten out of hand." Boies constantly talks to reporters, among whom he is known for never giving a "no comment" and for playing up his folksy persona. David Wilson, a reporter for the San Jose Mercury News, recalled to Vanity Fair that Boies was bending his ear during a break in the Microsoft trial when a rival attorney walked by and told Wilson that he should be sure to ask Boies about his elaborate wine cellar.
Chen recalls one profile of Boies she did where she found herself seated next to him at a black-tie gala where he was being honored by the Boy Scouts of America.
"You always know with David that you are being played but it is kind of a pleasant experience," Chen said. "He has this cult status that goes beyond the legal world. It's like some Jimmy Stewart character has fallen down to Earth, and it turns out he is just another tool for the rich and powerful like everybody else."
Among Boies's friends and admirers in the legal world, the last few weeks have been unsettling.
"I have a tremendous amount of respect for David Boies. I think he is a brilliant lawyer. His reputation is very well earned," said Jonathan Turley, law professor at George Washington University and frequent television commentator. But what he read about in The New Yorker "floored me. If that contract were offered to me I would have turned it down in a second. There are just so many red flags on so many levels."
Boies told The New Yorker that he did not select the private-investigative firms — even though he personally signed the contract of Black Cube, a company run mostly by ex–Israeli intelligence operatives. Black Cube had agents posing as women's rights activists or as victims of Weinstein in order to scuttle the news investigations into his sexual assault. Boies said he did not direct their work either, and disputed the Times' claim that his work on Weinstein's behalf was a conflict of interest.
"I'm sorry, but that just doesn't pass the straight face test," said Joel Henning, a Chicago-based legal-industry consultant. "Did he not think it through? Or did he think he could get away with it? This is what is so confounding. He is not a person who doesn't think things through. That is part of what makes him a brilliant lawyer."
Among Boies's friends and colleagues in the New York legal world, there is a sense that, at last, America's Superlawyer let all the years of good press get to him. "These guys, they get seduced by the challenge," said one legal journalist who has followed Boies closely. "It's chutzpah. He's not taking the normal precautions that a junior lawyer would have taken."
Some say that the Boies myth has been outliving the reality for a little while now. They point to his work with Theranos, the apparently fraudulent blood-testing company for which Boies served both as director and as attorney, an arrangement rife with potential conflicts of interest. And they point to his work representing Hank Greenberg, the former chairman of AIG, in the government's case that he misrepresented the firm's financial condition.
"I've just been watching all of this and wondering what happened to David," said one Boies friend. "Did he just get too impressed with his own fame? Did he just get greedy?"
It is not lost on the New York legal community that Boies's life has taken a turn for the Weinsteinian over the last several years. In 2012, Boies started the Boies/Schiller Film Group, which invests in motion pictures. Boies has five executive-producer credits, and the firm has been working on a remake of Fletch. Boies's daughter, Mary Regency Boies, is a producer and actor who had a part in Silver Linings Playbook, the 2012 romantic comedy that was produced by the Weinstein Company.
One theory is that the famously good-natured Boies was just temperamentally unable to say no to the hard-charging Weinstein.
"You don't suddenly, at age 70-plus, become a sleazeball, and David is not a sleazeball," said another prominent lawyer who has known Boies for decades. "He is overwhelmed. He takes on too much. He never says no. I am sure he figures, 'There is nothing to this,' and just signed his name without much bothering to look it over."
The firm Boies founded when he bolted from the white-shoe law firm of Cravath, Swaine & Moore is now a 300-lawyer-strong firm with 14 offices around the country and in London. It remains, however, very much in the shadow of Boies, according to legal observers. Although clients who sign with the firm can be mistaken in thinking that it means Boies himself will handle their case, when the firm is brought on it is usually taken as a sign to the other side that resources will be spent and the fight will go to the bloody end.
"They have a lot of talent, but not nearly the talent that you would expect a firm of that stature to have," said one lawyer, echoing an opinion heard in a series of interviews with prominent members of New York's legal community.
The firm has been a bit of a family operation as well — Boies's ex-wife, his current wife, his son, and his late daughter all worked there at one time or another.
It remains to be seen how much the firm will be affected by this recent spate of bad news. So far, the Times has been the only client to sever ties with Boies Schiller. Boies sent a long memo to the employees of his namesake law firm after the story dropped giving his side of it and saying that he regretted his role in hiring Black Cube.
"It was not thought through, and that was my mistake. I take responsibility for that," Boies wrote, adding, "I have devoted much of my professional career to helping give voice to people who would otherwise not be heard and to protecting the rights of women and others subjection to oppression. I would never knowingly participate in an effort to intimidate or silence women or anyone else, including the conduct described in the New Yorker article. That is not who I am."
Boies is back at work now, while the firm has begun a review of how they vet vendors and how they handle conflicts of interest like the one that arose with the New York Times.
"I think the damage is going to be dramatic," said one lawyer who has worked closely with Boies for years. "The Times said they don't trust him. If your clients can't trust you you are finished."
Complicating matters further is the fact that Boies crossed such a powerful entity as the New York Times. Boies appears in their pages regularly, but his work with Weinstein is now all but certain to be mentioned in every story about him. For example, a recent piece about Dallas Cowboys owner Jerry Jones's hiring Boies to sue the N.F.L. described Boies as "the high-profile lawyer under fire in the Harvey Weinstein sexual harassment case" and spent four crucial paragraphs and the caption to a photograph to lay out Boies's involvement in the matter.
Plus, last week the Manhattan district attorney's office announced that they had subpoenaed records from the Weinstein Company, and included a request for records related to the company from Boies Schiller Flexner. The firm has seen its rankings in the Vault 100, a national ranking of legal prestige, slip over the last several years, from No. 12 in 2016 to No. 16 in 2017 to No. 20 this year. Karen Dunn, one the firm's leading young lawyers in its Washington, D.C., office, disputed the notion that this latest drama would have much of an effect.
"We're a firm of 300-plus lawyers, many of whom handle the biggest and most high-profile problems facing companies and individuals without any participation from David," she said. "In fact, I can't think of a time since I got here where I have heard that a BSF lawyer walked into a room and someone said, 'Where's David?' It's just not like that."
Boies did not respond to a request for comment, and a firm spokesman did not make him available.
Longtime Boies-watchers say that he is sure to attempt to ride out this latest storm, certain that it will end soon enough and that he will be able to reclaim his perch.
"He is a tough litigator," said Chen. "You don't win cases by being some simple guy from the provinces. People are saddened, but a lot of people are rooting for him too. Our hero has been chopped down."