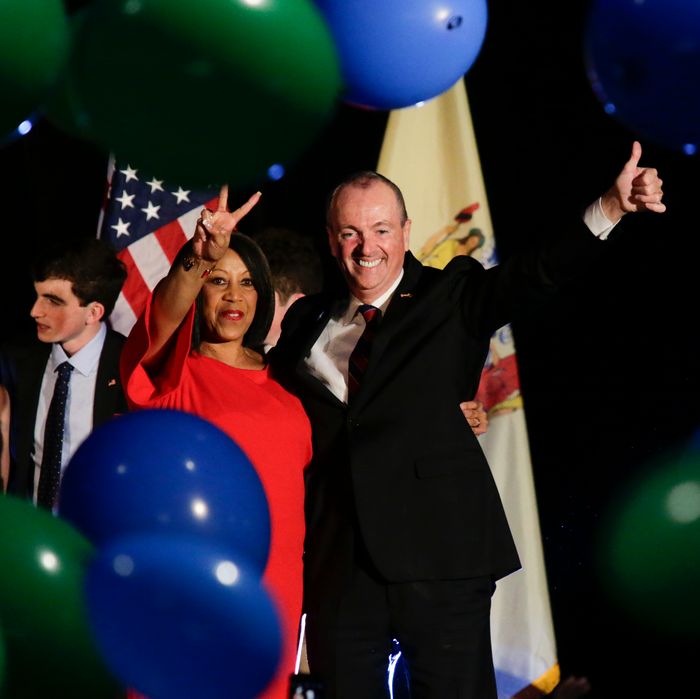 Governor-elect Phil Murphy and his running mate Lieutenant Governor–elect Sheila Oliver celebrate during an Election Night rally on November 7, 2017, in Asbury Park, New Jersey.
Photo: Eduardo Munoz Alvarez/Getty Images
Democrats claimed the biggest prize in Tuesday night's off-year elections when Ralph Northam won the Virginia governor's race; but they also saw major morale-boosting wins across the country. A Democrat won the New Jersey gubernatorial race, Maine voters embraced Obamacare's Medicaid expansion, and in a surprise, Democrats may have taken Virginia's House of Delegates. Here are the most notable results from the 2017 election.
• Democrat to Succeed Chris Christie. Phil Murphy, the Democratic former U.S. ambassador to Germany and Wall Street executive, won the governor's race in New Jersey, defeating State Lieutenant Governor Kim Guadagno. Murphy took 55.4 percent of the vote to Guadagno's 42.5 percent, with 99 percent of precincts reporting.
Republican Chris Christie has served as New Jersey's governor for the past eight years, and it appears Guadagno could not put enough distance between herself and the historically unpopular incumbent. Thanks to Murphy's win, New Jersey will become one of only eight states where Democrats control the executive branch and both legislative chambers (Republicans have 26). It also means that if U.S. Senator Bob Menendez — who is currently on trial for corruption — leaves office next year, he'll be replaced by a Democrat, allowing the chamber to maintain its current party split.
• Mayor de Blasio Cruises to Reelection. As expected, New Yorkers gave Mayor Bill de Blasio a second term — though he fell a bit short of his 2013 landslide, when he beat his GOP opponent by 49 points. On Tuesday night, de Blasio had 66.5 percent of the vote to Republican state assemblywoman Nicole Malliotakis's 27.8 percent, with 99 percent of precincts reporting — giving the mayor an advantage of just 38.7 percentage points. Still, the win raises de Blasio's national profile, and makes him the first Democratic mayor to be reelected since Ed Koch won a third term in 1985.
• Maine Voters Take the Medicaid Expansion. Maine governor Paul LePage had blocked efforts to expand Medicaid coverage under Obamacare five times, but on Tuesday, he was overruled by the voters. A ballot initiative to expand the program passed with 58.8 percent in favor and 41.2 percent opposed, with 90 percent of the vote in. If LePage doesn't find another way to stop the expansion, another 80,000 people will qualify for Medicaid in the state.
Maine is the first state to take the expansion under the Trump administration, and the first to do so via ballot initiative. Other states might follow suit, and activists are already talking about putting the measure on the ballot in Idaho, Kansas, or Utah next year.
• New York Rejects the 'Con Con.' By law, New Yorkers must vote every 20 years on whether to hold a convention to rewrite the state constitution. Around 83 percent voted "no," following opposition from an odd coalition of labor unions, conservatives, and liberal groups like Planned Parenthood, all of which warned about the possibility that New Yorkers would actually wind up losing some rights. The issue won't come up again until 2037.
• Washington Poised to Make West Coast All Blue. New Jersey is now a Democratic "trifecta," and on the other side of the country, it appears that Democrats will soon control the executive and legislative branches in Washington State. Republicans held control of the State Senate by just one vote, but it looks like a win by Democrat Manka Dhingra will turn the state entirely blue — just like Oregon and California. It will take several days to count all the mail-in ballots, but Dhingra currently has a double-digit lead, so her win looks fairly secure.
• Democrats Possibly Flip Virginia House of Delegates. Democrats were hoping to pick up five to ten seats in Virginia's lower chamber, where Republicans hold 66 of the 100 seats, setting the stage for a Democratic takeover next year. They won't have to wait that long. The New York Times reports that Democrats picked up 14 seats as Northam won the governor's race on Tuesday, giving Dems a one-seat advantage. However, as the Richmond Times-Dispatch notes, control of the chamber may be decided by recounts.
One new Democratic delegate is Chris Hurst, a former news anchor whose reporter girlfriend, Alison Parker, was shot and killed during a live broadcast in 2015. Democrat Danica Roem defeated a 13-term incumbent to become the first transgender person elected to the legislature. Hala Ayala and Elizabeth Guzman will become the chamber's first Latina delegates, and Kathy Tran will be its first female Asian-American member.
• One more first. In Hoboken, City Councilman Ravi Bhalla won a six-way mayoral race, becoming the first Sikh to hold that office in the state's history.
This post has been updated throughout.