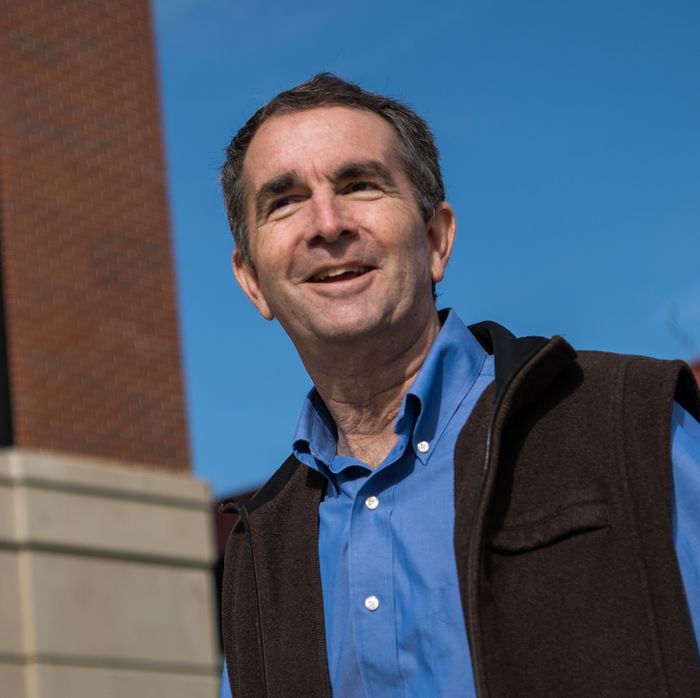 Ralph Northam, the next governor of Virginia.
Photo: The Washington Post/The Washington Post/Getty Images
Democrats finally got some good news on Tuesday night when Ralph Northam won the Virginia gubernatorial race, beating Republican Ed Gillespie. Northam won 53.7 percent and Gillespie took 45.1 percent, with all precincts reporting.
While Northam, the state's lieutenant governor, had an early lead, the race tightened in recent weeks. Gillespie, a former lobbyist and White House adviser to George W. Bush, turned to Trumpian themes, like preserving Confederate monuments and cracking down on sanctuary cities (which don't exist in Virginia). However, since Hillary Clinton won the increasingly blue state by five points last year, Democrats were hopeful that they could keep the seat being vacated by term-limited Governor Terry McAuliffe.
Aside from Northam's victory, Democrats had many more reasons to celebrate on Tuesday night. They were looking to pick up at least five to ten seats in the Virginia House of Delegates; instead they picked up 14, enough to take control of the chamber (though recounts may change that). There were also a number of notable "firsts" among the newly elected delegates, including the chamber's first Latina delegates and its first Asian-American woman. Danica Roem defeated a 13-term incumbent to become the first transgender person elected to the Virginia legislature.
Had Gillespie pulled off an upset, it would have been a signal to Republicans nationwide that embracing Trumpism was the ticket to victory in 2018. (Though Trump endorsed Gillespie on Twitter, the candidate avoided mentioning the president during his final rally.)
"He's closed an enthusiasm gap by rallying around the Trump agenda," Steve Bannon, the president's former strategist, said earlier this week. "And I think the big lesson for Tuesday is that, in Gillespie's case, Trumpism without Trump can show the way forward. If that's the case, Democrats better be very, very worried."
As it turns out, that wasn't the case. And Trump managed to make a bad night for Republicans even worse by throwing Gillespie under the bus:
This post has been updated throughout.