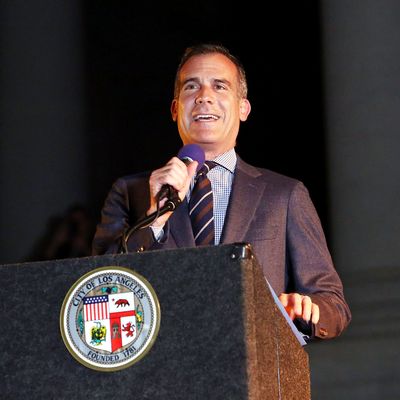 L.A.'s Eric Garcetti could be the first sitting-mayor-Latino-Jew to enter the White House.
Photo: Jesse Grant/Getty Images
The New York Times' Adam Nagourney gave Los Angeles Mayor Eric Garcetti a full write-up as a potential 2020 presidential candidate, and noted this about Hizzoner:
There have been governors and generals, senators and members of Congress, secretaries of states and vice presidents. There was even a billionaire business executive chosen as commander in chief.




But never in the 228 years since Gen. George Washington was sworn in as president has a sitting mayor been elected to the White House.




Eric M. Garcetti, the mayor of Los Angeles, may be out to change that.
Nagourney mentioned Garcetti's unusual ethnic background in passing. But it's worth underlining the fact that if elected to the presidency, Garcetti would not only be the first sitting mayor to enter the White House, but the first Jew and also the first Latino (his mother's family was Jewish and his paternal grandparents were from Mexico).
It may or may not be of solace to Democrats still mourning their failure to elect the first woman as president in 2016. But at first blush, it appears they will have multiple opportunities to make history next time around.
For one thing, of course, they could try again to break the glass ceiling Hillary Clinton liked to talk about. Most Democratic presidential lists for 2020 include Senators Elizabeth Warren, Kirsten Gillibrand, Amy Klobuchar, and Kamala Harris. If elected president, Harris would not only be the first woman in that office, but the first black woman (her father is from Jamaica) and the first Asian-American president (her mother was from India).
There are two better-known potential candidates, Joe Biden and Bernie Sanders, who would be the first presidents to hit the age of 80 in the White House, assuming they completed a term. An even older (if unlikely) option would be Jerry Brown, who turns 80 next year. He would be the first president to have seriously studied Zen Buddhism. Like Garcetti, Bernie Sanders would be the first Jewish president.
Andrew Cuomo could become the first Italian-American in the White House, and could also be the first to share the living quarters with an unmarried domestic partner (Food Network star Sandra Lee). Speaking of food: Cory Booker might be the second African-American president, but he'd be the first vegetarian in that job.
Martin O'Malley, if he runs for president again, would be a former mayor, but not a sitting mayor; he'd be an Irish Catholic, but not the first Irish Catholic; and he'd be a practicing musician, though not the first practicing musician (at least according to the famous drawing hanging on my wall showing Harry Truman tickling the ivories). I suppose if he is the Democratic nominee, he'd have to be satisfied with being the 46th white male to serve as president. If he were to dispatch Donald Trump, that would suit most Democrats of every stripe just fine.