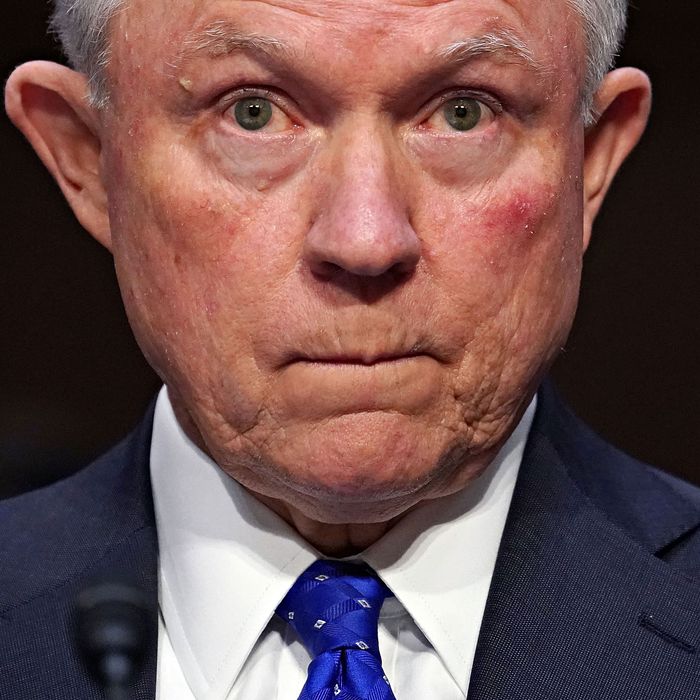 Don't ever laugh at me again.
Photo: Chip Somodevilla/Getty Images
The Justice Department said on Monday that it would drop charges against the woman who laughed at Attorney General Jeff Sessions during his confirmation hearing back in January. (Just think, a mere 364 days ago, this entire sentence would have been unthinkable.)
Desiree Fairooz, who was protesting with the often-disruptive progressive group Code Pink, let out a sarcastic chuckle during Sessions's hearing after Alabama Republican senator Richard Shelby said that Sessions had a "clear and well-documented" record of "treating all Americans equally under the law" — a comment that, to be fair, is worthy of at least a snort.
Fairooz was arrested by a rookie cop and dragged out of the chamber, yelling as she went. The U.S. Attorney's Office for the District of Columbia decided to press charges.
In July, she was convicted on a misdemeanor count, though the jury foreperson said that "she did not get convicted for laughing. It was her actions as she was being asked to leave."
A Superior Court of the District of Columbia threw out the charge in July, claiming that the government had wrongly maintained that laughing alone was cause enough for the verdict. But the government had planned to retry the case after Fairooz turned down a plea deal. It's not clear why they decided to drop it, though pursuing a second trial over charges that bring to mind authoritarian regimes couldn't have been useful in the public-relations department.
"The last 10 months of my life have been somewhat stressful facing trial and the possibility of jail time and a criminal conviction for a chortle so I am greatly relieved that I will not stand trial again," Fairooz told HuffPost in a statement. "As activists, we cannot be deterred from speaking out against injustice, standing up for our constitutional rights and yes, laughing."