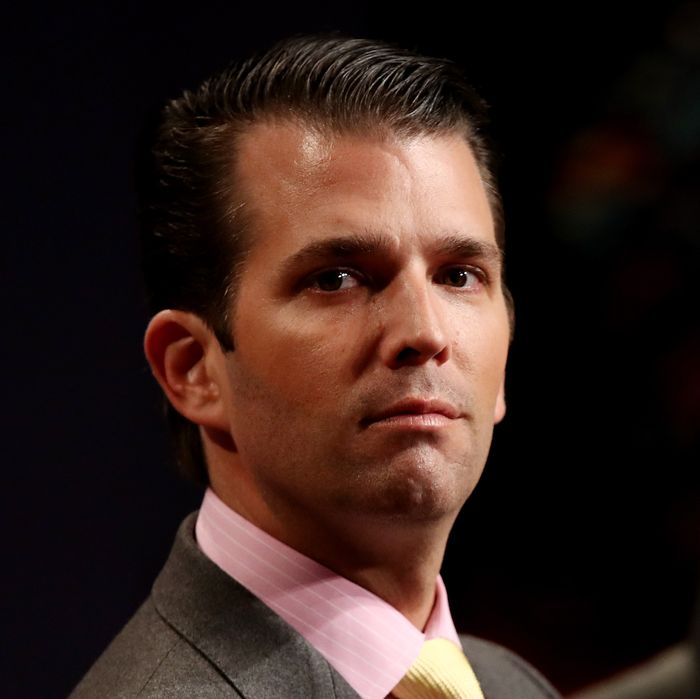 Don Jr. has something to share.
Photo: Win McNamee/Getty Images
Donald Trump Jr. exchanged private messages with the WikiLeaks Twitter account as the website was publishing Democrats' hacked emails during the 2016 presidential campaign.
The Atlantic broke the news of this secret correspondence on Monday, reporting that the DMs were included in the many documents Trump Jr.'s lawyers turned over to congressional investigators. Hours later, Trump Jr. posted screenshots which he says comprise the entirety of his communications with WikiLeaks — much like when he posted emails in which he arranged a meeting with Russians offering incriminating information about Hillary Clinton, amid reports that he met with a Kremlin-connected lawyer in June 2016.
As Trump Jr. notes, he barely responded to WikiLeaks' numerous offers and suggestions. Yet, if real, the messages shed light on WikiLeaks' role in the election, the Trump campaign's relationship with the organization, and what other campaign officials knew. Here's what they reveal.
WikiLeaks Was Trying to Help Trump, But Wanted to Appear Impartial
While WikiLeaks bills itself as a neutral proponent of transparency, the 2016 election made it quite clear that wasn't the case. Shortly after the site posted leaked emails from top Democratic officials to coincide with the Democratic National Convention in July 2016, Wired noted that their tone was starting to feel "more than a little biased" and "At times, they haven't looked so much like a group speaking truth to power as an alt-right subreddit." A few weeks later, the New York Times ran an article titled "How Russia Often Benefits when Julian Assange Reveals the West's Secrets."
By October 7, 2016, WikiLeaks seemed very biased. Less than an hour after the release of the Access Hollywood tape, WikiLeaks released emails stolen from the personal email account of Clinton campaign manager John Podesta.
In April 2017, CIA director Mike Pompeo, a Trump appointee, described WikiLeaks as "non-state hostile intelligence service often abetted by state actors like Russia."
The Twitter correspondence starts with WikiLeaks offering Trump Jr. a helpful tip: the password to the anti-Trump site putintrump.org. Then on October 3, 2016, WikiLeaks writes, "Hiya, it'd be great if you guys could comment on/push this story," pointing to a quote from Clinton about wanting to "just drone" WikiLeaks founder Julian Assange. "Already did that earlier today. It's amazing what she can get away with."
But in addition to asking the candidate's son to plug favorable coverage, WikiLeaks suggests that the campaign should let them leak Trump's tax returns. They claim this would be mutually beneficial: The campaign would avoid the documents coming out via a "biased source" such as the New York Times or MSNBC, and it would help make WikiLeaks appear less anti-Clinton — thus aiding their efforts to undermine her.
"If we publish them it will dramatically improve the perception of our impartiality," WikiLeaks wrote. "This is the real kicker. That means that the vast amount of stuff that we are publishing about Clinton will have much higher impact, because it won't be perceived as coming from a 'pro-Trump' 'pro-Russia' source, which the Clinton campaign is constantly slandering us with."
Apparently WikiLeaks did not see the irony in calling the "pro-Trump" label slander as they were secretly offering to help the Trump campaign — and Assange still doesn't:
Trump Jr. Was Eager to Find Clinton Dirt, Regardless of the Source
Trump Jr. doesn't say much in his online correspondence, but what he does say speaks volumes. For instance, upon receiving an email offering damaging Clinton information "as part of Russia and its government's support for Mr. Trump," the candidate's son responded "if it's what you say I love it especially later in the summer."
In his few responses to WikiLeaks, Trump Jr. is similarly enthused. It appears WikiLeaks first slides into his DMs on September 20, 2016 with a tip about who's behind putintrump.org (according to The Atlantic, it was tech entrepreneur Rob Glaser, with funding from Progress for USA Political Action Committee).
Rather than ignoring the message from the site that posted Democratic officials' stolen emails just weeks earlier, Trump Jr. tells the anonymous person tweeting on behalf of the radical-transparency organization: "Off the record I don't know who that is, but I'll ask around. Thanks."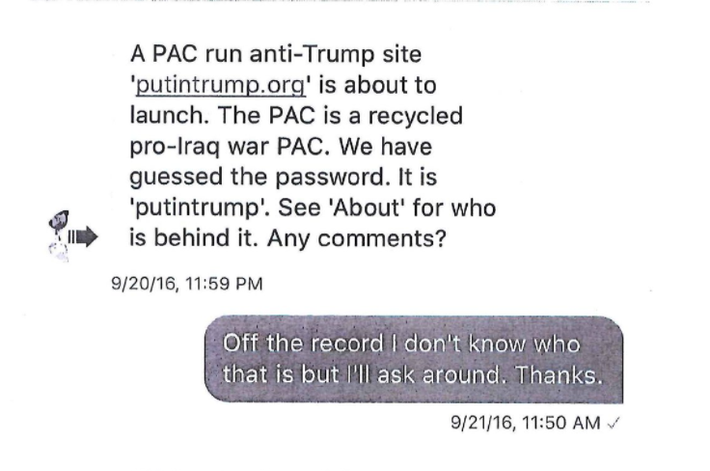 If Someone Was Coordinating the Leaks, It Wasn't Trump Jr.
We know that Trump officials had extensive ties to various Kremlin-connected Russians, but the key question in special counsel Robert Mueller's investigation is whether they were actually coordinating with Russian agents on matters like when damaging information should be released.
If someone in the Trump campaign was directing the leaks, it appears Trump Jr. didn't know about it (or wasn't dumb enough to let the WikiLeaks Twitter account know that he knew).
Shortly after WikiLeaks reached out about Clinton's "drone Assange" quote, Trump Jr. asks: "What's behind this Wednesday leak I keep reading about?" A day earlier, Trump adviser Roger Stone had tweeted "Wednesday@HillaryClinton is done. #WikiLeaks."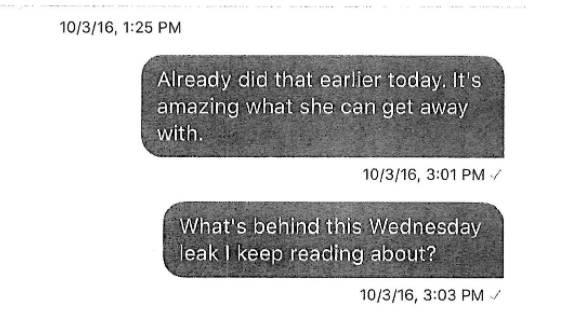 Trump Jr. didn't get an answer, but days later WikiLeaks began posting hacked emails from Podesta and Clinton insider Capricia Marshall.
Trump Jr. May Have Acted on WikiLeaks' Requests
On October 12, 2016, WikiLeaks wrote: "Hey Donald, great to see you and your dad talking about our publications. Strongly suggest your dad tweets this link if he mentions us wlsearch.tk" (The candidate had proclaimed "I love WikiLeaks" at a rally days earlier.)
"There's many great stories the press are missing and we're sure some of your follows [sic] will find it," WikiLeaks continued. "Btw we just released Podesta Emails Part 4."
Trump Jr. never responded, but 15 minutes later, his father tweeted this:
Two days later, Trump Jr. tweeted the link, as WikiLeaks requested:
On another occasion, Trump Jr. seemed to take inspiration from WikiLeaks, though not in the manner that the organization had hoped. After the New York Times reported that Trump Jr. met with a Kremlin-connected lawyer, WikiLeaks wrote:
Hi Don. Sorry to hear about your problems. We have an idea that may help a little. We are VERY interested in confidentially obtaining and publishing a copy of the email(s) cited in the NY Times today.




We think this is strongly in your interest. Why? Because otherwise your opponents (who clearly have a copy) will gradually "milk" phrases from the email(s) with their own spin/context added according to what suits THEIR timing and THEIR strategy over days/weeks/months. 




Us publishing not only deprives them of this ability but is beautifully confounding.
Instead of handing the emails to WikiLeaks, Trump Jr. posted them on Twitter himself.
Other Officials Knew WikiLeaks Was in Contact With the Campaign
Apparently when Trump Jr. told WikiLeaks he'd "ask around" about putintrump.org, he meant it. The Atlantic reports:
According to a source familiar with the congressional investigations into Russian interference with the 2016 campaign, who requested anonymity because the investigation is ongoing, on the same day that Trump Jr. received the first message from WikiLeaks, he emailed other senior officials with the Trump campaign, including Steve Bannon, Kellyanne Conway, Brad Parscale, and Trump son-in-law Jared Kushner, telling them WikiLeaks had made contact. Kushner then forwarded the email to campaign communications staffer Hope Hicks.
When asked weeks later, on October 14, if the Trump campaign was "in cahoots" with WikiLeaks, Mike Pence replied, "Nothing could be further from the truth," adding, "I think all of us have, you know, have had concerns about WikiLeaks over the years and it's just a reality of American life today, and of life in the wider world."
That explains why the vice-president released this statement insisting he knew nothing about Trump Jr. messaging with WikiLeaks.
Pence found himself in a similar predicament when it was revealed that national security adviser Michael Flynn discussed sanctions with the Russian ambassador during the transition, though Pence had publicly insisted that he didn't. Flynn was fired, ostensibly for misleading Pence.