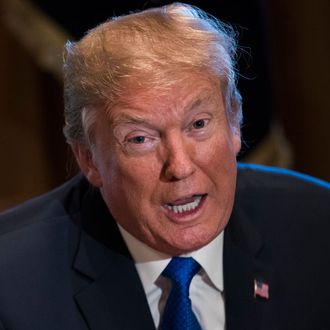 Donald Trump.
Photo: Drew Angerer/Getty Images
Early Thursday evening, Donald Trump's personal Twitter account vanished from the platform. The account from which he foretold the future with a cartoon about a "fucking moron" years before he'd square off with Rex Tillerson. The account he used to errantly fave a tweet about how he's unpresidential. And the account he used to loudly and dramatically warn President Obama against attacking Syria years before he, as president, would attack Syria. For approximately 11 minutes, @realDonaldTrump was AWOL. All his tweets were gone and if you checked the account page you found a "page doesn't exist" notification in its stead.
The quiet didn't last long, though. Minutes after it disappeared, @realDonaldTrump was back online. Twitter issued a statement saying the "account was inadvertently deactivated due to human error by a Twitter employee" and was promptly restored. "We are continuing to investigate and are taking steps to prevent this from happening again," Twitter said.
That investigation didn't take long. Later on Thursday evening, Twitter posted a follow-up statement. Turns out, it wasn't so much a mistaken employee as a customer-service staff member dropping the mic on their final day at the company. Which is now the new gold standard for leaving a job.
Trump returned to tweeting on Thursday night after his account came back online, but he didn't address the incident until Friday morning. He tweeted his "word must finally be getting out — and having an impact." Which might be the most logical and rational thing he has ever tweeted. Except the part that he doesn't realize his impact is employees willing to break major rules at their jobs to take him down. If only for 11 minutes.
Editor's note: This post has been updated to include statements from Twitter as well as Trump's latest tweet.