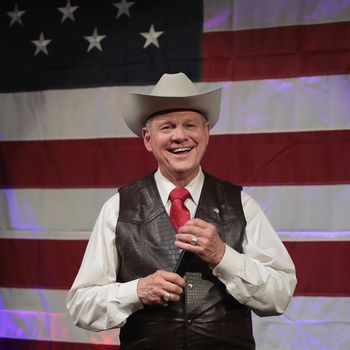 Donald Trump made Roy Moore the happiest cowboy in Alabama.
Photo: Scott Olson/Getty Images
President Trump's decision to endorse Roy Moore for Senate in Alabama was so completely overdetermined, the only real mystery is why it took him so long. Still, two articles, one by Alex Isenstadt for Politico and the other by Jeff Zeleny for CNN, report out what led Trump to what was, for him, the obvious choice all along.
1. Trump was not certain the accusations, presented by numerous women and accompanied by an unusually large amount of contemporaneous evidence, were true. "During animated conversations with senior Republicans and White House aides," reports Isenstadt, "the president said he doubted the stories presented by Moore's accusers and questioned why they were emerging now, just weeks before the election, according to two White House advisers and two other people familiar with the talks."
2. Other people have committed sexual harassment (though not against teenage girls). Zeleny:
Republicans familiar with the President's thinking offered that explanation about his comments. They added that the conversation has dramatically changed since November 9, when The Washington Post broke the news of the allegations against Moore. Then, it was simply one bad actor — a Republican.




"Since then, it's become much harder to tell who the bad guy is," said a Republican close to the White House, noting that the allegations against Democratic Sen. Al Franken, the renewed chatter about Bill Clinton, the explosive revelations about legacy newsman Charlie Rose and the suspension of New York Times reporter Glenn Thrush were all developments the President was following closely.
3. Trump loves conservative voters, who are mainly standing behind Moore. Hence, reports Isenstadt, his "long-running reluctance to antagonize his conservative base" weighed in favor of a Moore endorsement.
4. Relatedly, the dreaded Establishment opposed Moore. Zeleny reports: "The president also increasingly found it distasteful to be siding with the Republican Establishment in trying to push out Moore, because it put him at odds with his base." And Isenstadt adds: "As Establishment Republicans withdrew their support for Moore in recent days, one senior White House official said, the president remembered that many of those same figures abandoned him, too."
These are the same disgusting people who thought a man caught on tape boasting about sexual assault should not be president — who could tolerate being on their side?
5. Trump likes the cut of Moore's jib. "He has also come to identify with the candidate," reports Isenstadt. He's a lying sexual predator who refuses to recognize the legitimacy of any law that gets in his way — what's not to like?
6. Trump was unsure Moore had a real chance before. But now, reports Zeleny, "Trump still believes Moore can win — and more importantly, two officials said, Trump didn't think he would be able to stop Moore, so why risk another failure in Alabama by speaking against him and having him refuse to step down?"
7. The White House doesn't care about sexual abuse. It likes winning. "It's the general consensus that Moore and his policies are better than a Democrat. This makes it about policy and not the sexual-abuse allegations. The White House knows they cannot afford to lose an 'R' vote in the Senate," a White House source tells CNN.
Huh, so people who work for Donald Trump think having an R vote matters more than holding a sexual assaulter accountable? Who'd have guessed?