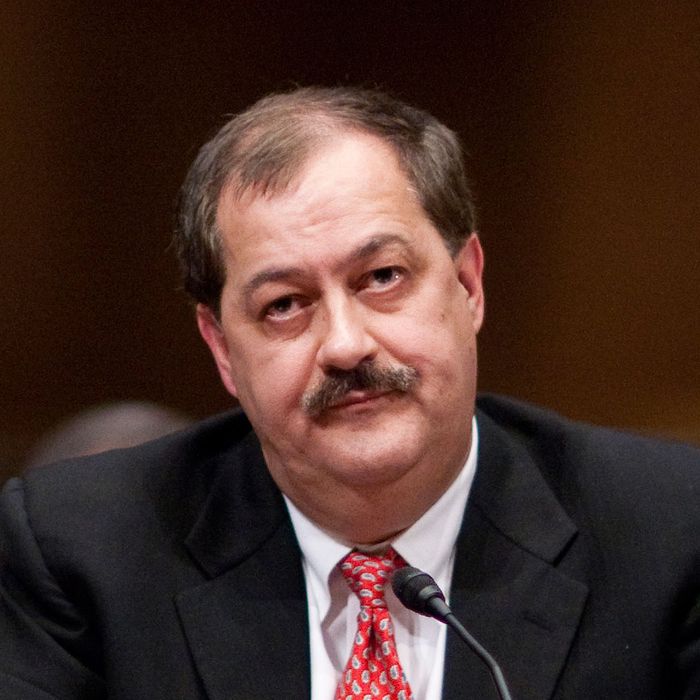 Friend of coal.
Photo: Andrew Harrer/Bloomberg via Getty Images
Don Blankenship, the disgraced coal baron who was released from federal prison in May, will run for the U.S. Senate in West Virginia, local news is reporting. The former CEO of Massey Energy filed Tuesday to run in the crowded Republican primary. The winner of the race, which will also include U.S. representative Evan Jenkins and West Virginia attorney general Patrick Morrisey, will go up against Democrat senator Joe Manchin in the general election.
Blankenship's candidacy is big news in West Virginia, where he is a well-known and deeply polarizing figure who spent decades as a ruthless advocate for the coal industry.
If people in the rest of the country know Blankenship, it's likely because of his 2015 conviction for conspiring to break mine-safety laws, leading to the 2010 disaster at the Upper Big Branch Mine. Twenty-nine men died in an explosion there, but Blankenship refused to shoulder any of the blame. While in prison, he wrote a 67-page booklet in which he claimed to be an "American political prisoner" and arguing that the deadliest mine disaster in four decades was caused by natural factors.
The federal government has disputed that claim. In a 2016 report, the Mine Safety and Health Administration said Massey had a culture of prioritizing production and profits over the safety of the people who worked for the company. While workers toiled underground with inadequate ventilation and incomplete safety protocols, Blankenship brought an eight-figure salary home to his mountaintop mansion.
Blankenship is not a charismatic figure. His business success was achieved more with brute force than a winning personality, but he has shown a flair for marketing that could help him as a politician. The Kentucky native was instrumental in crafting the bogus idea that President Obama was waging a "war on coal," and he generously backed Friends of Coal, an organization that boosted the industry in and around West Virginia. The propaganda campaign, which equated support for coal companies to patriotism and brought people like Ted Nugent and Sean Hannity to rallies in West Virginia, was wildly effective at convincing the people who worked in the mines to side with the coal companies against the federal government and other regulators.
Still, there are plenty in West Virginia who refuse to see Blankenship as the hero he believes himself to be. His company didn't just get 29 men killed by cutting corners in 2010, it also wreaked havoc on West Virginia's waterways, busted unions, and extracted billions of dollars of wealth from the mountains in Appalachia while telling people they were lucky to have jobs that might get them killed.
The 67-year-old will begin running campaign ads this week and he appears to have an uphill climb. A 2016 poll found that he was the "most hated figure in West Virginia." The new ads won't attempt to change that by focusing on health-care access for West Virginians, the opioid epidemic, or the need for innovative new jobs in the state. Instead, a campaign representative said Wednesday, they'll be focused on "getting the truth out about [Upper Big Branch] and exposing the government cover-up."