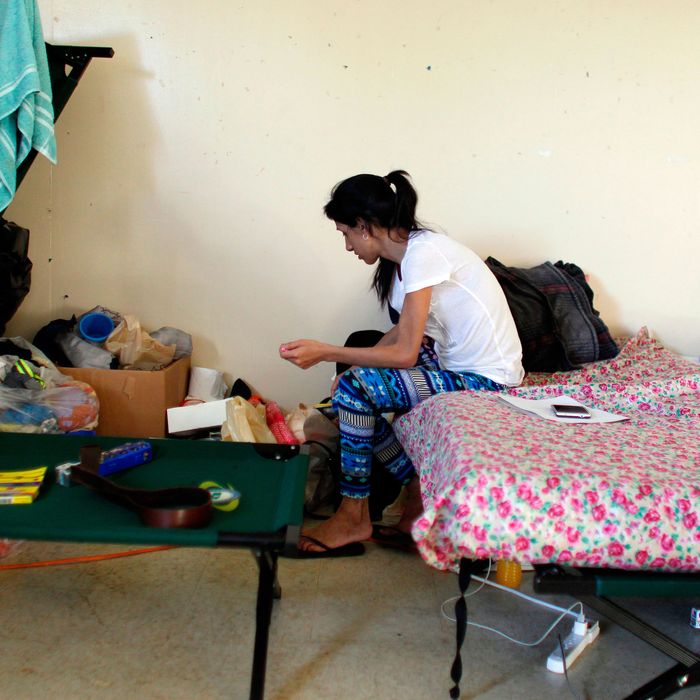 Elsa Diaz lives in a school turned shelter in Puerto Rico.
Photo: Ricardo Arduengo/AFP/Getty Images
Fifty days after Hurricane Maria ravaged Puerto Rico, thousands of people displaced by the storm are still living in shelters. This week, the Federal Emergency Management Agency (FEMA) has begun offering to temporarily relocate them to the mainland U.S. It's the first time the agency has attempted to establish what it calls an "air bridge" to pull people from a disaster area.
Puerto Ricans who take FEMA up on its offer would be moved to either Florida or New York, two states with significant Puerto Rican populations. FEMA says that Puerto Rico's governor Ricardo Rosselló selected those two states to temporarily house the survivors.
After most disasters, FEMA moves people from shelters to hotels as they make repairs to their homes or find a new place to live. But Puerto Rico's hotels are at capacity and there is no repairing many of the homes damaged by the storm. That has left thousands of residents stuck in shelters, most of them schools whose classrooms and cafeterias are housing the displaced.
FEMA has not had many take it up on its offer to fly them to the mainland, the agency's Mike Byrne told CBS News. Only 30 out of 300 families the agency had spoken to by Tuesday were interested in the offer.
"People really don't want to leave their homes," Byrne said. "We want to give them every opportunity we can to be able to stay here, whether it's providing financial assistance or repairing their homes. So we are going to work hard on those things so people don't have to leave."
Fifty days after Hurricane Maria made landfall, the recovery in Puerto Rico is still nowhere near complete. That slow pace is driven largely by the lack of power on the island, which has prevented hospitals, schools, and businesses from getting back to their pre-storm routines. Earlier this week, 42 percent of the island's residents had electricity restored, but on Thursday that number was reportedly cut in half after a power failure.
The protracted recovery has already driven tens of thousands of people from the island to the mainland, and many more seem likely to follow. "You can see it every day at the San Juan airport," Governor Rosselló said on 60 Minutes this week. He added that 100,000 people have left, many of them going to Florida so their children can attend school. "Some will return, many won't," Rosselló said.