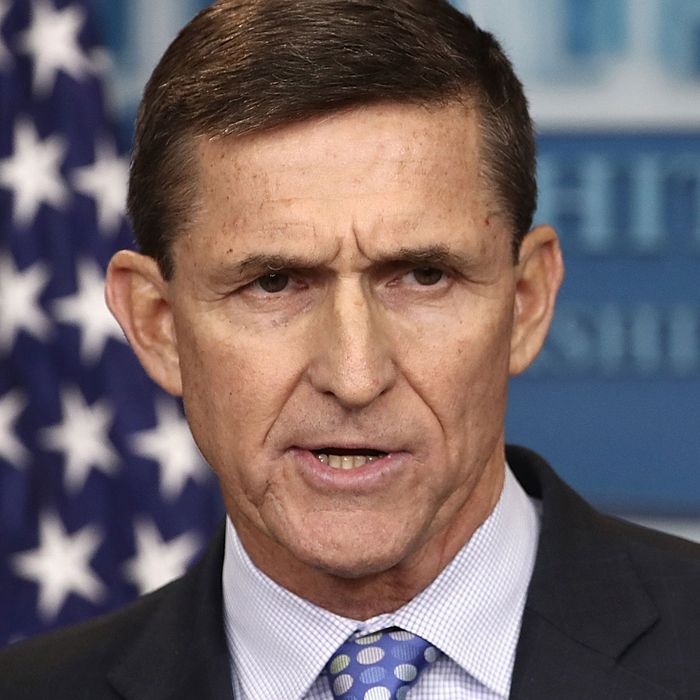 If the allegations involving former national security adviser Michael Flynn and the Turks are true, it's the worst White House corruption scandal since Agnew.
Photo: Win McNamee; David Hume Kennerly/Getty Images
The latest allegations against former national security adviser Michael Flynn involving secret deals with Turkey open up some new vistas in the Mueller investigation of possible collusion between the Trump campaign and various Russian interests. For one thing, Flynn is now in so much trouble that he might more easily roll over on his former colleagues, giving Mueller information on them in order to save his own skin. For another, it shows Flynn as being so out of control that maybe he did something with respect to Russia that explains Trump's panic-stricken firing of James Comey, as Christian Farias suggests.
But before we just add the Turkey story to a long list of curious things that may or may not lead to a crisis of the Trump presidency, we should reflect on Flynn's behavior as an outrageous incident in itself. After Trump named Flynn his top national security adviser, and possibly after Trump took office, it is alleged that Flynn and his son conspired with the government of Turkey to represent its interests for somewhere in the neighborhood of $15 million in cold, hard cash. This representation apparently continued a long-standing arrangement, but was escalated into new territory, including a proposed kidnapping and deportation of exiled Turkish cleric and opposition figure Fethullah Gulen.
If these allegations are true, then we should all for a moment forget about what other misconduct by Flynn it leads to, or whether or not it ultimately helps Mueller figure out what Trump and other members of his campaign and administration were doing with the Russians.
It would be the most shocking example of high-level White House (or White House transition) corruption since Vice-President Spiro Agnew was forced to resign after he got caught accepting kickbacks from Maryland road contractors in his office in the White House.
The Agnew scandal is largely forgotten, partly because he cut a plea deal and the full story didn't come out for years, and partly because it was obscured by the Watergate scandal and Nixon resignation that soon ensued (and that Agnew's resignation may have enabled by removing from the succession someone Democrats feared and hated even more than Nixon).
But in Flynn's case, if the allegations are proved to be true, the scandal would not so much resemble Watergate as Teapot Dome (the 1920s scandal that took down former Interior Secretary Albert Fall for selling public oil leases), but with a dash of treason. That a presidential national security adviser would sell his influence to a foreign government so quickly and cheaply is a very big deal, which we need to linger over before returning to the rest of the issues Mueller is investigating.